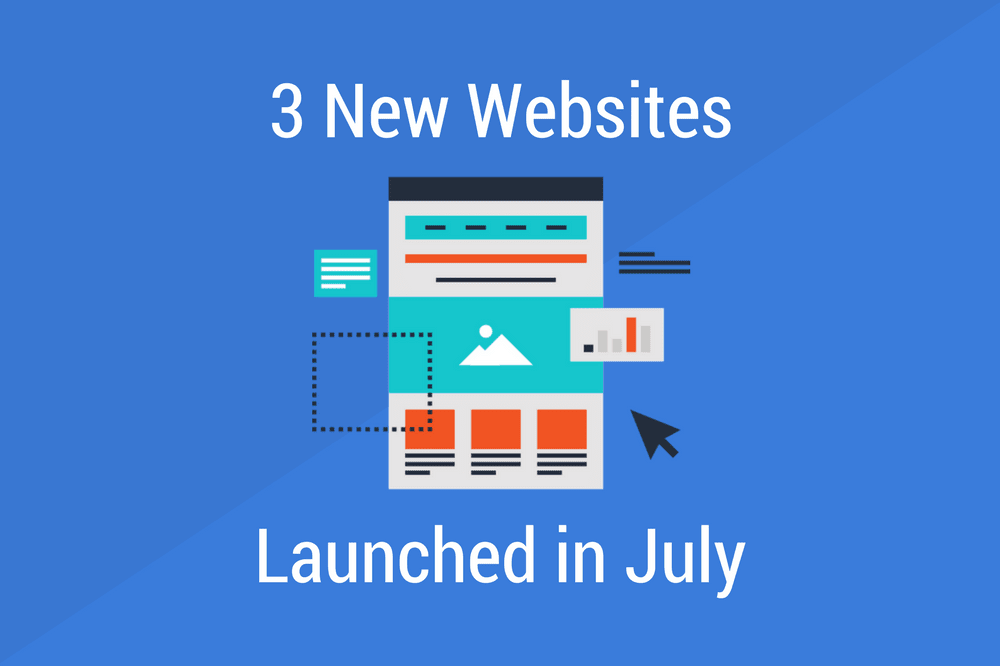 We have the pleasure of working with some amazing companies at Engenius, and we're extremely proud of the work we're able to do for them. Creating websites that properly reflect their mission and values, and which are focused on achieving specific goals, is a privilege. As such, we want to highlight the new websites we've been working on and the companies that help make our communities incredible places to work, play, and live.
So without further ado, here are three companies we launched new websites for in July.
What better time than summer to launch a fresh new website for an HVAC company? We partnered with Palmetto Heating & Air to do just that this past month. Palmetto wanted a modern website that would help them acquire more business, particularly from residential clients within a 30-mile radius of their main Greenville office.
[su_row] [su_column size="1/3″] Goals:
Acquire more business
Highlight service plans
[/su_column] [su_column size="1/3″]
Primary Call to Action:
Call to schedule an appointment
[/su_column] [su_column size="1/3″]
What Sets Palmetto Apart:
Honesty and Transparency
Highly qualified, professional technicians
[/su_column] [/su_row]
Design and Strategy Highlights:
Custom Photography – Because their primary audience is Upstate homeowners, we wanted to put a photo of the actual Palmetto team front and center. The casual stance of the team suggests approachability and friendliness, but the uniforms and vehicles also demonstrate professionalism.
As you go through the site, you see these same team members working on various systems in a home. It's obviously not stock photography — these are the technicians who could be visiting your home. We believe this demonstrates the credibility of Palmetto and its employees.
Keep It Simple – We made sure the phone number was front and center so users can immediately contact Palmetto Heating & Air if they're ready. We also kept the sitemap very simple – making it extremely easy for users to find the information they need most.
We opted to not delve too deeply into details about specific systems and parts, instead focusing on the process Palmetto employs from the time you call to when installations or repairs are complete.

Lima One Capital already had a ton of great content on their site when they came to us for a redesign. The problems were that the content was difficult to read on smaller devices, and difficult for Lima to update in-house.
[su_row] [su_column size="1/3″] Goals:
Convert more leads
Better user experience across devices
Easy to update in-house
[/su_column] [su_column size="1/3″]
Primary Calls to Action:
Complete a loan application
Become a broker
Contact
[/su_column] [su_column size="1/3″]
What Sets Lima One Apart:
Exceptional customer experience
Multiple programs for  investors in one place
[/su_column] [/su_row]
Design and Strategy Highlights:
Responsive Tables – You can't see an example in these screenshots, but if you go to any of the Loan Program pages (FixnFlip for example)  you will see tables which provide key details to potential investors.
These tables need to be clear and easily consumable on a computer, tablet, or cell phone, therefore we converted all of this information from images (which were too small to read on a phone) to responsive tables (which restructure the information based on the screen size).
These tables are now SUPER easy to update – instead of editing and embedding an image, Lima can just make a simple text change.
Lead Generation Forms – Once an investor goes through the comprehensive information provided on each program page, they may be ready to take the next step. Therefore, each program page contains a form which asks for SOME information (enough to prove they're really interested), but not TOO MUCH information (so much that the user feels like they're already signing the loan paperwork).
These forms allow a Lima analyst to have a little background information prior to getting in touch with prospects and hopefully closing the deal!
Consistency – As you perused the pages of the former Lima One site, you were met with many different design elements and page structures. The new site keeps a straightforward structure that is consistent across the site, making it easier for a user to move from page to page.
There once was a company named Performance Payroll that decided they wanted to expand their services to better meet the needs of the companies with whom they partner. This meant not just new services, but also a whole new company name – which is kind of a big deal! It also meant new logos, collateral, signage, and, of course, a new website.
[su_row] [su_column size="1/3″] Goals:
Reflect the company's transformation to a full human capital management solution and educate prospective new clients.
At the same time, keep it easy for existing clients to find what they need and know that they're still the approachable, helpful company they've always been.
[/su_column] [su_column size="1/3″]
Primary Calls to Action:
Submit contact information to see product demos.
Learn about the products and then call for a quote/meeting.
[/su_column] [su_column size="1/3″]
What Sets Performance HCM Apart:
Robust, modern HCM solutions with a personal customer service approach
[/su_column] [/su_row]
Design and Strategy Highlights:
Expanded Services – From the moment the icons at the top of the homepage animate onto the screen, it becomes clear that Performance offers multiple services – not just payroll solutions.
Users can click on any icon or phrase in this top section and go to a full page for more details. They can also access these detailed pages through the Product Tour link in the navigation, or by scrolling down and reading a little about them in the blue-hued boxes in the middle of the page. This ultimately provides an immediate indication of the expanded services and multiple opportunities to dig deeper into each.
Modern yet approachable – Performance is excited about the technology available to their clients through their HCM solutions, so they wanted to be sure the new site reflected a level of modernity and advancement while still being approachable and easy to navigate. The bright graphics, iconography, and animations lend the site a modern feel, while the content's emphasis on company culture and customer service let people know they are the same community-minded folks their existing clients know and love.