We have the pleasure of working with some amazing companies at Engenius, and we're extremely proud of the work we're able to do for them. Creating websites that properly reflect their mission and values, and are focused on achieving specific goals, is a privilege.
We want to highlight the new websites we've been working on and the companies that help make our community an incredible place to work, play, and live. Check out our first three website launches of 2018!
The Law Office of Steven Edward Buckingham
After a decade of experience in the Upstate, Steven Buckingham decided to open his own law office. The firm opened in January of 2016. Although existing client relationships and word of mouth referrals were beneficial, the firm's lack of a website impacted their credibility. In an industry where so many people are making assessments based on web presence, it is crucial to have a professional website.
Goals:
To establish a web presence for the firm as a preferred business and personal counsel for small business owners in the Greenville area.
Calls to Action:
Submit a contact form
Call directly
What Sets the Firm Apart:
They respond quickly and aren't as bogged down as larger firms might be
They have a wide knowledge base, fueled by education and experience
They are trustworthy and straightforward and don't have competing attentions
The Law Office of Steven Edward Buckingham's
New Website:
The firm was interested in a very modern, clean-looking website. To accomplish this, we incorporated icons and took advantage of white space throughout the site so it would look streamlined and uncluttered.
We carried the firm's colors through the site to maintain brand consistency.
To demonstrate the firm's authority and expertise, we made sure the website's content remained focused on establishing trust with visitors and potential clients. We highlighted experience, education, service, professional distinctions, and more.
A contact form is featured on every page of the website so that users may contact the firm directly from any point in their research process.
Hollingsworth Funds
Hollingsworth Funds is a nonprofit organization that focuses on creating long term change in Greenville County by thoughtfully investing in meaningful nonprofit organizations and initiatives. In particular, they're focused on funding multi-stakeholder initiatives that help improve economic mobility in our community. This organization is doing some really important work in the Upstate and it was imperative for their website to effectively demonstrate this.
Hollingsworth Funds' Homepage Before the Redesign: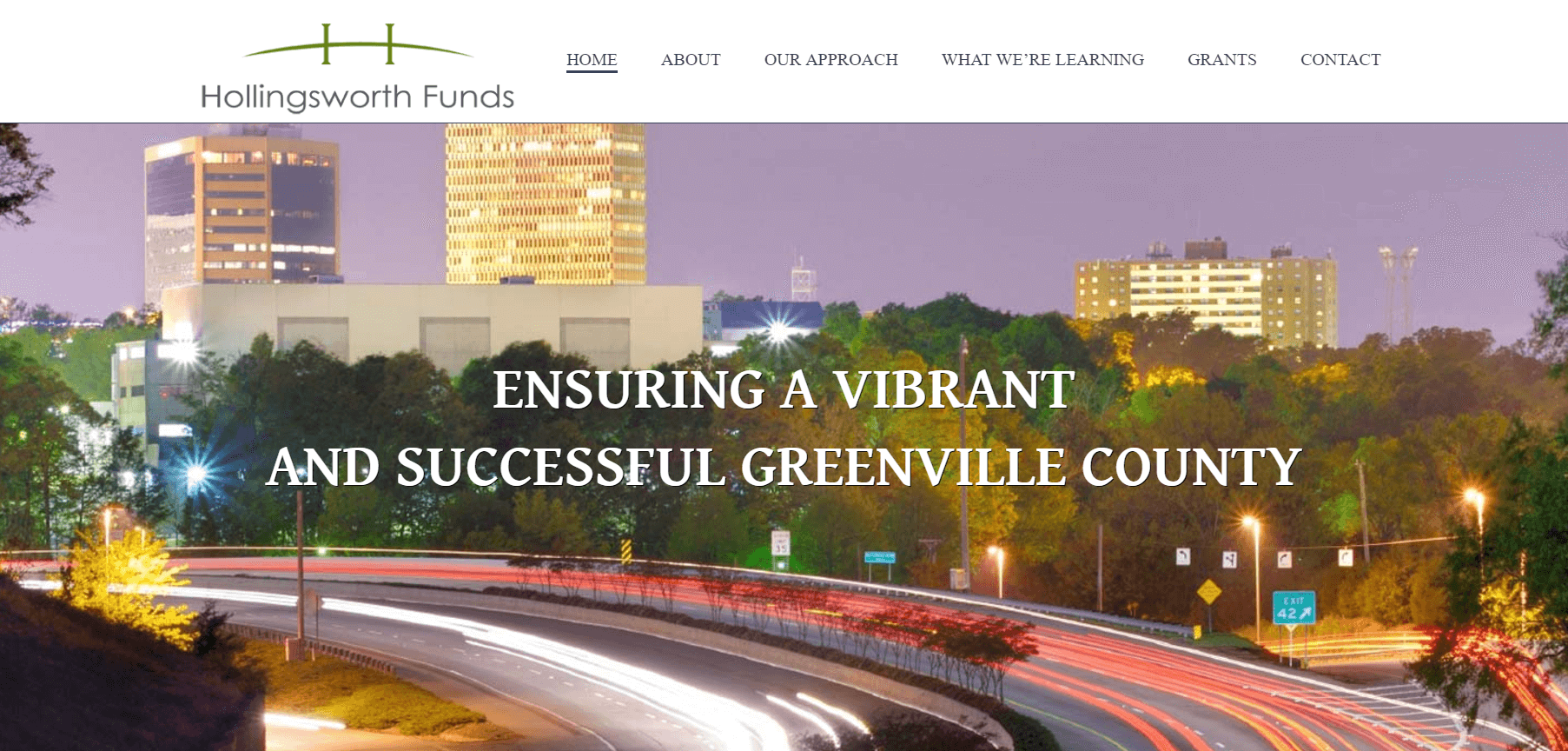 This was a really fun project for our team because we actually built Hollingsworth Funds' previous website, which launched in 2014. Over time, we've gotten to know the folks at Hollingsworth really well, design trends have evolved, and the organization has further refined their focus. Four years after their previous site launched, they were ready for a new website that better reflected their priorities.
Goals:
Properly demonstrate the organization's funding priorities and generate a higher number of qualified grant applicants
Reflect the organization's dedication to continued learning and knowledge sharing
Appear more modern and sophisticated and offer an intuitive user experience
Calls to Action:
Read the organization's message and understand their funding priorities
Call or email the organization with questions
Submit a Letter of Intent (LOI) to apply for grant funding
What Sets Hollingsworth Funds Apart:
They aren't your typical grant funder. Instead, they make strategic investments in our community.
They're focused on creating long-term change by influencing behavior and creating multi-stakeholder spaces where people work collaboratively towards a common goal.
They use data and research to inform their decisions and create impactful strategies.
Hollingsworth Funds' Homepage After the Redesign:
The new website offers much greater detail about what exactly Hollingsworth does. From the moment people get to the homepage and read the main headline, it's more clear what the organization's goals are. In the navigation, we changed the vague "Grants" page to "What We're Funding." This page features real case studies of the types of organizations and initiatives in which Hollingsworth Funds has invested.
We made sure to use photos on the website that actually represent the organization. Although the photos on the old site represented where Hollingsworth Funds is located, they didn't do a good job of depicting what they do. The new site features real photos of real Greenville County residents who've been apart of Hollingsworth Funds' journey—both giving and receiving.
The old site didn't feel very cohesive. On the new website, we relied on Hollingsworth's logo for color and design inspiration. The brand's unique green is carried throughout the site making it feel unified. In addition, we added subtle animation that gives the site a modern, interactive feel.
Duer/Carolina Coil
For more than 120 years Duer/Carolina Coil has provided businesses with high quality coil springs through skilled craftsmanship and purpose-driven work. Throughout this time, the organization has continued to improve its internal processes and perfect its craft. Although Duer/Carolina Coil's flexibility and innovation allow them to maintain their high customer retention rate, the company wanted to continue to develop and strengthen new relationships with engineers across a wide variety of industries.
Duer/Carolina Coil Before the Redesign:
 
Since most business practices have shifted to a digital landscape, Duer/Carolina Coil felt that their old website missed the mark and lost them the opportunity to communicate effectively with their target audience.
Goals:
Clearly demonstrate Duer/Carolina Coil's product capabilities and qualify their expertise
Properly reflect their company's dedication to service, focusing on their exceptional customer support and engineering assistance
Provide users with a modern and streamlined website experience
Calls to Action:
Contact for more information
What Sets Duer/Carolina Coil Apart:
They aren't a commodity shop — they act as a consultant for their clients, helping them find the best solutions to their problems
Duer/Carolina Coil's extensive experience in specific markets helps streamline systems, creating a smoother supply chain process and helping save their clients time and money
Their quality of product and customer service is reliable and consistent
Duer/Carolina Coil After the Redesign:
We really emphasized content structure with this project. The old site felt cluttered and cumbersome. We took everything that Duer/Carolina Coil had on their old site and condensed it to reduce the number of pages and create a more streamlined experience for users.
We incorporated video in the homepage hero to give the site a more modern aesthetic and to give users an idea of what goes into Duer/Carolina Coil's products.
Customer testimonials on the homepage and specific service pages help users understand what it's like to work with Duer/Carolina Coil and what they can expect from a quality/customer service standpoint.
Start the Conversation
Interested in learning more about how to redesign your website?
Schedule A Discovery Call