We have the pleasure of working with some amazing companies at Engenius, and we're extremely proud of the work we're able to do for them. Creating websites that properly reflect their mission and values, and which are focused on achieving specific goals, is a privilege.
As such, we want to highlight the new websites we've been working on and the companies that help make our community an incredible place to work, play, and live.
This is a special month because we're not only celebrating the launch of a client's website, but also the launch of our own new website! It's been a long time coming, and we're extremely excited about the final product.
Ballentine Food Service Equipment
For over 60 years, Ballentine Food Service Equipment has collaborated with foodservice operators in every sector of the industry. From consulting on kitchen design to ordering, delivering, and installing all of the food preparation equipment needed to run a successful operation, Ballentine works tirelessly to find the right solution for their clients' needs.
Due to the longevity of their business, they came across the need to update their website. The valuable difference in working with Ballentine versus online-only product portals, and most other food equipment providers, is the experience, knowledge, and personal service that their highly trained staff provides. Their previous site mimicked other online portals but they needed their online presence to tell their story.
Ballentine's homepage before the redesign: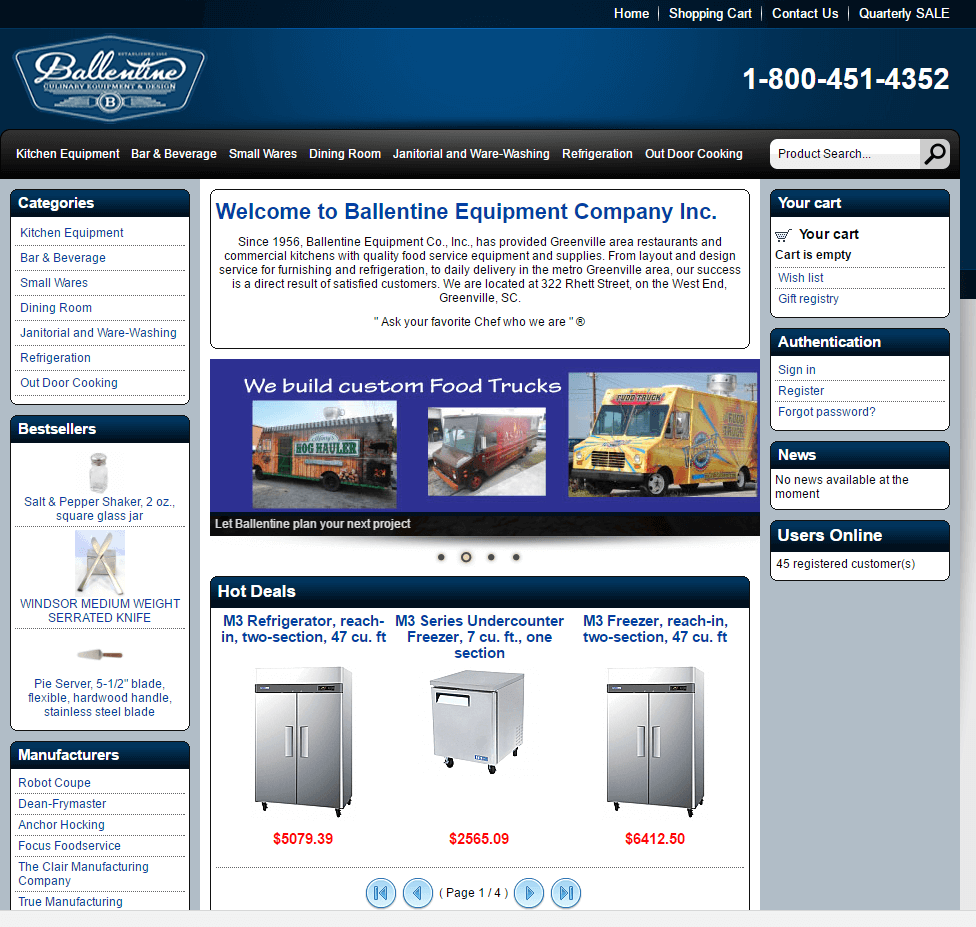 The previous Ballentine site consisted of an eCommerce portal that was no longer properly functioning, crowded homepage design, outdated branding and design, and a poor mobile experience. All of these issues combined created a confusing and frustrating experience for guests and that isn't reflective of the experience a client has when interacting with Ballentine.
Goals:
Tell the story of Ballentine in an approachable, professional, and informative tone
Have the user contact Ballentine by calling or submitting their information online
Create a warm, colorful, and inviting design
Encourage users to visit the store
Calls to Action:
Call directly
Visit the store
What Sets Ballentine Apart:
Extensive years of experience, which leads to a solid understanding of their clients' needs
Provide high quality products
Go out of their way to exceed customer expectations
Strong relationships with their manufacturers
Ballentine's homepage after the redesign: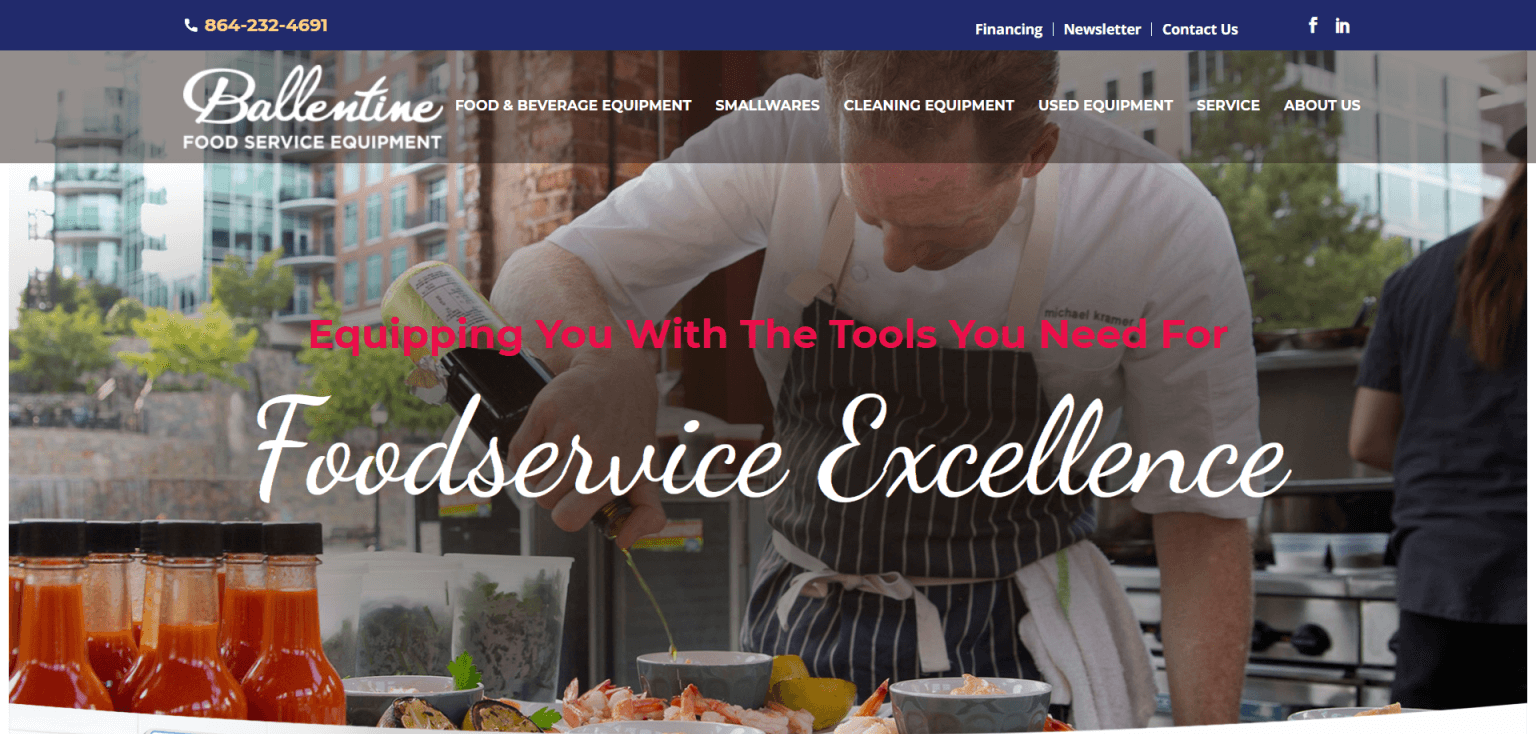 Design & Strategy Highlights:
For the design we utilized big photos at the top of each page that focus on the relationship between the tools Ballentine provides and the people they serve.
We sectioned out the two largest offerings that drive Ballentine's business: Food & Beverage Equipment and Smallwares.
Ballentine has strong and diverse manufacturer relationships that we highlighted on each of their service/products pages.
Financing is a major advantage for Ballentine, which is listed at the very top of website for guests to access it easily from every page.
Engenius
You know what they say – the cobbler's children have no shoes, right? This was a running joke in our office for over a year because while we continued to improve our work for our clients, our own site started to show its age.
The biggest problem with our site was that it was a poor reflection of how much we've developed over the years. It didn't properly showcase our work, our services, or our culture.
Our homepage before the redesign: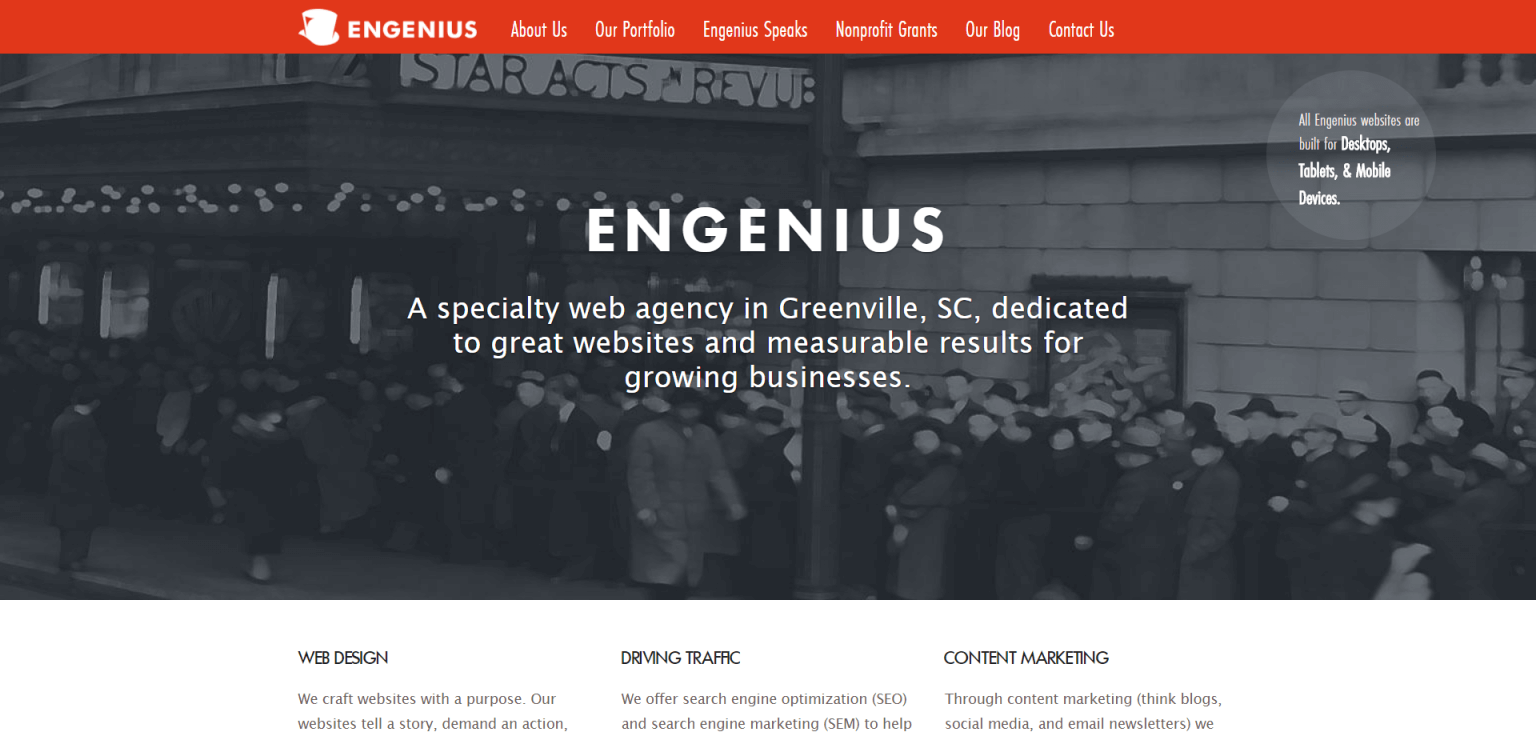 Our years of experience building websites for other companies means our skills as writers, designers, developers, and strategists have improved immensely. We were long overdue for a website redesign, and we think our new site is a proper reflection of our evolution as a company.
Goals:
Properly explain the services we provide
Educate users on why they need more than a website
Provide valuable content
Properly communicate our story
Calls to Action:
Contact us (by email, phone, form, etc.)
Consume our content
What Sets Us Apart:
We act as consultants, seeing ourselves as partners with the people we work with
We strive to grow with our clients, and offer services according to their growth and evolution
Extremely responsive and relational
Focused on achieving business goals
A specialization in digital, meaning we're always on top of the latest trends and best practices
Empower clients to own their site and have control over their online presence
Our homepage after the redesign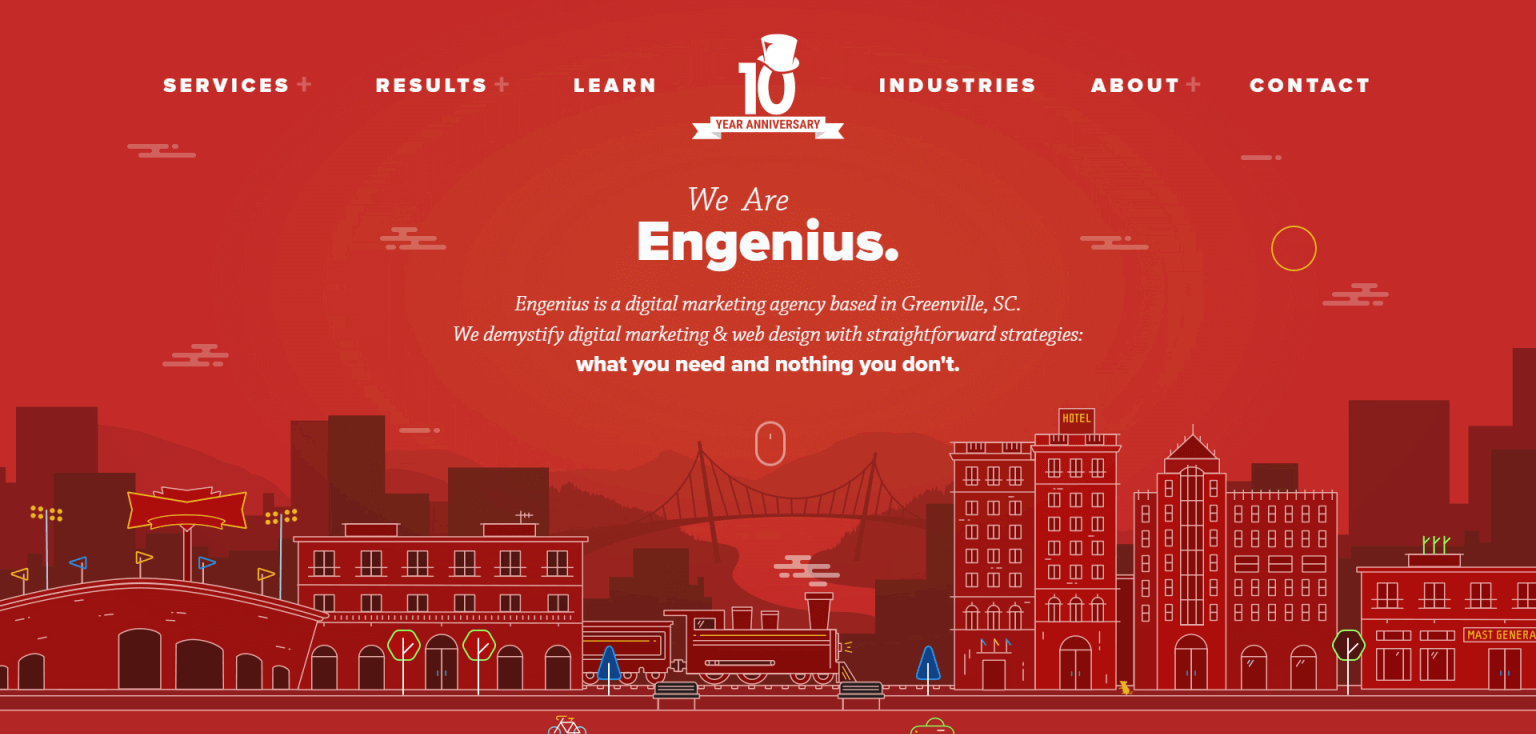 Design & Strategy Highlights:
Highlighting Our Results: While our old site had a portfolio of past projects, we felt it did a poor job of showcasing our clients. We also lacked in-depth case studies which clearly highlighted the results of our work. Our new site places a greater focus on featuring clients through a more robust portfolio, a more accurate distinction of the industries we work in, and detailed studies on our results.
Highlighting Services: Our service offerings have changed and grown significantly over the years, but our old website made it unclear what we did. While it was obvious we provided web design services, it wasn't so clear that we also do Search Engine Optimization, Search Engine Marketing, and a plethora of other services.
Highlighting Our Team: During our redesign, we surveyed quite a few of our clients and asked them what they like about working with Engenius. In addition to our expertise, our clients unanimously agree that they genuinely like our team on a personal level. This makes a lot of sense, because people like doing business with people that they like. And our people are pretty awesome if we do say so ourselves! That's why our new website places more emphasis on our team; the new team page allows people to feel more personally connected with each of us. And, of course, we had to showcase our new glamour shots.
Custom Illustration: Even though we work with clients across South Carolina and in other states, we wanted to showcase our dedication to the community through custom illustrations on the homepage. It's both a reflection of our culture, which is rooted in Greenville, and a visually stimulating way of telling our story.
Animations: Another way we wanted to captivate users and tell our story was through animations. These help guide the user through our content and keep them engrossed in the information.
We'll be conducting an extensive case study which will really dive into our new website, so stayed tuned for that in the coming weeks! In the meantime, if we've piqued your interest, learn more about what we do.
Start the Conversation
Interested in learning more about redesigning your website?
Schedule A Discovery Call