Over the last few months, we have been introducing you to our team. This month, we wanted to highlight one of our two Project Managers, Brooks Manley.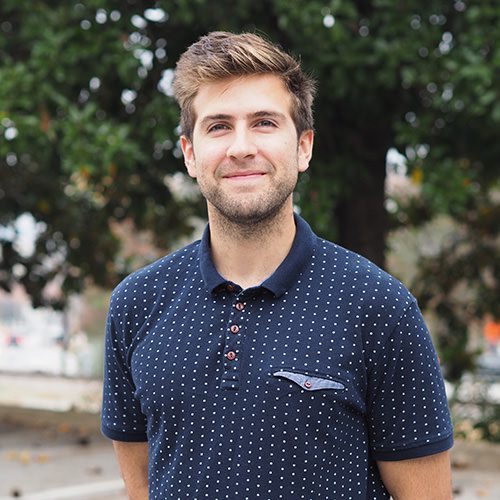 Brooks is the office angel—soft spoken and thoughtful, but a creative leader who is dedicated to his team and clients. Brooks' rise to his current role began back in 2014 when he started as an intern.
Road to Project Management
A student at Clemson, Brooks was studying business management with an emphasis on entrepreneurship when he got hired in 2014 as an Engenius Intern. During his time here he dove into web design, learning all he could about WordPress, HTML, and CSS.
"I liked graphic design but was not good at it when I first started. I was more into marketing and writing when I started my internship and did not think I would ever wind up doing web design. But as I got into it I really enjoyed it."
As his professional career started taking him down a design path, he launched a personal side project, Creative Primer, as a way to keep his writing skills sharp, and to share and learn with the online community. There he shares reviews and rankings of the best journals on the market.
After his internship was over, he was hired on part-time to help with two specific projects. Once those wrapped up, Brooks did too; he left Engenius for a year before coming back as a full-time Production Assistant. He spent a year assisting our full-time designers with website builds, graphics and took on a big part of our client support.
He then got promoted to his current role, Project Manager. While his start and rise in the Engenius team is not a typical one, it has allowed Brooks to become a well-rounded Project Manager.
Understanding a project from all sides — the marketing aspect for our clients, the design aspect for our designers, and being able to bridge those two worlds to create one final project — is a challenge he handles skillfully.
Favorite Part of Project Managing: "Having eyes on the whole project, helping take the creative lead when needed, and the people. I love working with people, meeting with people, and learning about people's businesses."
Favorite Projects: Greenville Rec Sports website and Xytel
Despite being a Project Manager, Brooks wears another (very vital) hat at Engenius: official office Barista. Telling us he spent a few pre-college years working at Starbucks has earned him the sacred duty of making coffee in the morning… and afternoon. If you look back far enough in the Engenius Archives, you can find his article on brewing iced coffee.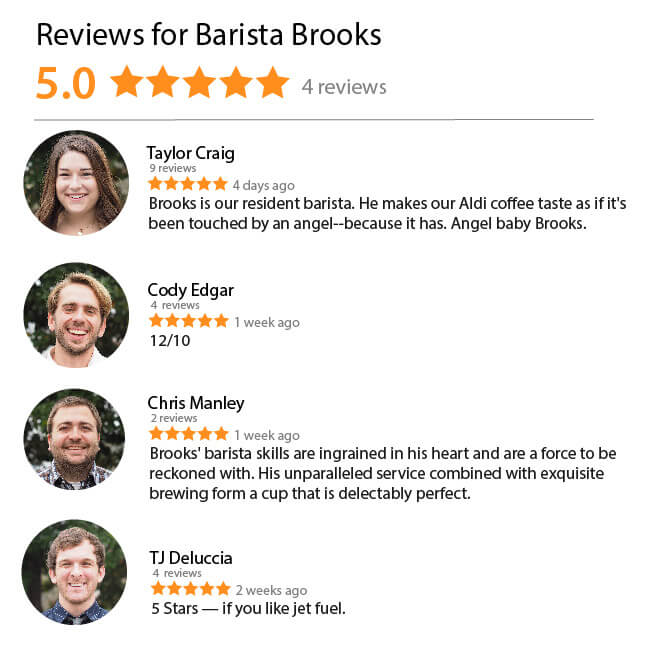 A Contagious Desire for Learning
Aside from keeping the team properly caffeinated, Brooks brings a certain hunger for knowledge to work every day. Striving to learn as much as possible and sharing what he is learning with the team and clients is ingrained in his work style. And he helps elevate the rest of us to learn, read, and utilize the vast resource of the web.
"It is amazing the vast amount of information that is on the internet for free and how easy it is to access it."
Every Monday he sends the office an email of his five best reads of the week highlighting important industry news, cool work done by others to inspire us, and the occasional funny YouTube video. He often volunteers to teach the team about upcoming trends and speak at our Brunch & Learn events for community members to learn more about web design and digital marketing.
Brooks demonstrates our core values not only through his desire to learn but also his thoughtfulness to share his newfound knowledge.
Favorite Thing About Engenius: "Personableness, all the personalities we have in the office, how close we are, and not only how fun that is but I genuinely think that makes us operate better… it allows us to predict how people are going to react and we are close so we are willing to push back when we don't agree with things."
If Engenius Were A Book: "If I had to pick one theme for Engenius to turn into a book it would be vulnerability and an emphasis on being human and a close-knit team who knows each other even outside of work and the benefit that brings to projects."
A Love for Greenville…and Tacos
Growing up in Powdersville, Brooks is a South Carolina native and Greenville area local. He has developed a love for local foods, especially tacos. He is often found at one of Greenville's taco restaurants for lunch during the week, supplemented occasionally by Snackworks and Tropical Grille.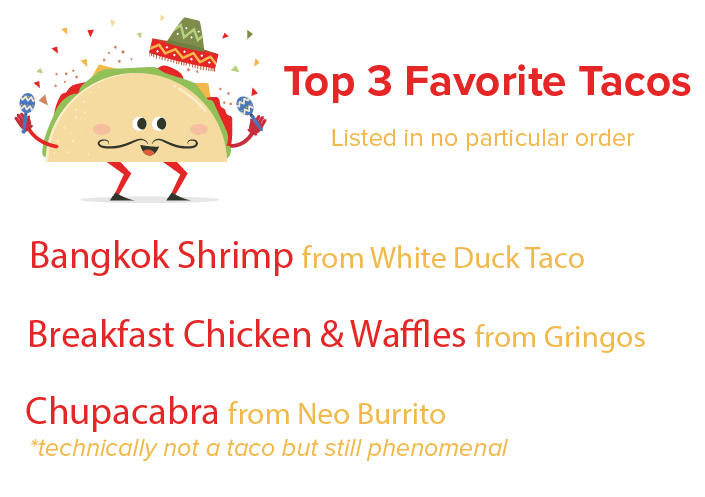 Brooks is active in his off-work hours playing basketball, volleyball, volunteering as a Small Group leader for church, and playing board games.
"Board games sounds so nerdy but if I am being honest, it is probably what I spend most of my time doing."
Current Favorite Board Game: Ticket to Ride
If Engenius was a Board Game You'd Call It: "Why Don't You Google It"
If You were a Board Game You'd Call It: "It would have to be a very social party game and must have a bizarre name. I'd call it 'The Presidents of Summer.'"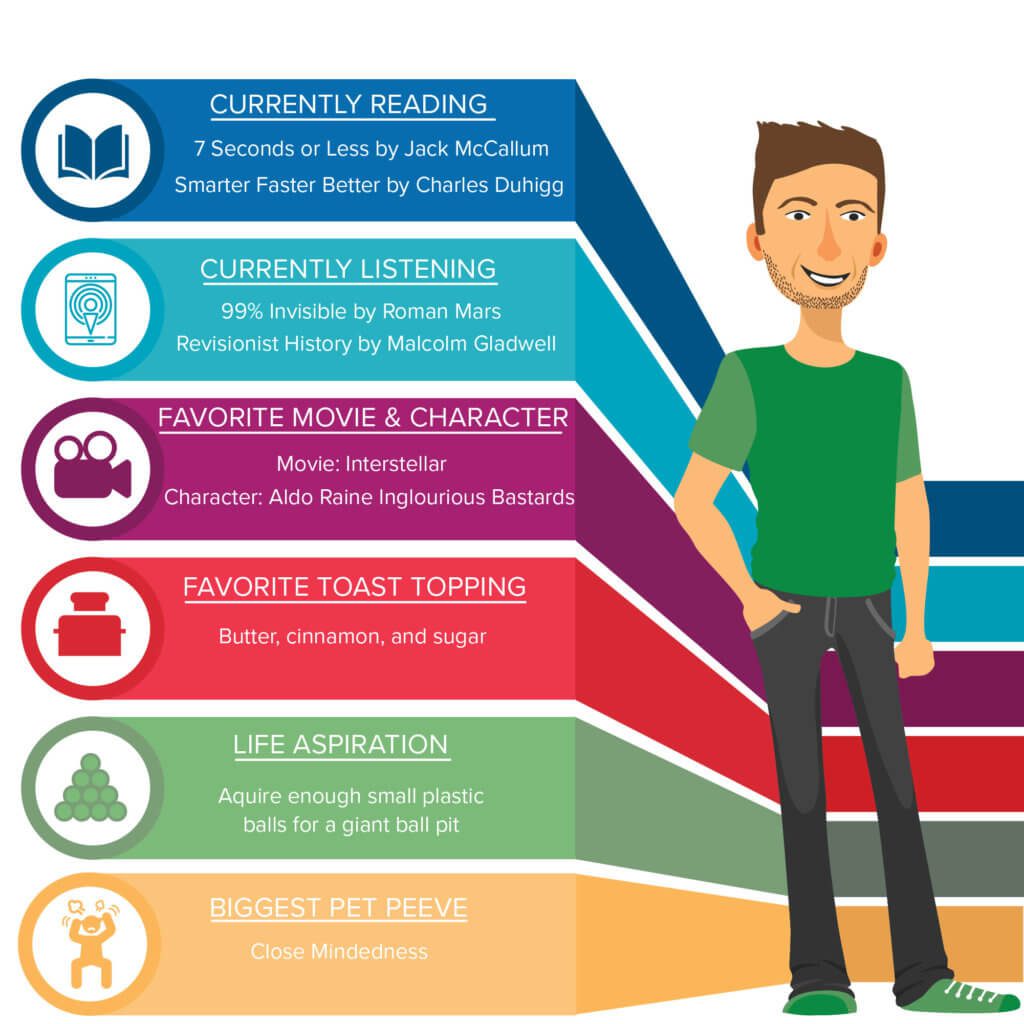 Now that you know a little more about Brooks, don't be afraid to say hello when you see him at one of Greenville's taco shops or playing basketball in the park. Curious to know more or get a taco recommendation? Reach out and ask!