All too often nonprofit leaders are so focused on the cause they are working towards that they can't spend the time they need on foundational tasks like developing a great Board, raising funds, and setting long-term strategic goals. Tommy Blackmon, CEO of Nonprofit Transformation, is determined to help nonprofits overcome these challenges.
As a nonprofit himself, Tommy understood the importance of having a well designed and thought out website to help convey his message and reach nonprofits throughout the Upstate. Without having any website prior, we had the challenge of designing a website that evolved as Tommy finalized his vision.
Goals
Introduce Nonprofit Transformation's services and validate their expertise in handling the common struggles of nonprofits, as well as their experience working with a wide variety of nonprofits.
Calls to Action
Contact Tommy to set up a meeting
What Sets Them Apart
Specific focus on 4 main areas – Board Governance, Strategic Planning, Major Gift Fundraising, and Executive Search
Consultation available on a sliding scale, so nonprofits of any size can afford this service
Design & Strategy Highlights
We kept the focus of this site on the audience. The copy and layout needed to be straightforward, since the whole reason this organization exists is to help people who feel overwhelmed with all they have on their plates —they don't need to wade through an elaborate website to find out what it's all about. For this reason, the sitemap is limited, and the Approach page covers all the areas of focus in a concise, consistent format.
The primary call to action all over the site is to "Start the Conversation" because we truly believe talking to the folks at Nonprofit Transformation is the best way to discover how they can help potential clients.
The New Website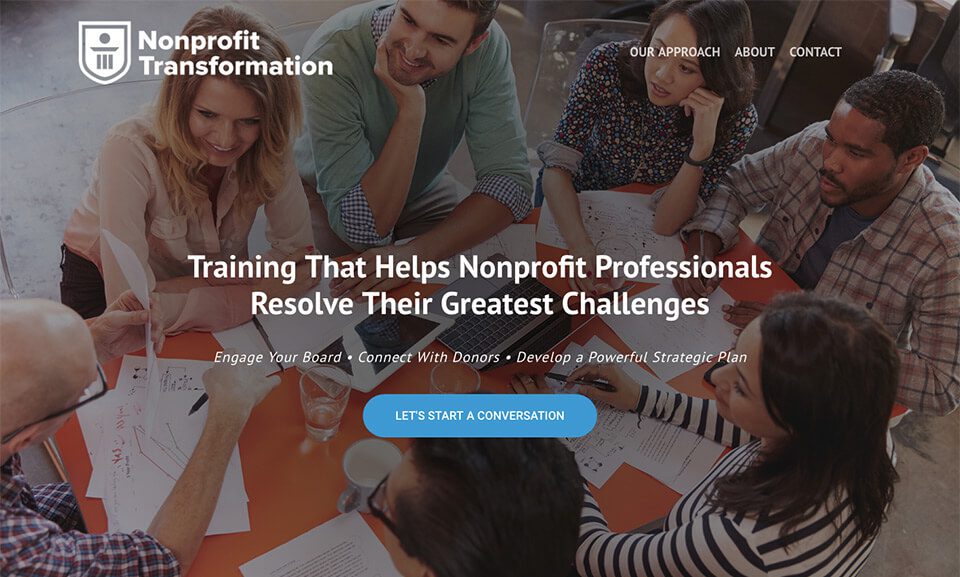 Start the Conversation
Interested in learning more about a web design process that is catered to you?
Schedule A Discovery Call