SEO is a viable marketing channel. There's not much debate about this.
Even if you don't know much about SEO, you've probably heard of it or seem some stats like:
But are all of those searches looking for your services? Or are they looking for an explanation of Wall Street Reddit? Or for dinner recipes?
These questions lead to bigger ones like, is SEO worth the investment for your business?
We're big proponents of SEO here at Engenius, but it's true that SEO doesn't benefit all business equally. 
We're going to help you gain clarity by walking through:
What to consider when making any marketing investment

The 3 questions to ask when evaluating SEO

How to forecast potential ROI from SEO for your business

3 reasons why you definitely should not invest in SEO
…And a lot more. 
Should You Invest in SEO?
A lot of digital marketers and agencies would say yes – absolutely – no questions asked. But the reality is that every business is not created equal. No two industries are the same. 
Why Invest in Any Marketing Channel?
Before evaluating an SEO investment, let's talk about how to make a decision for any marketing investment. 
The ultimate goal of marketing should be to acquire customers at a lower cost than the revenues they bring in. 
Sure there are plenty of other goals and objectives of marketing, but if they're not ultimately leading to acquiring customers, then it's unlikely your business will profit (unless it's a non-profit). So if the goal of marketing is to bring on customers in a profitable manner, then the goal of investing in a marketing channel is the same. 
The channels that lead to the lowest acquisition costs and the highest lifetime customer value are the best channels for your business.  
Or in other words, the best marketing channels are those that give you the highest returns on investment.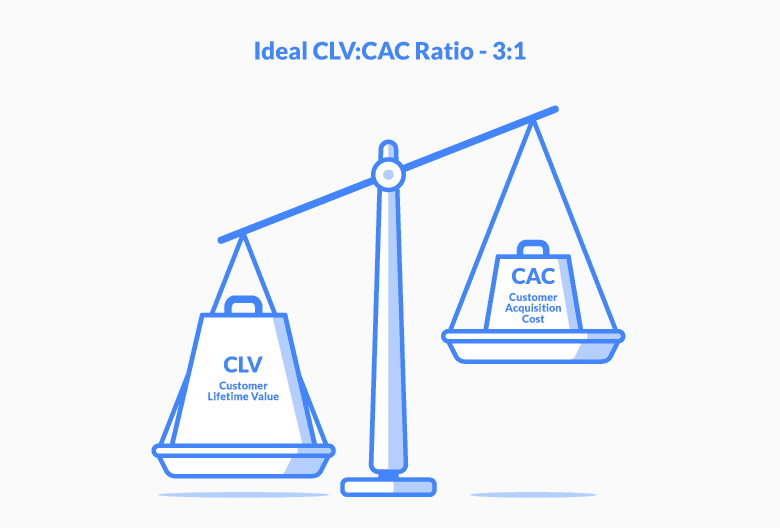 But how can you determine which channels will lead to the highest return on investment?
Start with educated assumptions (consider your audience and competition)

Start testing

Measure

Evaluate
You don't have to start throwing stuff at a wall to see what sticks. Make educated assumptions up front.
For example, if you're looking to market a new product to the elderly, you can go ahead and cross TikTok and Snapchat advertising off your list. You won't find many elderly there. Look to see what your competitors in the market are doing. Replicating their exact tactics probably isn't the best move, but it should at minimum give you some direction.
Once you've got some direction, you start investing and testing. Thanks to the nature of digital marketing, you should be able to accurately measure your returns. After 6 months or so, if tackled in the right way by proven experts, you should be able to gauge a channel's effectiveness.
Note: If the channel is executed by an intern or an office manager and you don't see results after six months, it doesn't mean the channel isn't viable. Find a professional before you cross it off the list.
How to Determine if SEO is a Good Investment?
Now that we have a good understanding of marketing goals, let's evaluate SEO.
SEO is the process of optimizing pages on your website to rank highly on search engines with the ultimate goal of converting searchers into customers.
There are three questions we'll ask to help us evaluate the investment:
Is there demand for my product or service?

Is there potential ROI to justify the investment?

Am I positioned for SEO to benefit my business?
#1. Is there demand for my product or service?
The nature of search engines is that products and services in high demand get searched often. So, what we're trying to determine is:
Are people searching for your services or products?
It's actually fairly simple: If there are lots of people searching for what you do, then SEO is worth looking into further. If there are very few people searching for what you do (or topics surrounding what you do), then there may be better marketing channels for you.
Let's consider something like commercial construction. At first thought, you may think, "Yeah lots of construction goes on all the time, it's in high demand."
But think about it: how many construction projects are active in your city in a given week? It may feel like hundreds, but it's actually probably around 30 or so (depending on where you live).
Now consider a service like landscaping. How many homes and businesses have landscapers work on their yards in your city in a given week? 500? 
Let's look at how many searches are made in Greenville, SC for the two on a monthly basis:

Does this mean SEO isn't a good investment for construction companies? This is a simplified example, and there are plenty of other factors to consider – but should a local construction company invest as heavily in SEO as a local landscaping company? Probably not.
Another factor to consider is your service area. A not-so-high-demand service in a huge city may actually mean a decent number of monthly searches. The more searches there are for your service, the more opportunity. And the more opportunity, the more you should consider paying for SEO.

You may not even serve a specific area, but take on customers anywhere. This opens up your SEO potential and changes your strategy entirely.
Three caveats:
First, demand can change over time. No year taught us this quite like 2020. Consider face masks: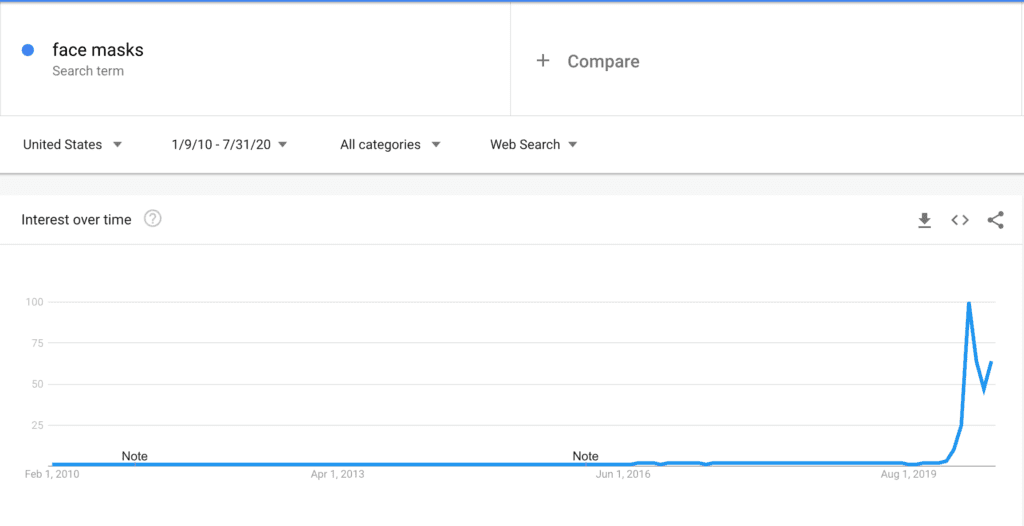 Second, demand can be generated. If you have a brand new product that no one has heard of – of course they aren't searching for it. SEO probably shouldn't be your first focus. But as you grow awareness of the product category, the searches will come. Consider brands like Uber Eats and GrubHub: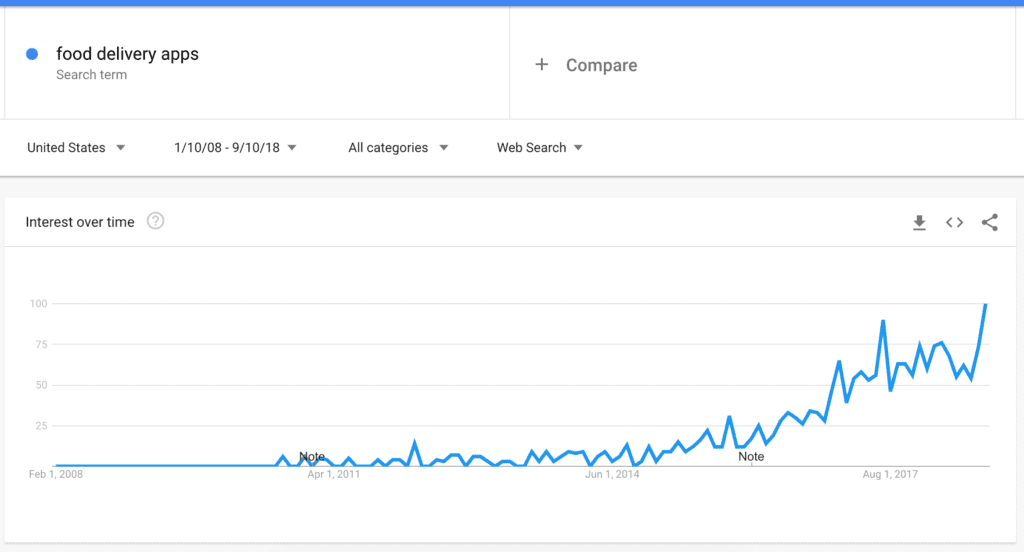 And third, sometimes there's no demand for exactly what you do, but there is high demand for information on related topics.
For example, "succulent planting services" doesn't have much search volume. But in general, succulent potting information is in high demand, which could be tapped into through blogs and resources that answer highly searched questions.
#2. Is there potential ROI to justify the investment?
We've determined there's at least some demand for your offerings. Now, we'll dig into some more data to take a stab at determining the ROI of improving your SEO. 
Forecasting ROI in SEO can get pretty in-depth – and it's always just an estimate – so this will be a high level overview. 
If you don't really care about the process, and you'd rather someone like us to do the ROI math for you, skip this section and contact us. 
The goal of SEO is to:
Rank for keywords 

Earn traffic (clicks)

Convert traffic into revenue
So to forecast ROI, we must consider each of these. We'll start with keywords by putting together a relevant list. 
Let's assume your business sells historical figure bobbleheads. You would want to rank for general keywords about your product, specific bobbleheads you offer, and common questions bobblehead buyers have.
We will take this list and determine roughly how many searches are made for these keywords and phrases monthly.
You can find this data via paid tools like SEMRush and Ahrefs or you can utilize free tools like Ubersuggest for good keyword volume data.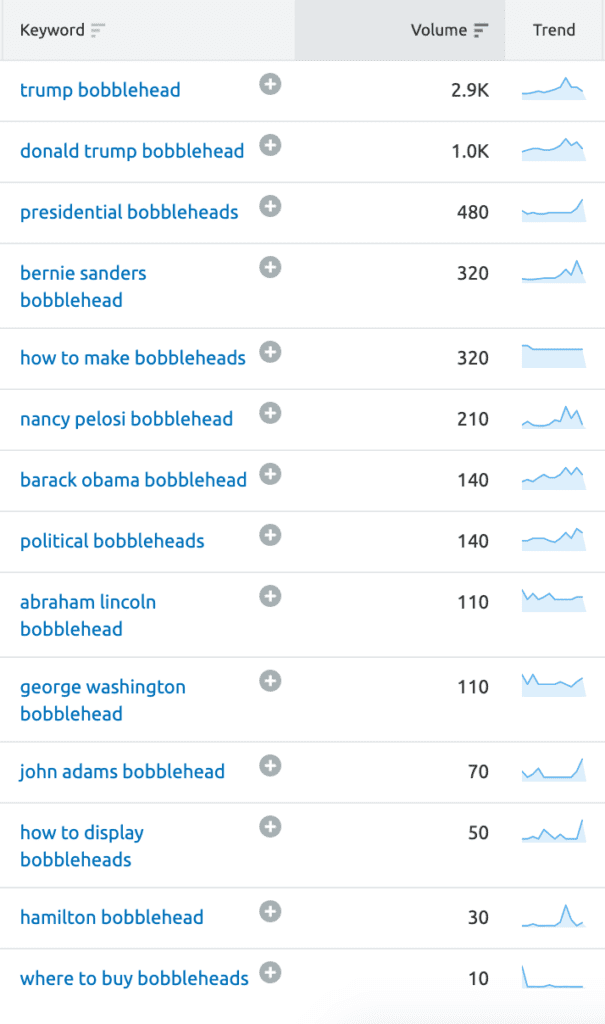 Once we have monthly numbers, we'll estimate how many clicks (traffic) we'll receive. This is tricky, but we can take an educated guess.
We'll assume for each of these keywords that you wind up ranking somewhere in the top 3. The average CTR (click through rate) for any of the top three results in a given search is 18%. 
Advanced Web Ranking keeps a constantly updated trendline of average click-through-rates for each position. 
So, based on these keywords we'll estimate roughly 6,000 relevant searches a month. If you rank somewhere in the top 3 for all of these searches, we can assume somewhere around 1080 clicks.
Clicks = (Total Volume of Ranking Keywords) x (CTR of Average Positions for Each Keyword)
Now that we have traffic numbers, we need to estimate how many of these visitors will make a purchase and the value of those purchases.
Let's assume that your current conversion rate from organic search is 5%. This would mean 54 purchases each month due to SEO.
Purchases = (Organic Traffic) x (Conversion Rate)
You can find this in Google Analytics by navigating to Conversions > Goals > Overview and segment goal completions by organic traffic to look at the organic conversion rate. Or if you sell directly on your site and track your values, you can segment your conversion value by organic traffic.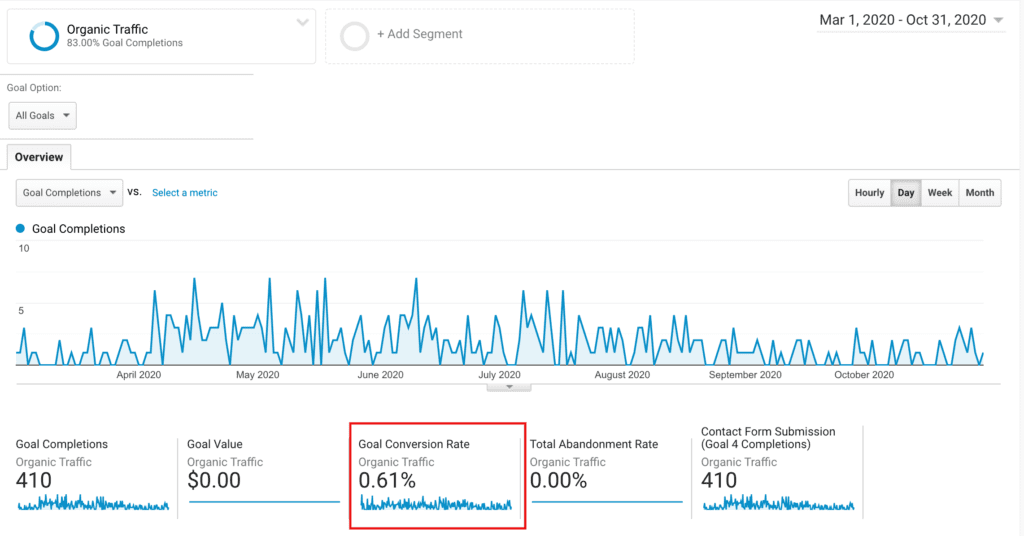 Let's also assume each bobblehead is $30 and on average 25% of customers buy a second bobblehead within one month. 
This would put your revenue generated through SEO at somewhere around $2,000 each month. If your average monthly investment over time exceeds this, SEO might not be a great option. But if you can get these kinds of results for less, then it would be well worth your investment.
Note: This was a very simplified example, but should give you an idea of ROI forecasting.
If you're a local business: finding local keyword volume is a post for another time, and it's a little less straightforward. This post is a great start.
If you don't sell products, and your website is focused on lead generation, your formula might look something like this:
SEO Revenue = (Traffic) x (Conversion Rate) x (Lead-to-Close Rate) x (Average Deal Size)
If you operate a SaaS or subscription service, your formula might look something like this:
SEO Revenue = (Traffic) x (Conversion Rate) x (Average LTV) 
#3. Are you positioned for SEO to benefit your business?
There are a few scenarios in which pushing organic  traffic to your website might not actually make sense – even if the demand and ROI are there. Let's look at a few:
You aren't ready to handle business:

if you're a new business in an industry with a lot of demand, going all in on SEO can result in a lot of traffic really quickly. If your business processes aren't in place to handle this influx, you'd be better to wait on SEO until you're ready.

Your website is sub-par:

similarly, if your website doesn't accurately portray your business, is impossible to navigate, or is severely outdated – sending someone to your website might give your brand a negative impression. Update your site first.

You need results ASAP:

SEO can take time. If you're in a competitive industry, significant results can take up to six months. Less competitive industries can see results in a month or two. But if you need sales next week,

ads

might be a better option for you to start – or you can invest in both to cover the near term and long term.
If there's some demand for what you do, potential for ROI, and you're ready for an influx of business – we couldn't recommend SEO highly enough. Either get to work in-house or start the conversation with our team today.
Start the Conversation
Interested in learning more about our SEO and digital marketing services?
Schedule A Discovery Call