Xytel builds pilot plants for companies all over the world. Before working with them, most of us had no idea that such a thing existed, but it has been fascinating to see the small-scale working versions of the enormous, complex systems that Xytel builds for its clients. Because intricacy and attention to detail are so important in what they do, Xytel wanted a new website to reflect that same spirit.
Xytel Homepage Before the Redesign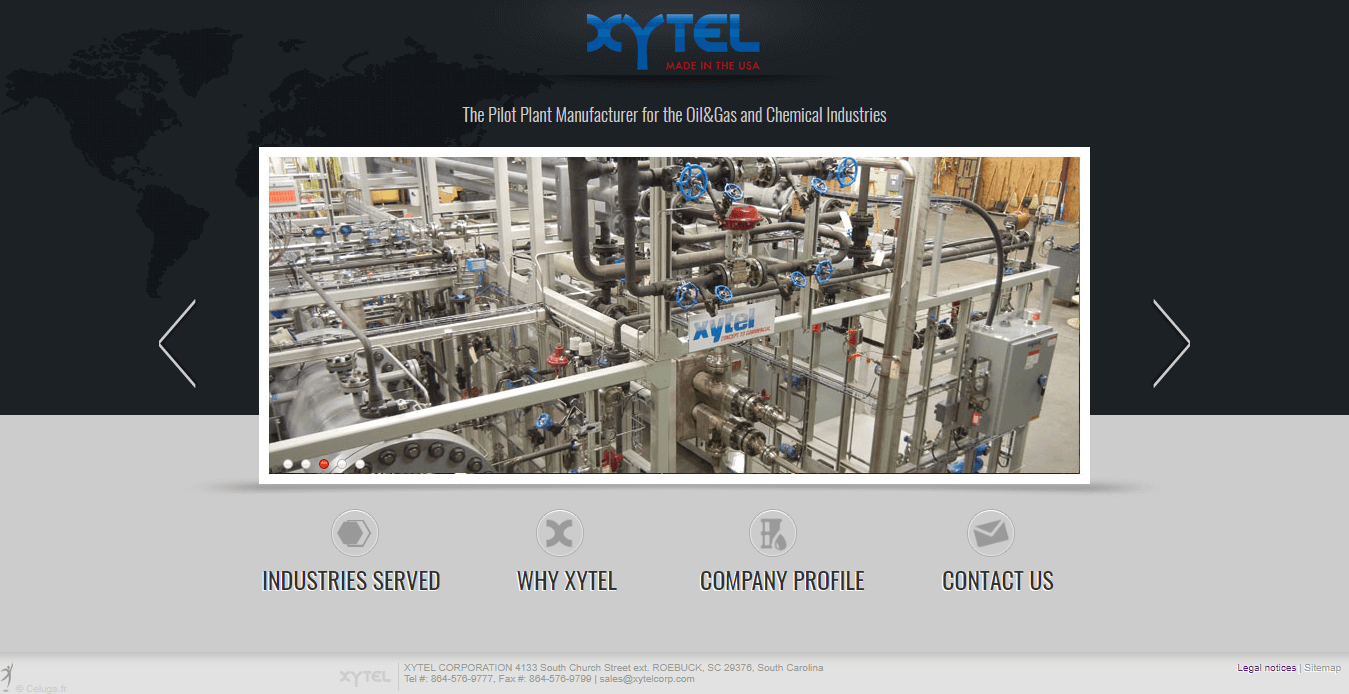 Goals
Reinforce Xytel's credibility by adequately highlighting their flexibility and breadth of experience across markets and applications.
Calls to Action
Look at portfolio of work
Email or call for more information
What Sets Them Apart
No outsourcing, saves the client money and creates a more seamless process and communication
Highly responsive to clients
Design & Strategy Highlights
Vibrant color gradients, animation, geometric backgrounds, and overlays were used throughout the site to create an exciting, unique, and compelling experience for the users.
Xytel excels at creating any size pilot plant or demo plant needed by their clients across a variety of industries. For this reason, we utilized several portfolio style pages to categorize their past work.
Xytel has worked with major companies across the globe, so we showcased logos to demonstrate their experience and the trust they have earned.
Xytel Homepage After the Redesign

If you are a Methodist in South Carolina, or just grew up with a bunch of Methodist friends, chances are you've heard of Salkehatchie Summer Service. This organization has been serving our state since 1978, doing home repairs, rebuilding communities and helping people grow in the Christian faith. 40 years ago they had one camp; this summer there will be 46 throughout the state.
Their camps are open to all, not just those in the Methodist Church, and they wanted a website that would help spread the word to the community beyond the church. They also wanted to make signups and information about camps easier and more accessible so they worked with us to build a new website.
Salkehatchie Homepage Before the Redesign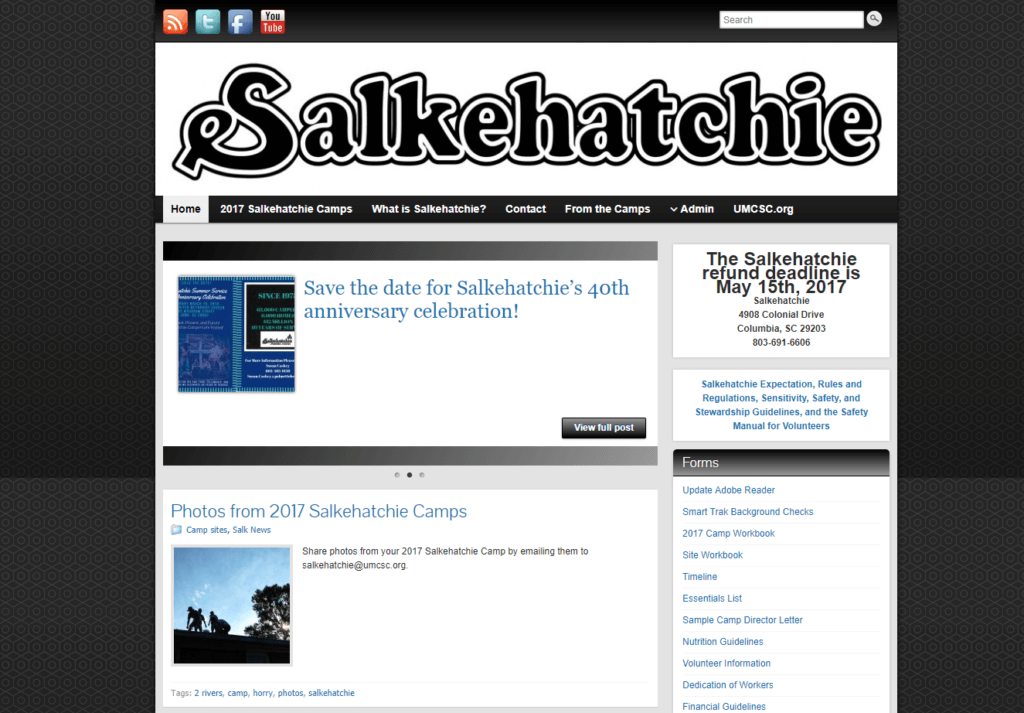 Goals
Appeal to a wider audience
Generate interest and participation among youth
Serve as an information portal for new and current campers
Calls to Action
What Sets Them Apart
Returning to communities year after year helps nurture hope where there is little
Campers learn hands-on skills, grow in their faith, and develop lasting friendships
Design & Strategy Highlights
Salkehatchie was using a standard blog theme which was limited in design and functionality, so we used this opportunity for a total transformation – brightening their brand with vibrant, modern colors and including animation and varied content alignment to make the design more interesting and to appeal to a younger audience.
A documentary about Salkehatchie's work was made and we were able to incorporate clips from that throughout the site.
On the 2018 Camps page, we provided two ways for users to find a camp – either by choosing a location of interest from a map or by choosing a date range that worked for them.
It was important to highlight the impact these camps have on both the participants and the homeowners who receive assistance. With 40 years of stories to choose from, it was tough to narrow them down for the Camp Stories page, but we felt limiting the stories allowed each to carry more weight.
Salkehatchie Homepage After the Redesign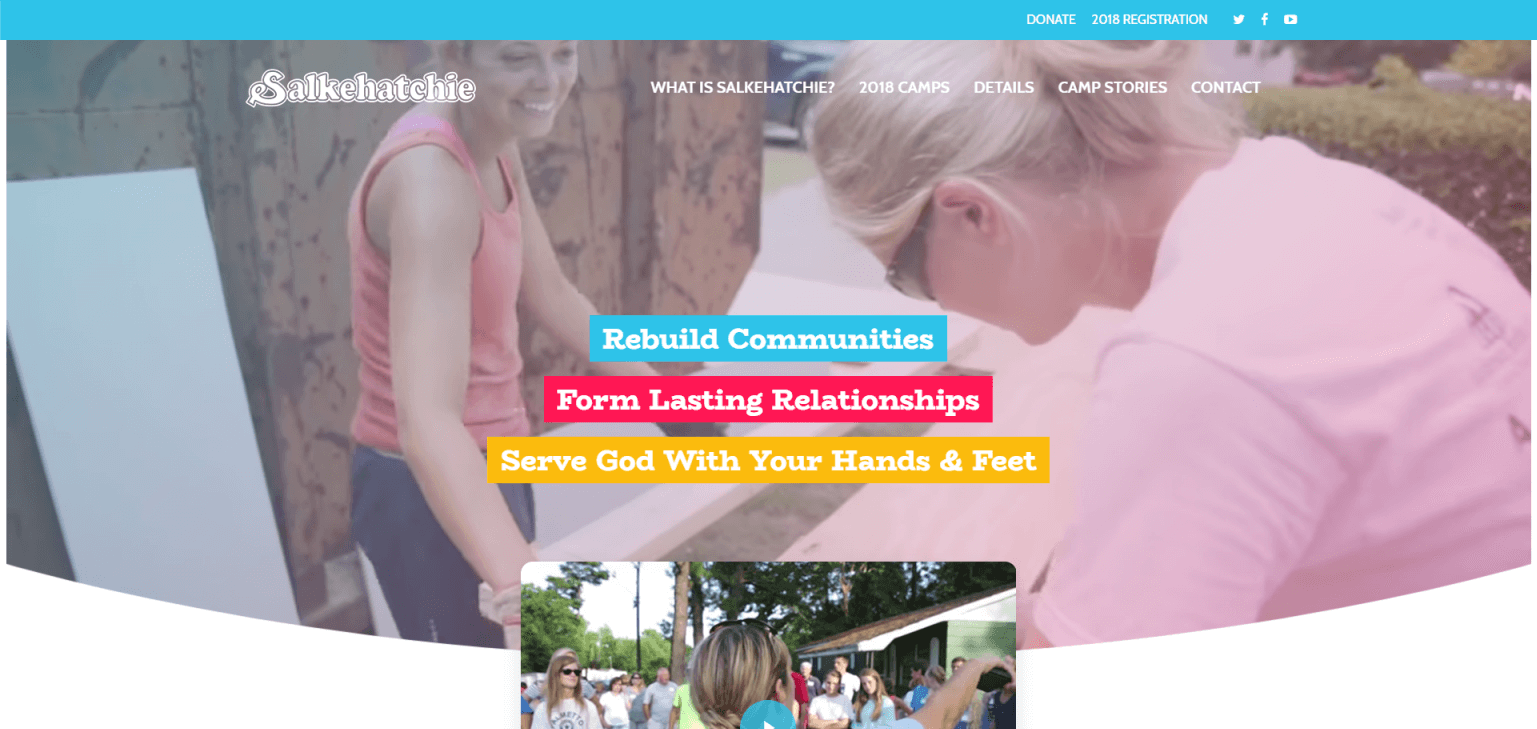 Start the Conversation
Interested in learning more about redesigning your website?
Schedule A Discovery Call