What is Reputation Management?
Reputation management sounds a lot like technical jargon or a PR strategy that only large corporations need. But you do – really need it. Reputation management services are just as, if not more, beneficial for small to mid-sized businesses.
Reputation management encompasses a lot more than just handling negative reviews or asking clients to rate you on Google. It has a huge impact on
Website traffic
Converting potential customers
SEO
Don't really believe us yet? Let us walk you through some details. BrightLocal just put out their 2017 Local Consumer Review Survey and the results speak for themselves. We promise this won't be boring!
Getting More Website Traffic
97% of consumers use the internet to find local businesses; we know this comes as no surprise to anyone. After customers determine they need a solution and come across your services, they want to know others have come to you for the same thing and they want to know you helped them.
Reviews do this. They are an unfiltered account of how you act with your customers. 54% of potential customers will take action to either visit your website or contact you directly after reading your reviews. And 26% will search for more reviews to validate their decision to work with you.
That's 80% of potential customers that require reviews before making any moves. That also means your business' website information needs to be 100% accurate on all the review listing sites.
Negative Reviews Don't Mean Negative Traffic
Worried about what happens when users read a negative review? Don't fret. Only half of consumers say that negative reviews make them think twice about the quality of a business. It may sound like a lot but it's a 10% drop from 2016.
And consumers are savvy. They care a lot more about how you respond to these negative reviews than the negative reviews themselves.Customers want to see how quickly you responded and what you did to remedy the situation.
We have all had a bad day and someone, be it a checkout clerk, waiter, or someone on the other end of the phone has gotten the brunt of it. As consumers read reviews, they look at your response for further context.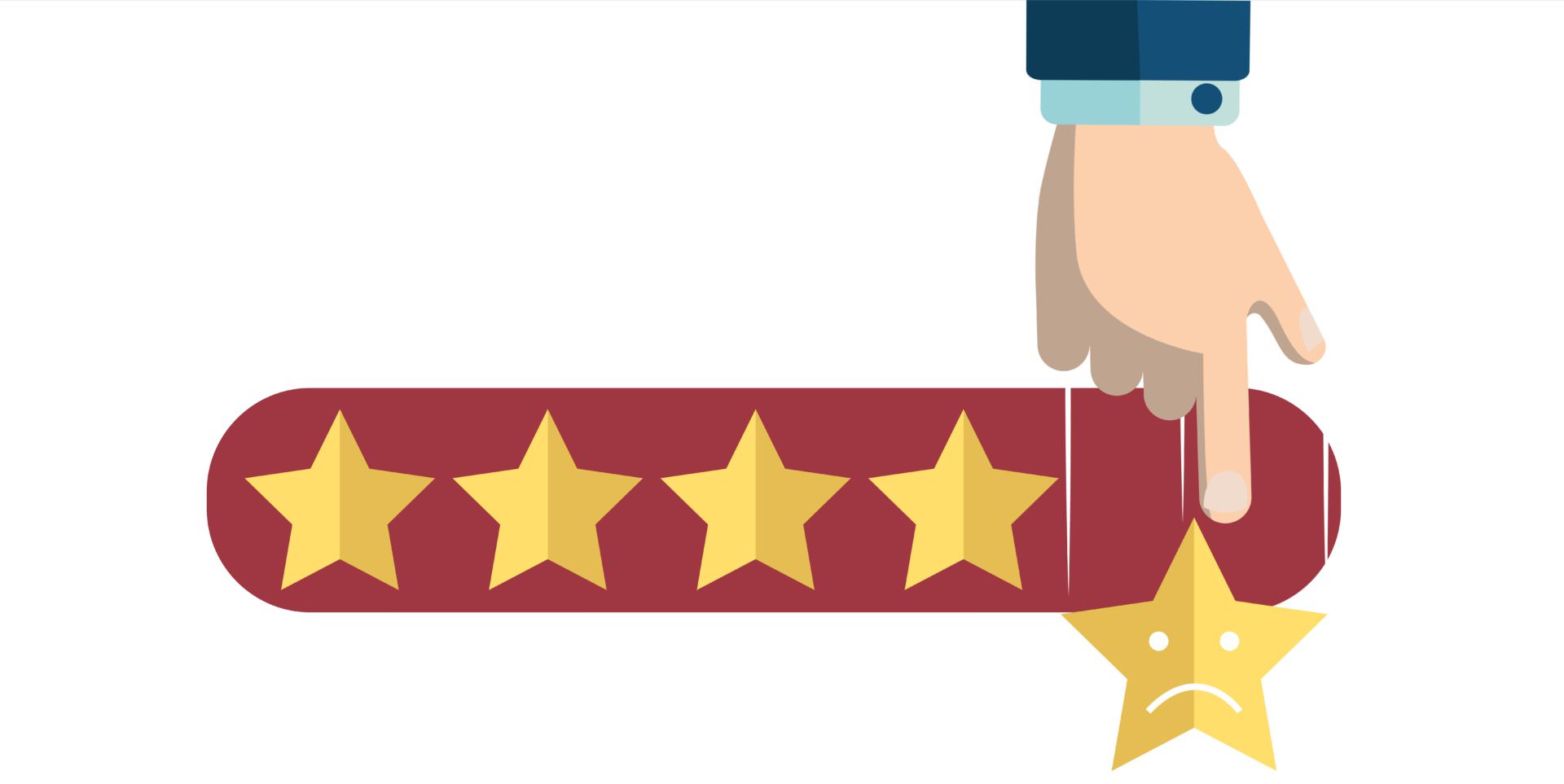 One last consideration consumers take when reading reviews, even negative ones, is the timeframe in which it was posted. A large majority, 77% large, do not believe reviews that are older than three months are relevant.
Converting Potential Customers
With more and more competition online, your website needs to stand out. You may have just redesigned your website, gotten a great SEO plan, and crafted an awesome online advertising strategy. But if your competitor is step-for-step with you, what makes the difference?
Reviews.
Nearly 70% of potential clients that read positive reviews will be more likely to do business with you and potentially spend 31% more. But it's not quite that simple.



Customers want to see a minimum of seven, 4-star reviews before they will validate your business and trust the average star rating.
When shopping without ever setting foot into a physical store or speaking with a sales rep, people need to justify their purchases in another way. Reviews help consumers trust your service since your product reviews aren't doing it. And why exactly would they?
Would you blindly trust a car salesman that a used truck is in perfect condition, or a restaurant owner telling you his steak is the best in town, or a builder telling you he builds the highest quality house?
But what if your mom recommended a car dealership, your friend's husband tells you about the best steak in town, or coworker who carries on about how great Joe at X Custom Home Builders was to work with.
Reviews are the new version of word-of-mouth advertising in the digital age. Having a lot of good quality reviews on multiple review sites is what gives diligent consumers the final push they need to choose you.
Leveraging Your SEO Plan
We talk a lot about SEO here at Engenius. It might seem like overkill, but we can't stress it enough: optimizing your website to show up in Google's top ten results is crucial. It can help you attain what every business wants with the ultimate, holy grail of getting that precious #1 spot.
When search engines scour the internet to return relevant results for users, they take quite a few factors into consideration. Reviews rank 7th on that list. They are also a competitive advantage, meaning you could outrank your competitor on (or vice versa!) if you have more positive reviews.
A constant stream of reviews signals to search engines that there is life on your site and around your brand. This indicates your website and services are relevant, increasing your chances of showing up in Google's local pack.
Review Sites Matter
Not all review sites are created equal. Getting customers to leave reviews on websites that Google rates highly (think Facebook, Yelp, the Better Business Bureau) the easier it will be for that review to impact your overall rating.
Some review sites share reviews across multiple platforms whereas others do not allow their reviews to be crawled at all. For example, Citysearch allows a review to be reached at 7 other review sites (Bing, Yahoo, YP, Urbanspoon) whereas TripAdvisor only lets Bing crawl their reviews.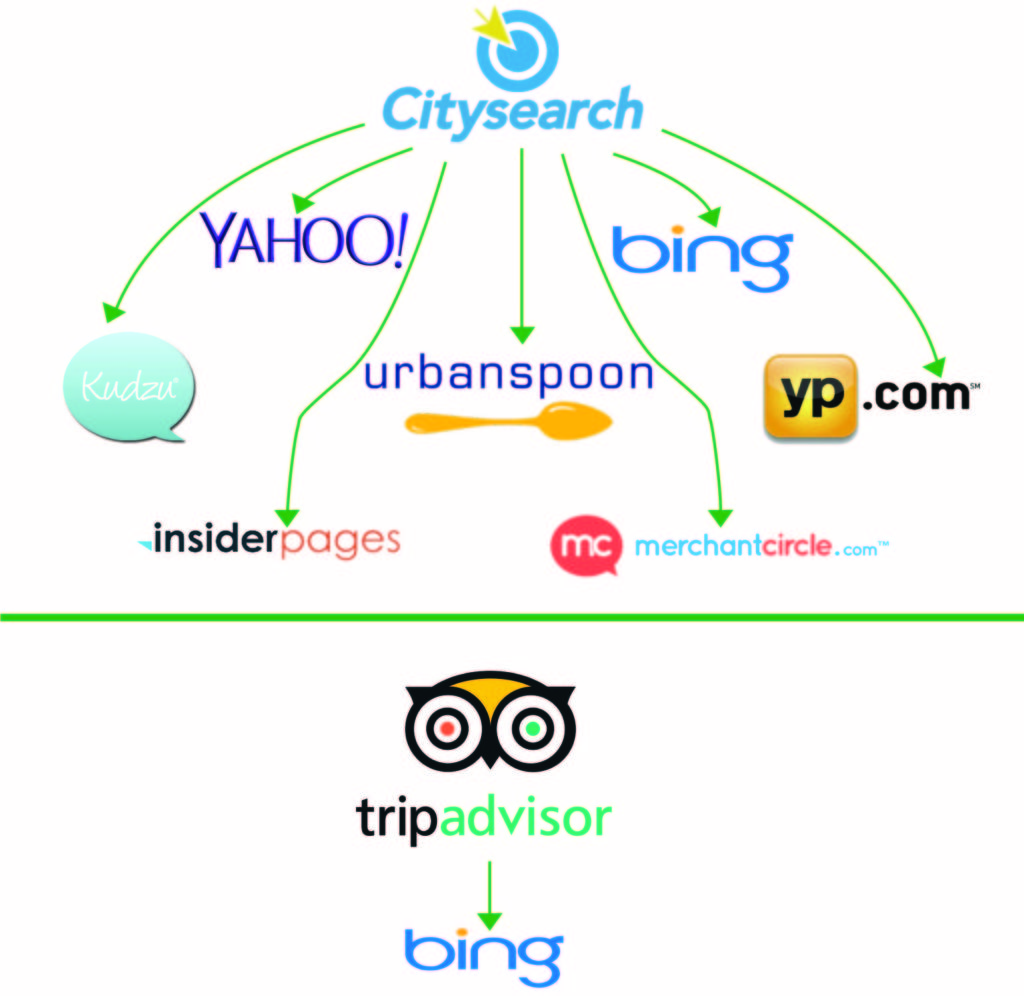 All this means is that you want to help direct your customers to leave reviews on sites where you really need them and at websites that will work with you, not against you.
Reviews and Keywords
No talk of SEO would be complete without mentioning keywords. The keywords you optimize your website for are the same ones your customers are using when they post reviews. Your customers can be some of your best optimizers without even realizing it.
No matter what your keyword is, if you can get your reviewers to talk about it in their review, the better your chances are to that #1 spot.
A Look into the Future
One last trend worth noting for reviews and SEO is video reviews. According to YouTube data, in the past 2 years, videos with the word "review" in the title had more than 50,000 years' worth of watch time on mobile alone.
The prevalence of videos in digital marketing is growing and should not be ignored. If you can encourage your customers to post video reviews you will be miles ahead of your competition.
Building a Successful Reputation Management Strategy
Convinced yet that you need a reputation management plan? We threw a ton of information at you but reputation management is a vastly underrated and overlooked part of a successful digital marketing strategy.
Online shopping is here to stay, customer research into brands and products is here to stay. Reviews are here to stay.
There are great tools to help you keep your review stream full, handle negative reviews, and brainstorm up new review strategies. It just so happens we offer one of those tools and we'd love to talk to you about your reputation management plan. Give us a call today.
Start the Conversation
Interested in learning more about how to manage your online reputation?
Schedule A Discovery Call