Join the Engenius family.
We're made up of a little bit of crazy and a whole lot of passion.
If you've checked out our core values and mission, you probably already know that we think actions speak louder than words. We're all about accountability, hard work, and collaboration; and we help and challenge one another daily as we drive results for our clients.
Think you have what it takes? If you're into solving problems and building partnerships, you're on the right track. Bonus points if you come prepared to contribute to our outrageous Slack conversations, toast project launches with a seasonal brew, and laugh until you cry around the lunch table.
Plus, all full time employees enjoy some pretty cool perks, including: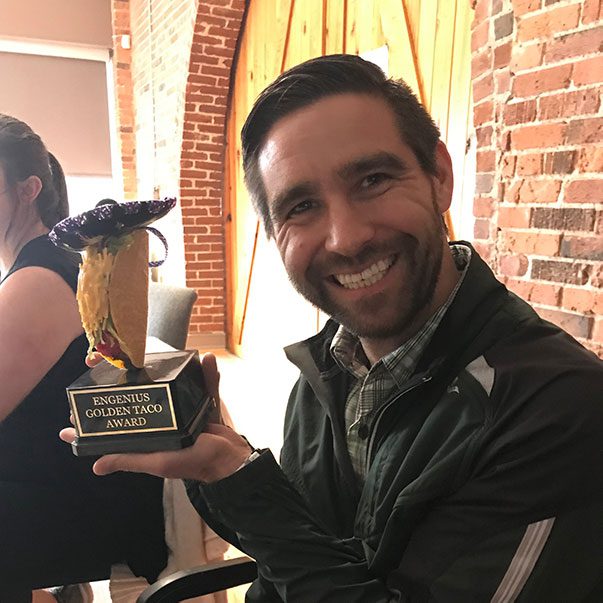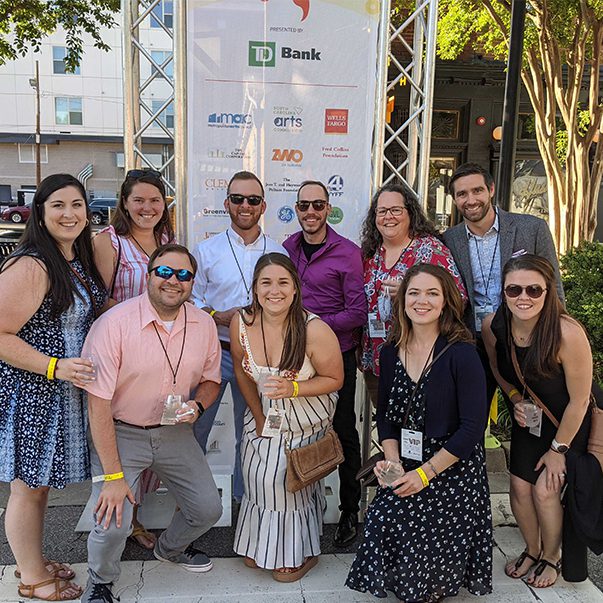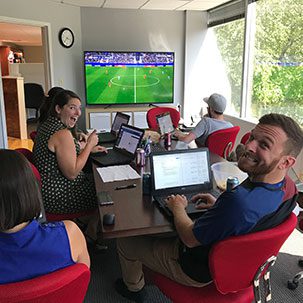 Healthy Work/Life Balance
Flexible Schedule
Generous Vacation Time
Health and Dental Benefits
Unlimited Remote Work
A Tight-Knit, Supportive Team
Engenius-issued Laptop
Paid Volunteer Hours
In-Office Kegerator
Weekly Catered Team Lunches
We're more than just a fun place to work.
A cool work environment is nice, but can't make up for an otherwise unhealthy office culture.
At Engenius, you're not just another cog in the wheel. We're coworkers and we're friends. We support each other at work and outside of it. We value our employees for the unique skills that they each bring to the table, and aim to find the right roles for our people—not the other way around. Here, you'll always be part of the bigger picture.
Our people are our most valuable assets and we know they could choose to work anywhere. That's why we work hard to foster an environment that is supportive, encouraging, and rewarding so they know they are valued even when the going gets tough.
It sounds cliche, but Engenius really is different. A lot of agencies boast superficial things like ping pong tables and happy hours but just don't cut it with the things that matter most, like work-life balance. Engenius encourages me to be my best personally and professionally, and has provided endless opportunities for growth.

Taylor Craig

Content & SEO Strategist, with Engenius since 2016
It is exciting to be part of a company where our Core Values and Priciples of Good Business truly are the foundation of what we do everyday. When things get hectic or we're unsure of how to move forward, they genuinely serve as our touchstone. There's a real freedom in that which I think allows us to be more creative problem solvers.

Ellison Manley

Web Designer, with Engenius since 2012
Engenius really embodies a culture of openness and vulnerability. We make decisions as a team and we don't work in silos, so everyone always knows we're working together toward the same goal. It's refreshing to be part of a team you know you can always count on to lift you up, encourage you, and hold you accountable to do your best work.

Brent Alexander

WordPress Developer, with Engenius since 2015
When you join the Engenius team, you're welcomed with open arms. Your quirks and differences are not just embraced, but celebrated. You're empowered to grow in your role according to your own strengths and you aren't limited to a static path. We're really focused on creating a culture that allows people to learn and flourish.

Molly Willette-Green

Director of Production, with Engenius since 2019
I'm thankful for a position where I leave each day excited about my job, our clients, and the honest and creative team I'm working with! I love the chance to tell stories, and I get to do that every day at Engenius.

Samantha Wagner

Sales & Marketing Coordinator, with Engenius since 2020
In times of instability and unease, I'm thankful for a workplace that values my mental health and also values and supports my position as an executive assistant. It makes me feel valued as a team member.

Anna Beam

C-Suite Executive Assistant / Office Manager, with Engenius since 2014
Job Openings
WordPress Designer / Developer
Engenius is hiring a full-time WordPress Designer / Developer to create beautiful and effective websites for our clients. If using UX best practices to create a stunning website, collaborating on a tricky DNS issue, troubleshooting a support ticket in WordPress, and engaging in team meetings to improve processes sounds up your alley, then we've got a spot for you.
A day in the life of an Engenius designer might include:
Participating in a morning huddle to touch base on projects
Walking a colleague through a tricky WordPress coding challenge
Designing a hero graphic for a client's homepage
Giving feedback on a site a colleague is designing
Putting your favorite podcast in the #entertainment-recs Slack channel
Attending the weekly catered team lunch
Identifying upcoming trends in user experience
Sharing the perfect gif in response to a teammate's joke
Overview of Responsibilities:
Design Websites
Participate in site architecture development & strategy for projects as assigned
Build WordPress websites in accordance with creative brief
Meet with clients to explain website functionality or design choices
Develop Advanced Components & Code Bases
Develop and design advanced plug-ins, site components, and customizations
Configure back-end functionality to accommodate customized elements
Ensure website servers are maintained & performing optimally
UX & Testing
Oversee agency guidelines for best User Experience design & development
Provide feedback regarding design best practices for all projects as required
Ensure testing is performed on all sites & that testing checklists are maintained
Minimum Requirements
The following are required for eligibility. Please be prepared to provide examples.
2-3 years demonstrated design & development experience within WordPress CMS with portfolio ready to submit
Clear understanding of Engenius' core values
Highly proactive

Able to proactively identify action items from meetings
Able to identify solutions to potential problems before they arise

Ability to work both in a team and independently
Strong listening and communication skills
Strong attention to detail
Time management skills and ability to prioritize to-do lists
Complex problem-solving skills
Ability to pick up new technological processes quickly
Ability to ask for, receive, and implement feedback (both positive and negative) from others
Preferred Requirements
The following aren't required, but you certainly get bonus points!
2 or 4 year degree in design, computer science, or development
2-4 years + working in PHP, MySQL, especially as it relates to WordPress
Experience with time tracking or project management software
This position is for a full-time, 40 hours a week role based in our downtown Greenville, SC, headquarters. Compensation package includes paid time off, paid volunteer days, retirement-matching program, health, vision, & dental benefits, and other perks. Salary will be based upon experience. Applicants interested must be willing to commute to Greenville, SC or relocate ASAP.
Does this sound like a good fit?  If so, we'd love to hear from you.
Submit Your Application
Don't see a position for you? We'll still gladly accept your resume!
Email us:
A cover letter explaining why you are a good fit for the Engenius team.
A memorable resume (i.e. give us an idea of who you are beyond where you've worked and when).
You'll hear back within 1-2 business days acknowledging the receipt of your resume. We'll keep it on file and reach out if something opens up. And in the meantime, if you see an open posting that strikes your interest, please apply for it directly through our site so we'll be reminded to pull up your file.
Submit Your Resume