You deserve a site that makes your business stand out.
Does your business' website make you look less professional or capable than your competitors? Do you feel embarrassed sending people to your website because it's outdated or doesn't represent your business well? Stop settling for a website that doesn't make you proud.
Your business' website should be eye-catching, easy for users to find the information they're seeking, and set you apart from your competitors. Engenius' award-winning, local web design team in Greenville, SC can help your website stand out from all the rest.
Schedule A Discovery Call
What Our Clients Are Saying
I am the CFO of an investment advisory firm based in Columbia, SC. I stumbled upon Engenius through reconnecting with a college friend and I couldn't have been more delighted by the fortuitous discovery. My company had been contemplating a redesign of our stodgy website for years and had been focused on finding a firm that specialized in this work for our industry. After reviewing some of the work that Engenius had done for folks in similar fields, I decided that fresh eyes with a different lens could be revitalizing. Internally, we were very pleased with the product, and the feedback we have received from visitors to our site has confirmed that theory.

Margaret Ellen Pender

Anchor Investment Management
We have nothing but great things to say about Engenius. They made the process of rebuilding our website extremely easy. We really appreciated the time they spent learning our business in order to create a website that worked for us. The best part is that it didn't just end when the build was complete. Their ongoing support and resource team has been invaluable to our marketing efforts as a whole.

Hot Springs Pools & Spas

/case-study/hot-springs-pools-spas/
The Engenius Team was phenomenal to work with as we redesigned our website. We knew we wanted to make our website more user-friendly for different types of users – donors, students, sponsors – to ensure they could easily find what they needed, and Engenius' website structure nailed it. Not only do we have a sophisticated, modern-looking website, we can also easily make updates to our dynamic site, driving more traffic to the website and sharing our mission with more people. Every page uses our brand colors and photos/video to effectively tell the world what the Greenville Tech Foundation does for our community.

Jaclyn Cobosco

Development Officer
Engenius did a great job distilling our brand and our message into a new website. I really had no idea where to start, and I had put off hiring a firm because I feared the process would be more work on my end than I had time for. That was not the case with Engenius: they had a clearly defined schedule, did all the heavy lifting, and delivered exactly what I was looking for. Our web presence reflects what we're building and trying to accomplish at the city, and that's all thanks to the creative and technical experts at Engenius.

Matt Brady

Economic Development Director
Why Partner With Engenius?
Lots of web design agencies claim to be the best. Learn what sets Engenius apart from all the rest and why more than 500 businesses have trusted our team to design their one-of-a-kind websites.
Our team is known for our:
Award-Winning Designs
If you're looking for a web design team that can really make your business' website stand out, look no further. We're known for thinking outside the box and are experts at taking big-picture ideas and bringing them to life.
Our websites have earned us numerous design awards, including the American Advertising Federation's ADDY Awards, the Web Marketing Association's WebAwards, and various other industry-specific awards for our clients.
Whether you're going for a more buttoned-up, professional look or something more colorful and modern, our web designers can deliver a finished product that perfectly represents your organization.
Our Work Speaks For Itself

Greenville County Parks & Recreation
Website Design & Development // Content Strategy // Custom Plugin Development
We helped Greenville County Rec by creating a simplified and streamlined web presence that allows users to easily explore the many amenities they have to offer.
Read Case Study

Triangle Construction
Website Design & Development // Content Strategy
We've helped Triangle Construction continuously modernize their website to stand out among competitors over the years.
Read Case Study

Kopis
Website Design & Development // Content Strategy
We helped Kopis showcase their company culture and streamline their online conversion process.
Read Case Study
Tried-and-True Process
We've been in business since 2008. With more than a decade of experience under our belts, we've become experts at moving you through the web design process quickly and efficiently while making sure your ideas are reflected in the final product.
Our proven process is intentionally detailed so that we don't miss anything. Our team completes 150 steps on your behalf. Plus, you'll have a dedicated project manager leading you through every step of the way. Here's a much more simplified version of our web design process:
Project Kickoff
We start off very big-picture. Our team will lead you through a kickoff meeting where we'll dig deep to get to know your business' audiences, goals, and vision for the website.
Strategy Creation
Using the information gathered in the kickoff meeting, we meet internally to craft a website strategy to meet your goals. We present the strategy to your team.
Website Build
With your approval of the strategy, we move forward and write your website's content. Then our designers use the content to inform the design of a beautiful and functional website.
Revisions & Testing
After we unveil the design to you, you'll have two opportunities to gather any revisions for our team to make. We also put your site through an extensive testing process.
Launch!
All systems go! Once everything looks and functions exactly as it should, we can initiate your website launch. You shouldn't experience any downtime when your new website goes live.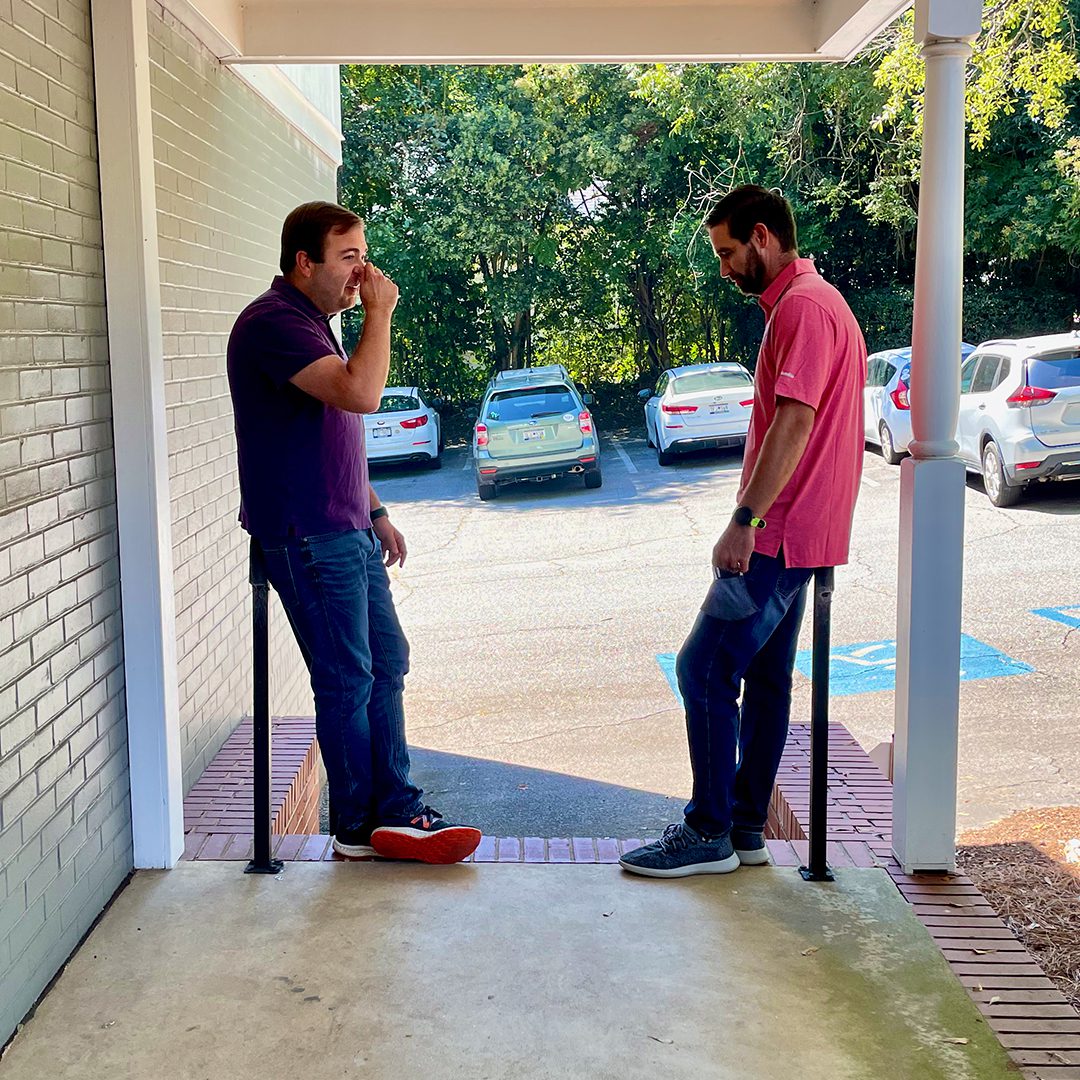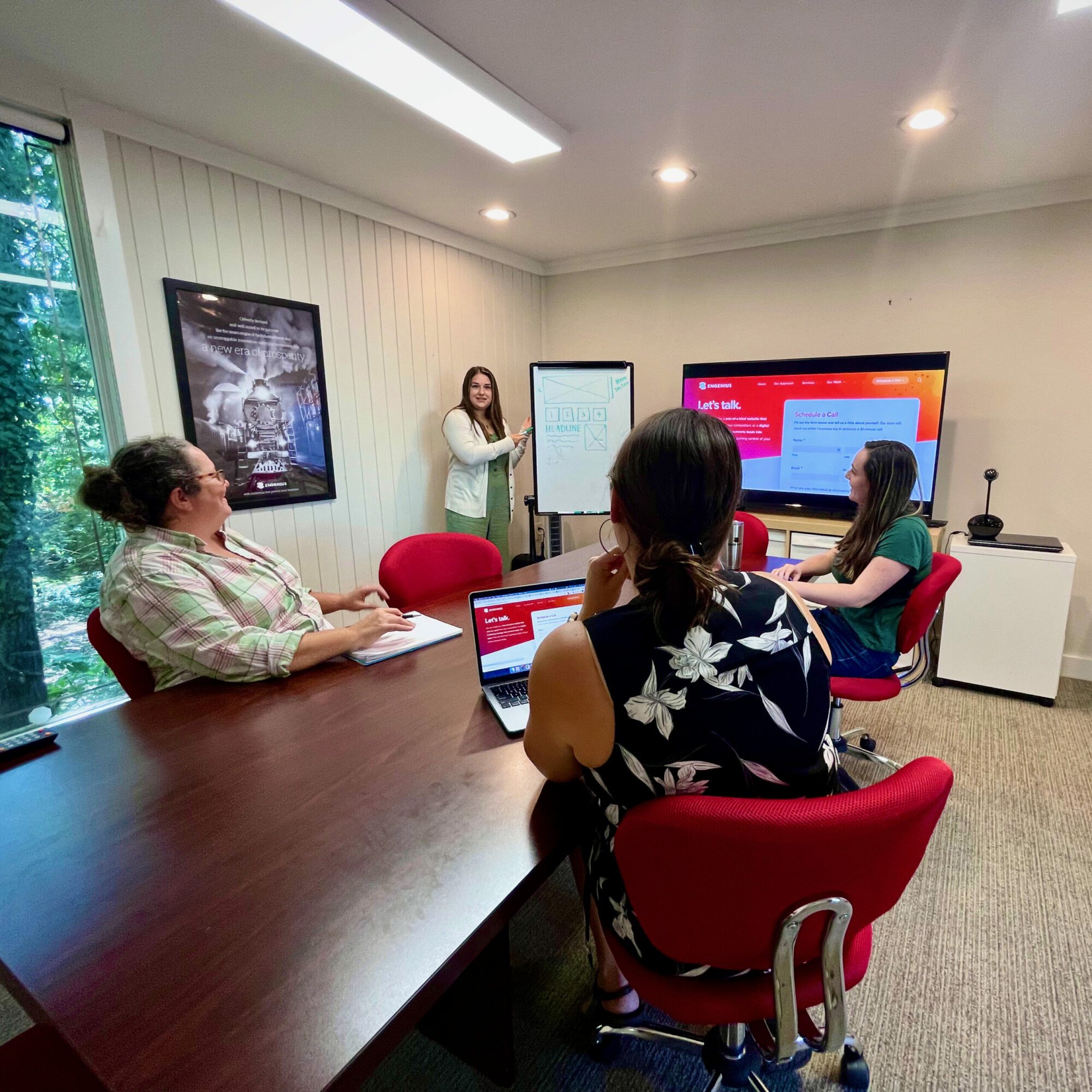 Client Satisfaction
You could say we're fanatical about client satisfaction and customer service, and we demonstrate that every chance we get. At our core, we're a values-driven company. We love designing beautiful and functional websites, but our work wouldn't mean a thing without the incredible clients we do it for.
Whether you're most focused on keeping your project ahead of schedule, having a team by your side to make creative recommendations, or want to partner with a group that will provide excellent support long after your website has launched, we'll make sure that your experience with us far exceeds your expectations.
Take Control of Your Online Presence Today
Take the first step toward a renewed digital presence. Contact us today to begin our proven discovery process.
Schedule A Discovery Call