We have the pleasure of working with some amazing companies at Engenius, and we're extremely proud of the work we're able to do for them. Creating websites that properly reflect their mission and values, and which are focused on achieving specific goals, is a privilege. As such, we want to highlight the new websites we've been working on and the companies that help make our communities incredible places to work, play, and live.
So without further ado, here are three companies we launched new websites for in September.
Seeking some type of real estate solution, either commercial or residential? Then turn to Coldwell Banker Caine for guidance! Their focus on community and full-service solutions make them a one-stop shop for all things real estate in the Upstate.
Goals:
To effectively communicate Coldwell Banker Caine is people-first
To be CB Caine's signature corporate website
Primary Calls to Action:
Have prospective agents fill out "Take the First Step" form
Depending on housing need, navigate to different pages or partner websites
Get in touch with the appropriate contact within CB Caine
What Sets CB Caine Apart:
Great support and resources for agents
High standards for agents translates to better-performing agents and better customer experience
Deep history, they've been in business since 1933
Coldwell Banker Caine gives back to the upstate community through their Caine Cares program
Before: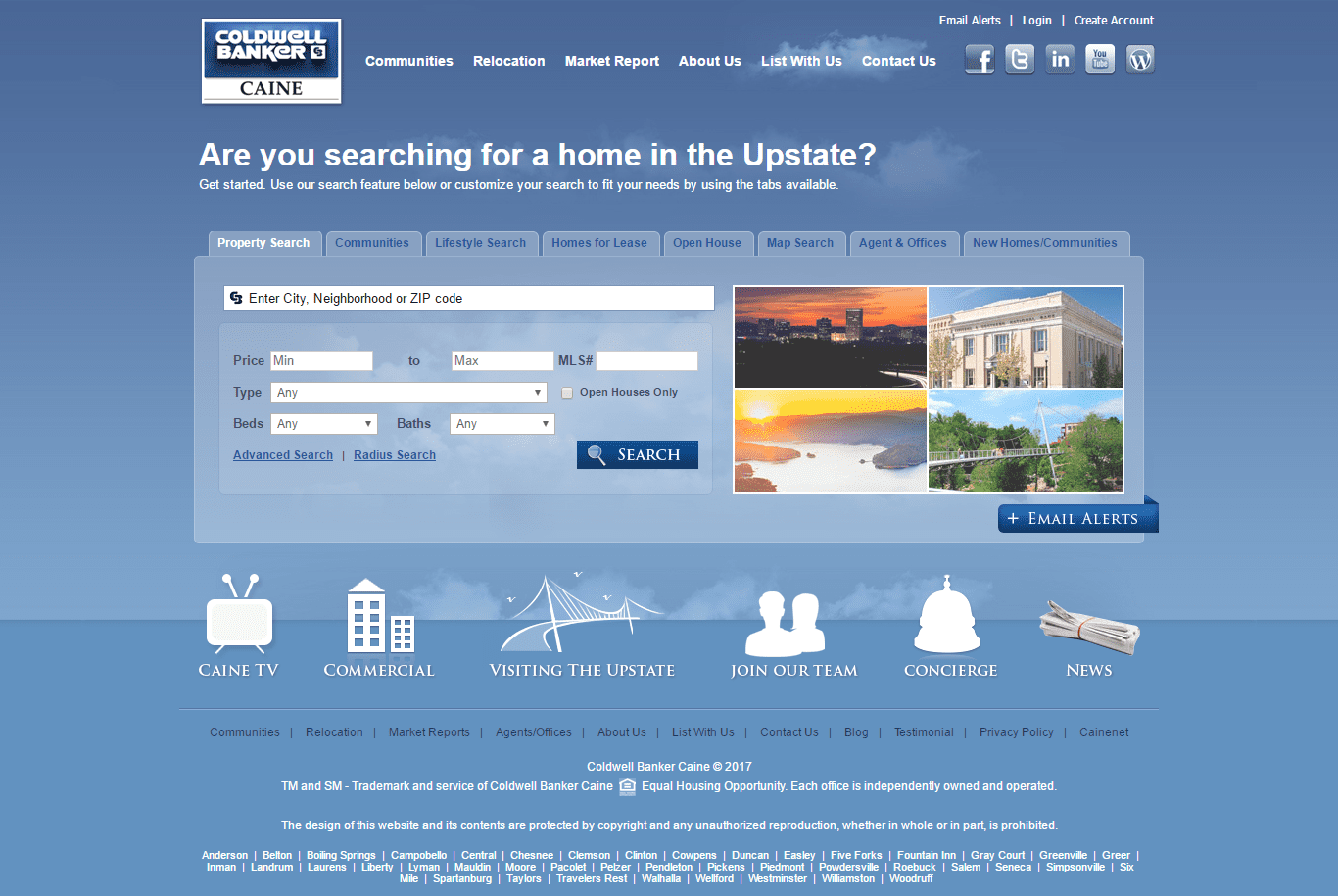 After: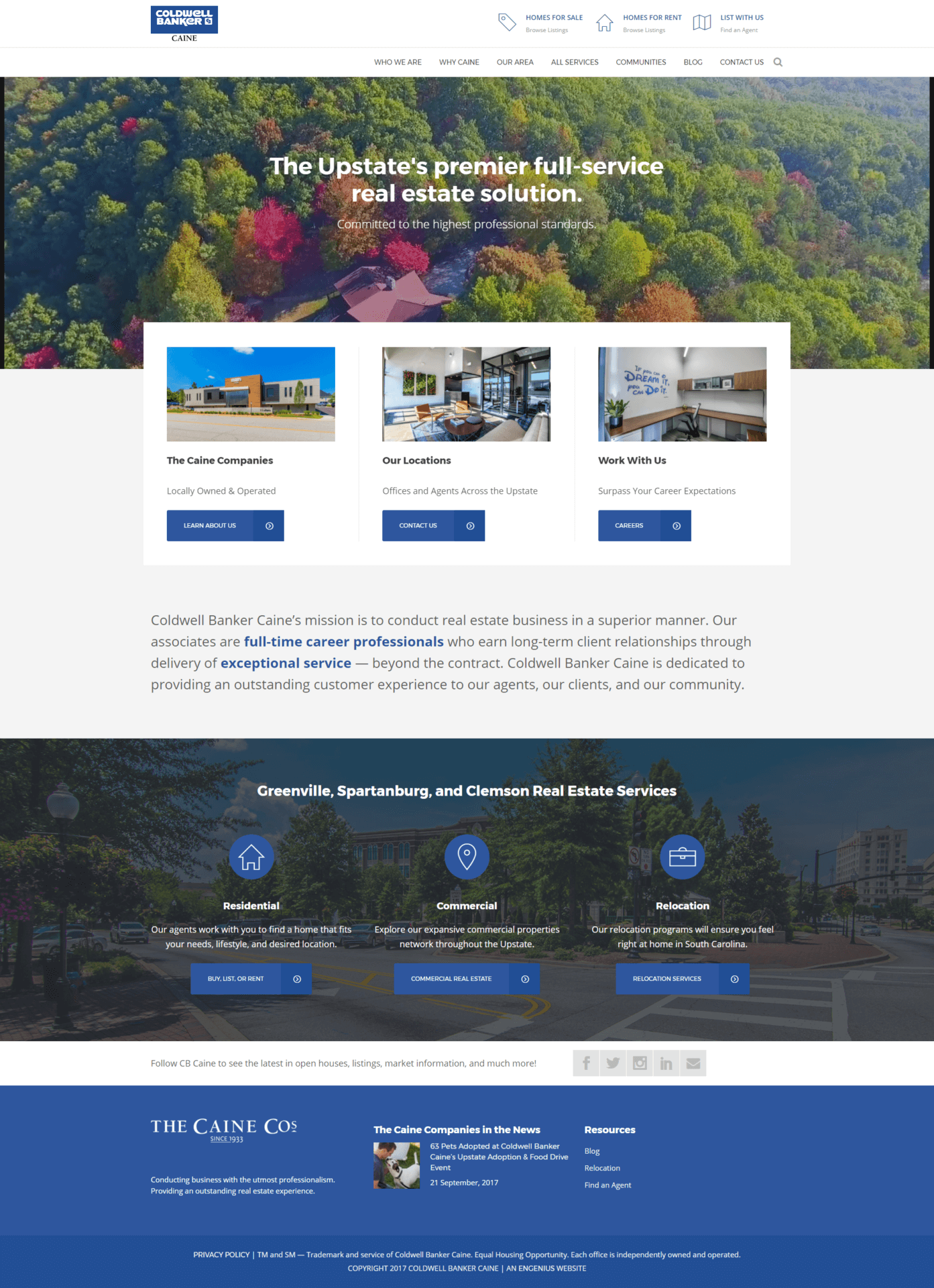 Design and Strategy Highlights:
Creating a Road Map – There's a lot of information on the website, so we wanted users to be able to easily find out who CB Caine is, how they believe in doing business, and where to buy, list or rent their next home.
Color Consistency – We wanted to highlight the CB Caine blue without overwhelming people, so we incorporated different hues of blue along with overlays to pick up the color, but not oversaturate.
Simplifying Several Sites – CB Caine had 3 separate websites users could end up on, and we were able to combine the corporate website, the blog, and the recruiting website into one sleek, easy to navigate source of information.
A recipient of our grants program, a Child's Haven is a local nonprofit which focuses on nurturing children with developmental delays. We're honored to be able to support an organization that is doing such important work for our community.
Goals:
Increase donor acquisition
Increase volunteer acquisition
Educate users about their services
Allow staff to edit website themselves
Primary Calls to Action:
Have users make a donation
Submit a form to volunteer
Contact clinical department to learn more about the program and enrollment
What Sets A Child's Haven Apart:
Everyone that is clinical or therapeutic staff at A Child's Haven has a degree
Low staff to child ratio
Individualized plan of care (IPOC) for each child, progressing according to developmental stages addressing their individual clinical needs. This early invention can possibly prevent development delays.
They work with not just the child, but also their caregiver to continue progress at home
Before: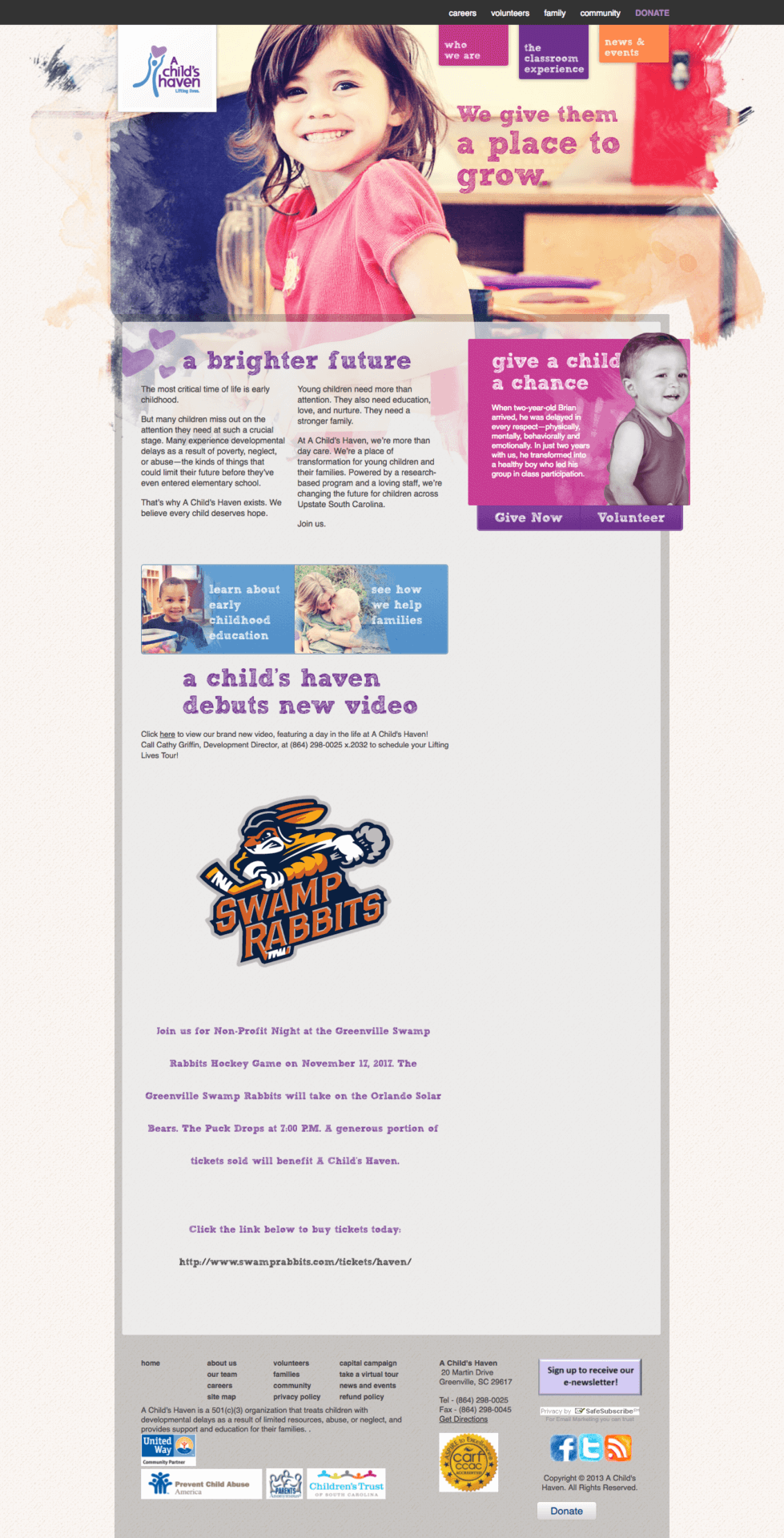 After: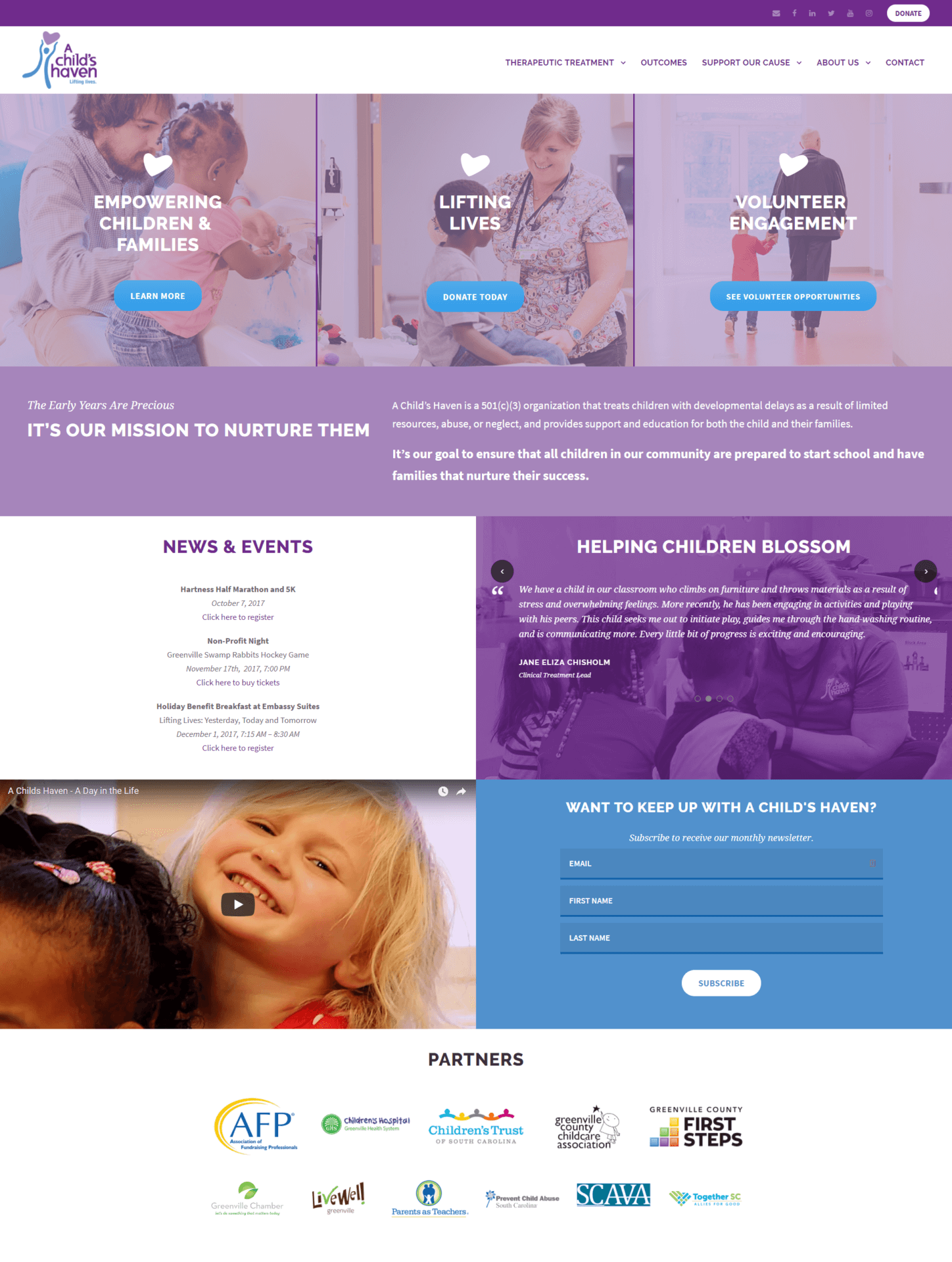 Design and Strategy Highlights:
Custom Photography – The photos for A Child's Haven highlight their goal – serving children – without violating those families' privacy.
Juggling Multiple Audiences – There was a lot of content to present so that both supporters and potential clients can understand what A Child's Haven does and find what they need on the site; this was done in a well organized, uncrowded way through the site architecture and "breathable" design.
Electrolock serves a pretty niche industry — manufacturing insulation for a wide range of applications — so it was challenging to understand and properly communicate their expertise. However, we're very happy with the end product.
Goals:
Acquire more leads to grow their customer base
Market their products more effectively
Modern, mobile friendly design
Primary Calls to Action:
Contact them by submitting a form or calling Electrolock
What Sets Electrolock Apart:
They are a boutique-style company that creates custom solutions, as opposed to big box-style companies that provide cookie-cutter solutions
They put the focus on building a relationship with their clients and not just cranking out work
A low turnover rate produces a consistency in their staff
Before: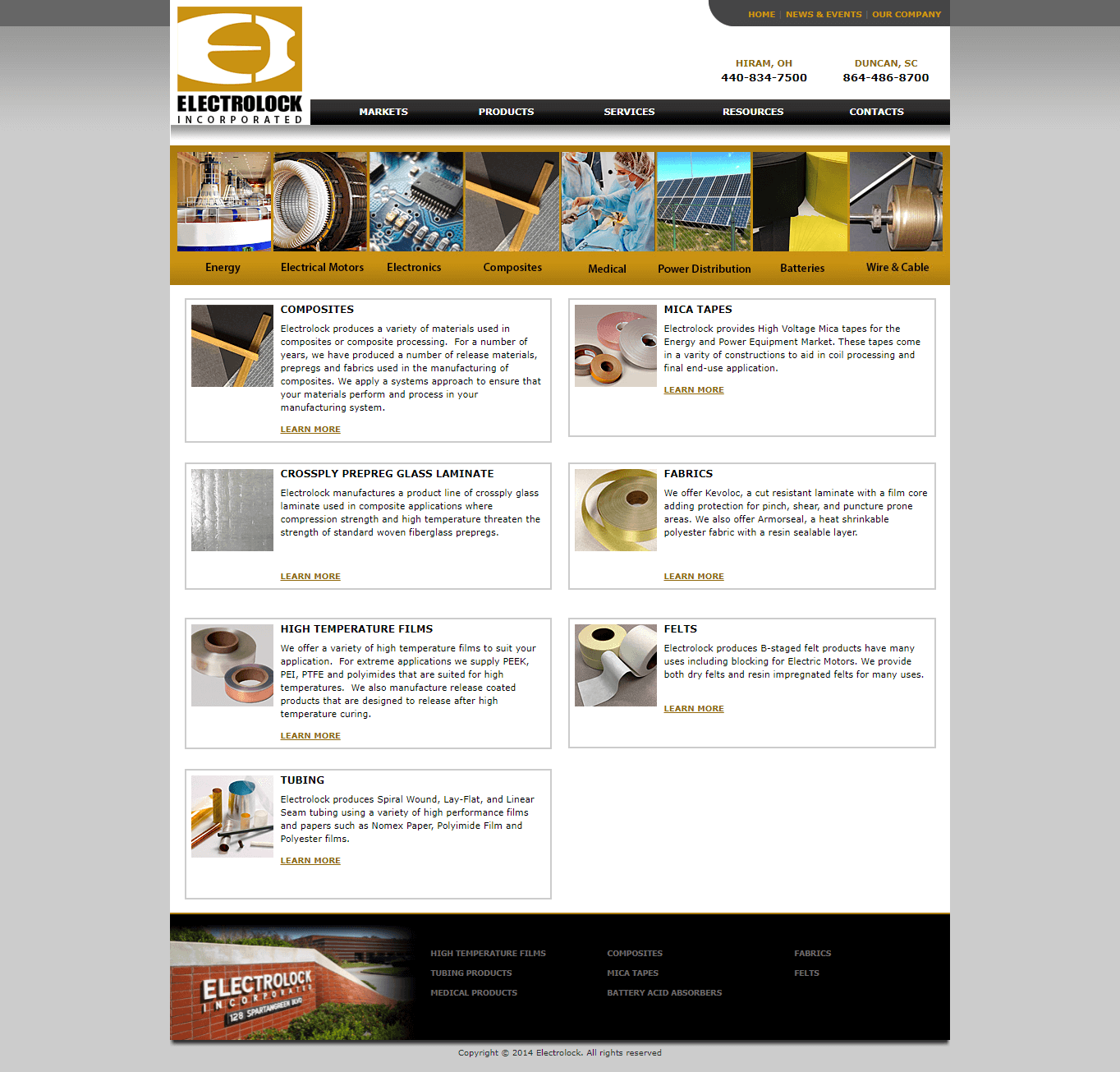 After:
Design and Strategy Highlights:
Better Focus – Greatly streamlined content keeps the focus on what Electrolock does best.
High Quality Photos – Use of unique custom photography interspersed with product photography provides a unique aesthetic.
Driving Action – There's a call to action on every product and service page, helping guide users to start a conversation.
Mobile-Friendly – Responsive design allows all content to be viewed on any device.

Start the Conversation
Interested in learning more about redesigning your website?
Schedule A Discovery Call