What Does Your Website Say About You?
Does your organization's website effectively represent your brand? Does it help you connect with donors and volunteers? Does it help you facilitate more adoptions and recruit new pet foster parents? Stop settling for a website that isn't working for you.
A strategic, eye-catching website can help your humane society or animal shelter capture your audiences' attention like never before. Engenius' award-winning web design team can help your website stand out from all the rest.
Schedule a Call
Fill out the form below and tell us a little about yourself. Our team will reach out within 1 business day to schedule a 30-minute call.
How We've Helped Other Humane Societies Just Like You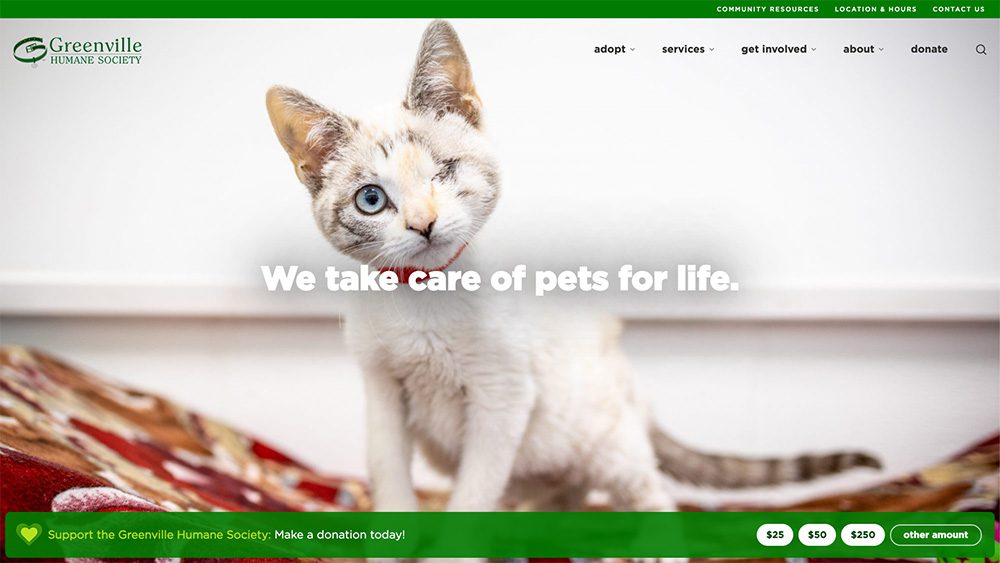 "Engenius made navigating a full website revamp easy and fun. They were efficient, flexible, and able to guide us appropriately to get to the goals we wanted to achieve with our new website.

Greenville Humane Society
View Case Study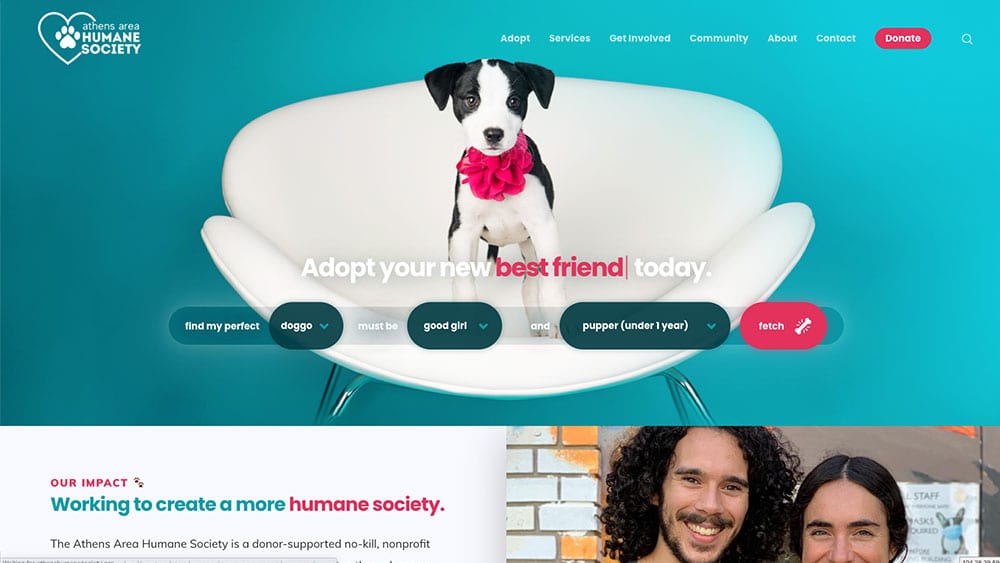 "We want to thank our web developers and partners on this project, Engenius, for taking our digital image and breathing life back into it. Designed with our pets and supporters in mind, our reimagined website will carry our impact further and give our clientele a clean, fun way of interacting with us digitally.

Athens Area Humane Society
View Case Study
Why Partner With Engenius?
Lots of web design agencies claim to be the best. Learn what sets Engenius apart from all the rest and why more than 500 businesses have trusted our team to build their one-of-a-kind websites.
Our web design team is known for our:
Award-Winning Designs
If you're looking for a web design team that can really make your business' website stand out, look no further. We're known for thinking outside the box and are experts at taking big-picture ideas and bringing them to life.
Our websites have earned us numerous design awards, including the American Advertising Federation's ADDY Awards, the Web Marketing Association's WebAwards, and various other industry-specific awards for our clients.
Whether you're going for a more buttoned-up, professional look or something more colorful and modern, our designers can deliver a finished product that perfectly represents your organization.
Tried-and-True Web Design Process
We've been in business since 2008. With more than a decade of experience under our belts, we've become experts at moving you through the web design process quickly and efficiently while making sure your ideas are reflected in the final product.
Our proven process is intentionally detailed so that we don't miss anything. Our team completes 150 steps on your behalf. Plus, you'll have a dedicated project manager leading you through every step of the way. Here's a much more simplified version of our web design process:
Project Kickoff
We start off very big-picture. Our team will lead you through a kickoff meeting where we'll dig deep to get to know your business' audiences, goals, and vision for the website.
Strategy Creation
Using the information gathered in the kickoff meeting, we meet internally to craft a website strategy to meet your goals. We present the strategy to your team.
Website Build
With your approval of the strategy, we move forward and write your website's content. Then our designers use the content to inform the design of a beautiful and functional website.
Revisions & Testing
After we unveil the design to you, you'll have two opportunities to gather any revisions for our team to make. We also put your site through an extensive testing process.
Launch!
All systems go! Once everything looks and functions exactly as it should, we can initiate your website launch. You shouldn't experience any downtime when your new website goes live.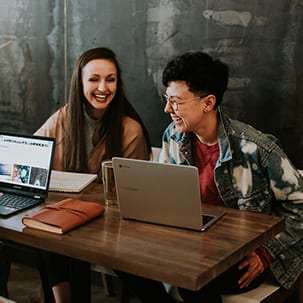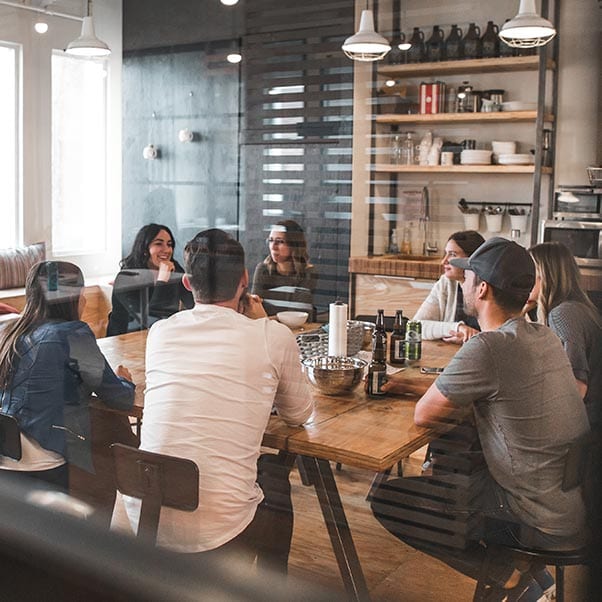 Client Satisfaction
You could say we're fanatical about client satisfaction and customer service, and we demonstrate that every chance we get. At our core, we're a values-driven company. We love creating beautiful products, but our work wouldn't mean a thing without the incredible clients we do it for.
Whether you're most focused on keeping your project ahead of schedule, having a team by your side to make creative recommendations, or want to partner with a group that will provide excellent support long after your website has launched, we'll make sure that your experience with us far exceeds your expectations.
Take Control of Your Online Presence Today
Take the first step toward a renewed digital presence. Contact us today to begin our proven discovery process.
Schedule A Discovery Call