Greenville's restaurant scene has been expanding rapidly over the last 5-6 years, not only in the enormity of dining options but also in the level of quality and national recognition. You'd be hard-pressed to find a travel magazine or "foodie" publication that doesn't mention Greenville somewhere. But, did you know that all the yumminess started even before downtown Greenville was such a hot, hip destination?
Twenty years ago, Carl Sobocinski and his partner, David Williams, purchased and restored the old Cancellation Shoe Mart on South Main Street and, in many ways, started the Greenville food revolution by opening Soby's New South Cuisine.
Engenius has been partnering with Table 301, the restaurant group Sobocinski went on to found, since 2014. Together we have created EIGHT websites—each one a reflection of the individual brands of their restaurants, catering services, and corporate team.
Through working together for such a long period of time and on so many different projects, we've developed a mutual understanding, trust, and respect for the way we each do business.
Table 301 and Engenius share many of the same values, particularly our focus on great service and our love for Greenville and desire to see it grow without losing the core of who we are as a city. We understand each other, and we love working together!
"The team at Engenius has been a great partner to us. They've helped us update and create websites that truly represent each unique brand, while also making them easy to manage and maintain. They have shown us the same level of responsiveness and service that we strive to provide to our guests, making it an easy and creative partnership. Not to mention, they are more than patient with us through all of our questions, needs and high-speed requests. They actually answer the phone when I call—what a fantastic level of service in this age of online help centers and phone trees!"
– Gina Boulware, Director, Marketing and Public Relations Table 301 Restaurant Group
Nothing in over 3 years of partnership made us prouder than launching the new Soby's site to coincide with its 20th Anniversary this fall.
Soby's homepage before the redesign: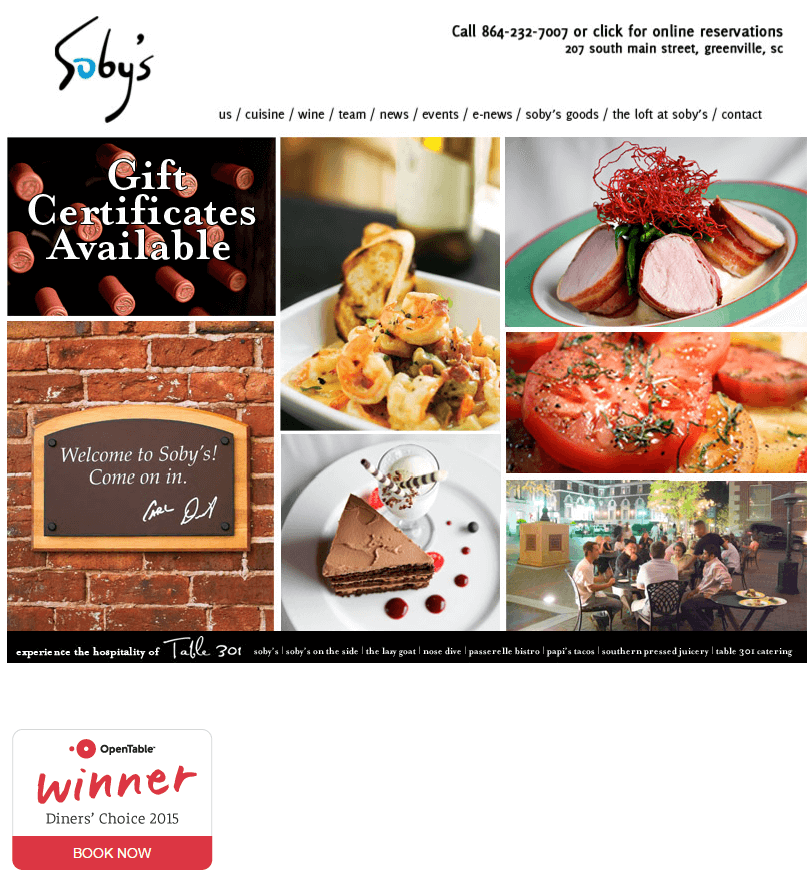 BEFORE:
The previous Soby's site was definitely "old school" with its boxy layout, crowded navigation, small typeface, limited imagery, and poor mobile experience. It wasn't easy for users to find what they were looking for. In short, it did not demonstrate the standards for which an evening at Soby's is known.
GOALS:
Create a fresh yet classic site to represent this flagship restaurant.
Incorporate the Soby's story and ambiance throughout the site. (In other words, celebrate its history without looking dated!)
Make it easy for users to make reservations and peruse the menu.
Soby's redesigned hompage: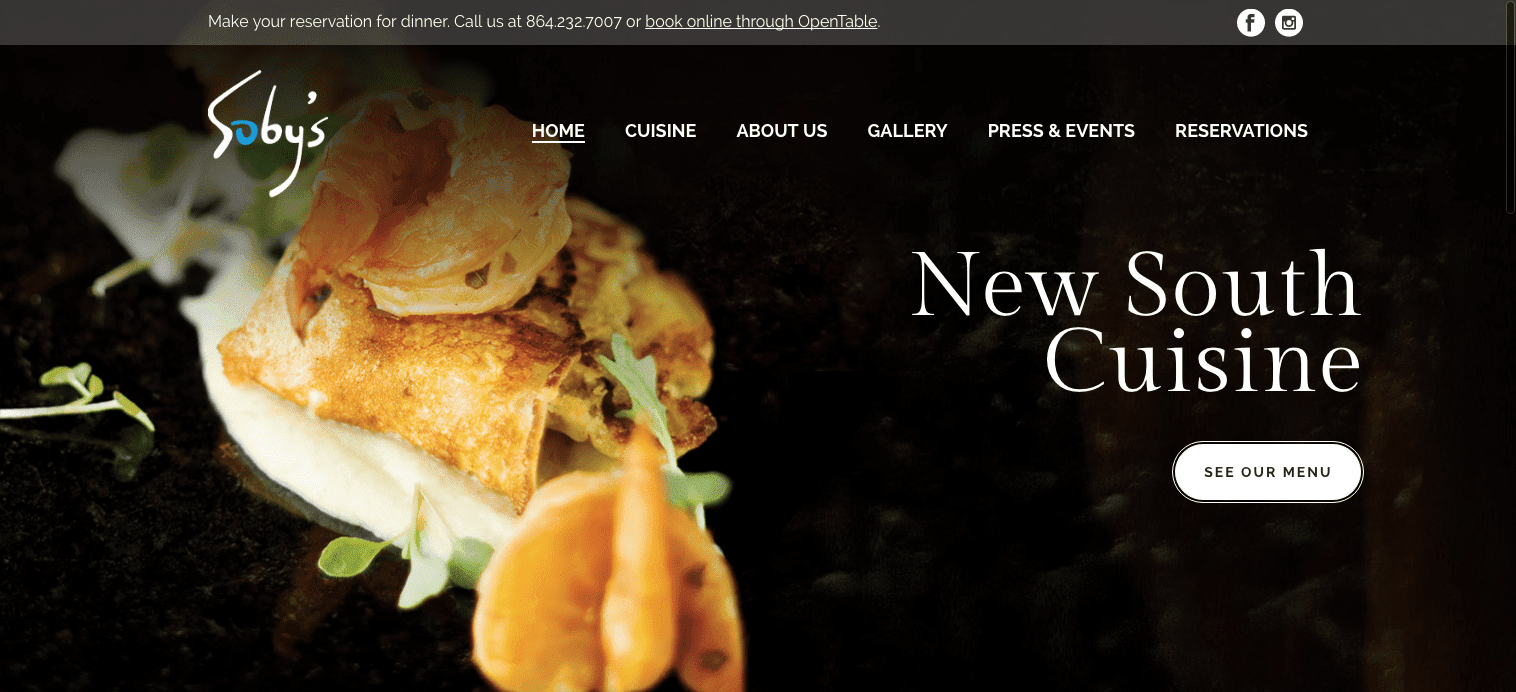 DESIGN & STRATEGY HIGHLIGHTS:
Bigger IS Better
For the redesign we utilized big photos at the top of each page to put the focus on the food and atmosphere of the restaurant.
We placed a bigger emphasis on Soby's huge, award-winning wine selection by giving it not only its own tab on the menu page but also a featured section on the homepage.
On the page which tells the Soby's story, we animated some BIG numbers to give an inkling of all the hard work that has gone on in the Soby's kitchen over the last 20 years.
Why do most users come to a restaurant website? To check the menu or to make a reservation.

Menu – The new menu page is well organized, easy to read, and easy for Table 301 staff to update as options change.
Reservations – There are two different links available in the header section that will take you to the online reservation options, as well as several other "widgets" placed strategically on the homepage and the menu page.
Start the Conversation
Interested in learning more about redesigning your website?
Schedule A Discovery Call