Over the last few months we have been introducing you to our team. This month we wanted to highlight our newly appointed COO, TJ Deluccia.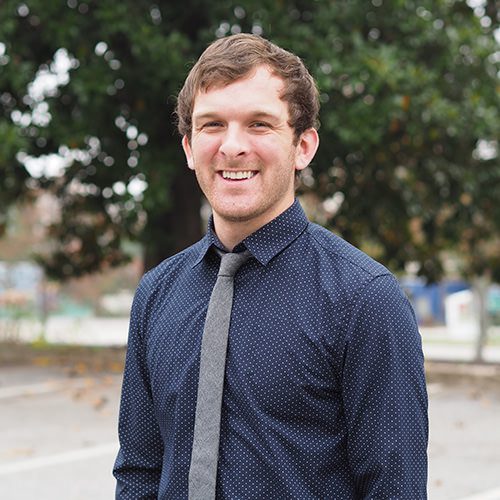 TJ is the office dad: level-headed and wise, patient and thoughtful, with plenty of cheesy jokes and a knack for teaching the team new lessons. He was brought on as Director of Production back in 2016 and has worked his way up by implementing great ideas and helping Engenius grow and mature.
A Long and Winding Road
TJ's journey to the COO position has taken many twists and turns. While attending Clemson he jumped from one degree to another — his pursuits included pre-med, construction science management, and graphic design. He ended up graduating in 2010 with a degree in Print Production, but he still wasn't sure what he wanted to do.
After graduating, TJ joined Erwin Penland and worked in various capacities during his five year tenure. Just like his time in college he moved from one role to the next, working in print production, video production, experiential design, and eventually moving into more client-facing roles.
During all this time, going as far back as his college days, TJ had his eye on Engenius. He knew both of the company's founders, Chase Finch and Chris Manley, from his time at Clemson.
"Chase was actually a good friend of mine at Clemson and he told me he was starting this company and I always kept my eye out. Six years ago I applied for a position at Engenius, but the timing wasn't right. But because I was so closely connected to those guys I watched them while I was over at EP and when they reached back out for the Director of Production [role], the stars kind of aligned."
Despite his varied experiences TJ wasn't familiar with web design when he came to Engenius, but he did know advertising. His understanding of project management, customer service, and marketing brought a fresh perspective that we greatly benefited from.
In one sentence how would you sum up the internet? "It is the digital wild wild west."
Transitioning From Big to Small
Going from EP to Engenius was a significant transition for TJ. Not only had he worked with huge brands and budgets, but he was largely working in cities outside of Greenville. He felt disconnected from his home and wanted to contribute something to the city he loved so much, which was one of the driving forces that brought him to Engenius.
"I had worked in primarily really big, large brands so we are talking multi-million dollar budgets in places that were in big cities like New York and Boston. I was excited to work on and improve the small business community in Greenville and work with people that I will actually meet and talk to and know pretty well."
For TJ this change was both refreshing and enlightening. He felt like he could really set down roots and connect with his city in a way he had never done before. And he was able to coach a young and energetic team as he grew into his leadership role.
One important lesson he brought with him: people have the same expectations for great work regardless of how much money they spend. From small to big businesses, you run into the same problems.
"Whether you are spending 2 million or 3 grand, the desire for it to be great is the same from big to small. Expectations don't really change regardless of how much money you have to spend. If you are spending $1 million you're expecting a $1 million return. If you are spending $3,000 you are expecting a $1 million return.
The pressure to do great work does not change from big to small business."
Favorite Thing About His Transition: The opportunity to work on and improve small businesses in a community he loves, while also being able to lead a team.
Favorite Projects: Greenville County Rec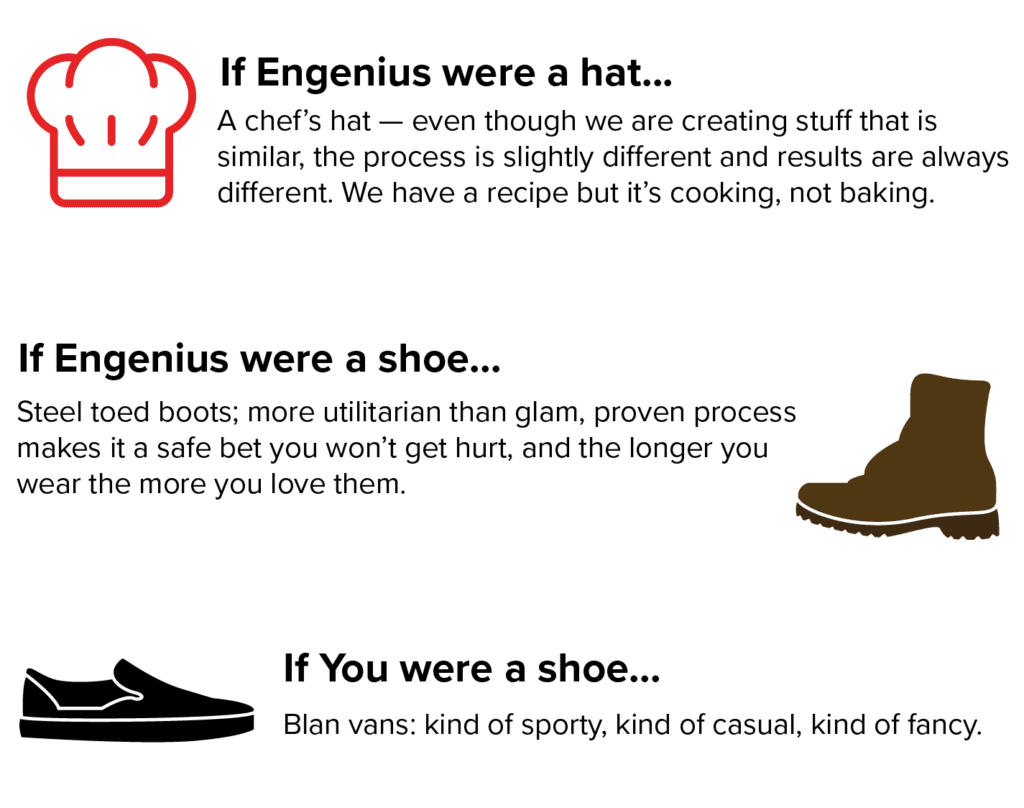 Moving to the C Suite
After arriving at Engenius it didn't take long before TJ was asking hard questions and implementing new systems; his efforts helped push the team to new heights by challenging the status quo and finding more efficient ways to complete our work without sacrificing quality. He keeps the team on track on a day-to-day basis, but is always thinking about the big picture and how things could be improved to set Engenius up for long-term success.
The desire to improve and question the way we do things pervades our culture, and TJ's enthusiastic efforts are a big part of what led him to COO. He recognizes the adaptability of his team and leverages that strength regularly, helping to transform our CEO's vision into a concrete plan..
TJ hasn't been in the COO position long, but he's already excited about the change. The opportunity to do big picture planning, attempting to solve problems years down the road while planning for the growth of his team, perfectly fits his mentality of constant improvement. Stagnation isn't an option for TJ, and he's sure to keep us on our toes as he continues to grow in his new role.
Favorite thing about Engenius: "The people that I get to work with and the clients we get to work with. It's very varied in both aspects. I feel like I get to know a lot of different types of people and I get to know a lot of different types of industries. Feeling like you are able to switch gears and think creatively in different spaces. And our ability to flex and change quickly. If we find out that Google is doing something different we can change that tomorrow, because we have a nimble enough team and a flexible enough team. When you are in a larger agency it can take months or even years to make the changes you need to make in order to do your job well."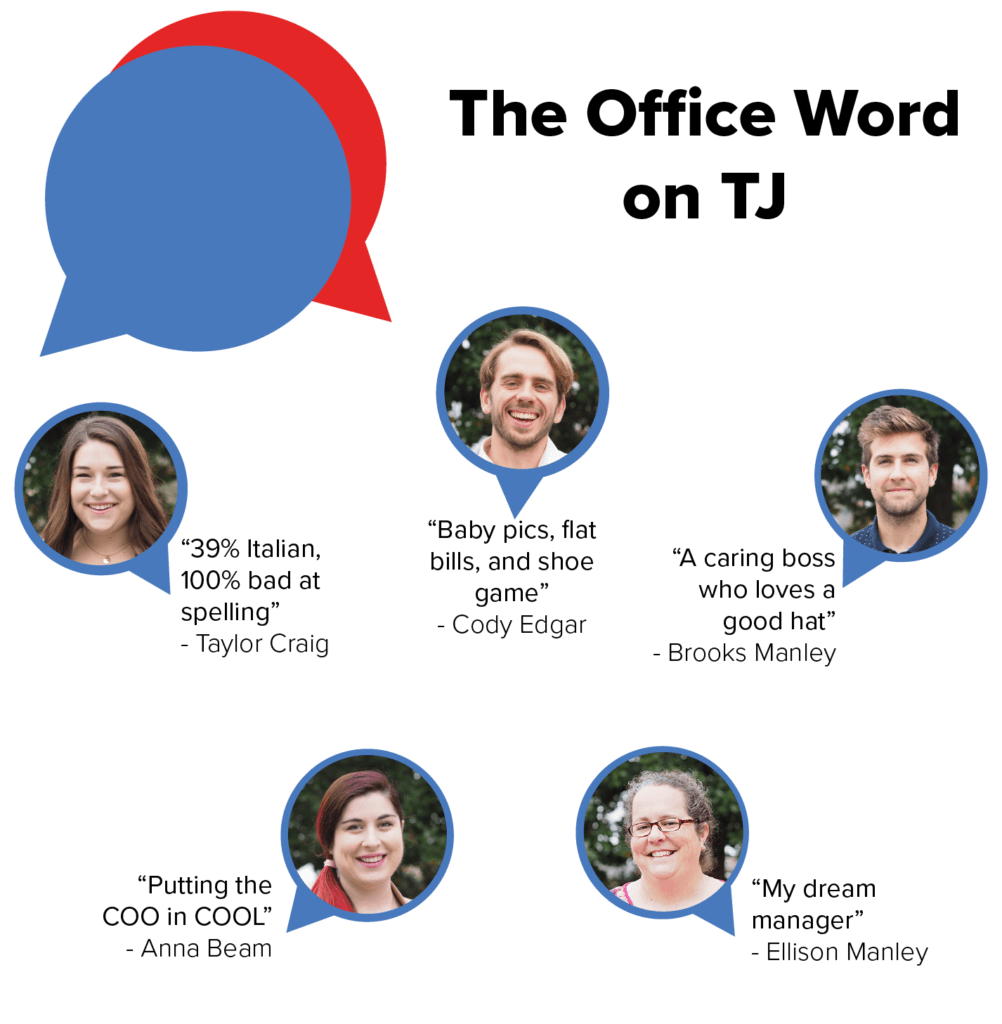 Happily Embracing His Home
Although TJ grew up in the Powdersville area, he wasn't as familiar with Greenville proper until later in life.
"As a kid you didn't go to downtown Greenville, we went to downtown Anderson. We just didn't come this way."
Like most Greenville natives he's delighted with the development we've seen in our food and beverage scene.
"I love this city. I love that there is a taco place right next to a beer place right next to a hatchet throwing place and it's not in the 'uppity' part of Greenville. It's in the part that needs some life and vibrance. It's like an Asheville, Charlotte, Atlanta mosh of all the best parts of each city"
TJ loves to be active and creative in his free time. Outside of the office you can find him playing disc golf, painting masterpieces, and hatchet throwing. He's also an avid collector of hats and shoes.
His love for hats started as a kid when he was "a huge Florida State fan. I got a new Florida State hat every year growing up for my birthday as a kid. I became an adult and it became a hobby."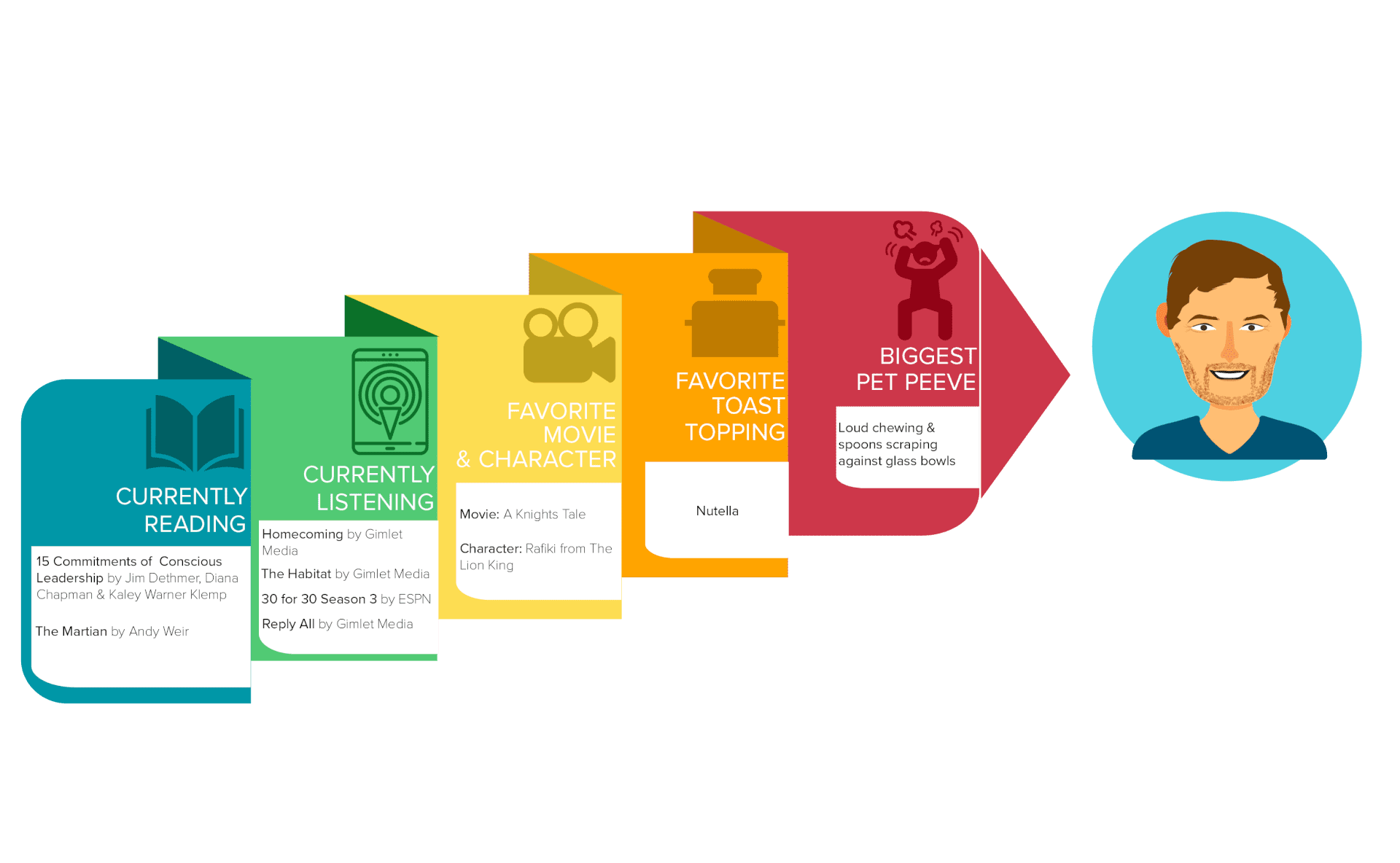 Chances are you already know TJ — he's been in the Greenville area a long time and is notorious around the office for always running into someone he knows when out and about. But if you don't, we hope this gives you an idea of why he's such an important part of our team. We're extremely happy to have him with us and excited to see how he owns his new role!
Start the Conversation
Interested in learning more about our agency and how we can help your business?
Schedule A Discovery Call