Having 24-hour access to the internet, from nearly any location, means there are millions of potential customers online, searching the internet, at all hours. This kind of instant access to information has transformed the traditional buying process for everyone—consumers and businesses.
Product research is no longer something done by just a few. It is no longer something done for specific categories of products nor is it something done for just high ticket items.
Product research is done consistently by 88% of consumers and it's not just the expensive purchases we are researching. We spend about 13 days researching products as minor as a toothbrush before we pull the trigger. This has huge implications on SEO.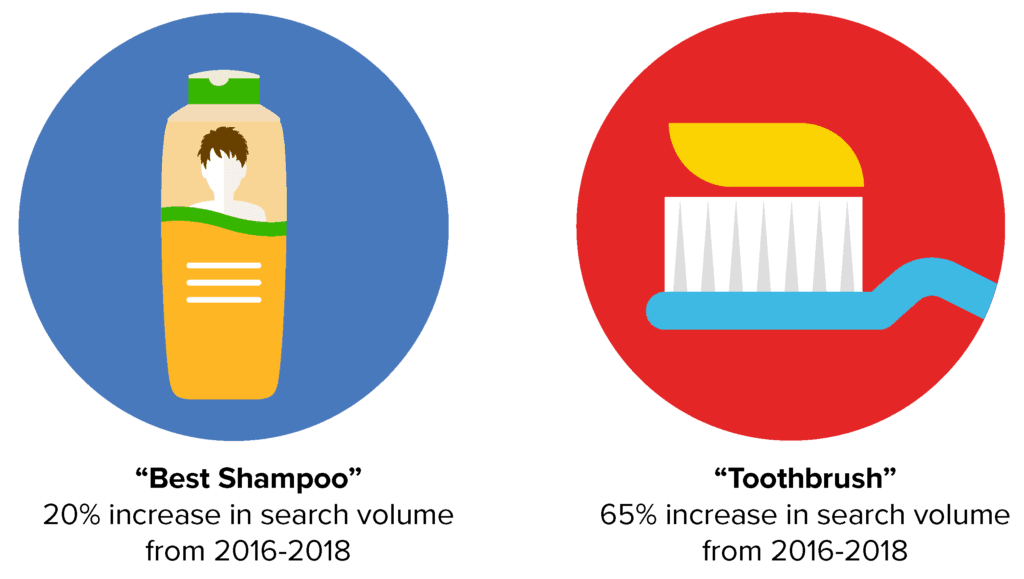 We, as consumers, want to make sure our money, no matter how much or little of it we are spending, is spent on vetted and approved products.
Consumers Want Results That are "For Me"
The increase in product research has impacted how that research is conducted. Back in the old days of the early 2000s, searching consisted of typing a brand name or exact product into the search engine. Often after asking family members or coworkers for suggestions.
But today, we rely on searching for a lot more than just brand names and exact products.
The advancements of search engines to "understand" what we are trying to ask is leading us down a path of researching pointed questions with the expectation of getting a personalized answer back.
The biggest example of this is the spike in "for me" and "I" searches, which indicates that people are posing more specific questions to Google with the hopes of getting the most relevant answer.
"For me" searches have increased over 60% since 2015.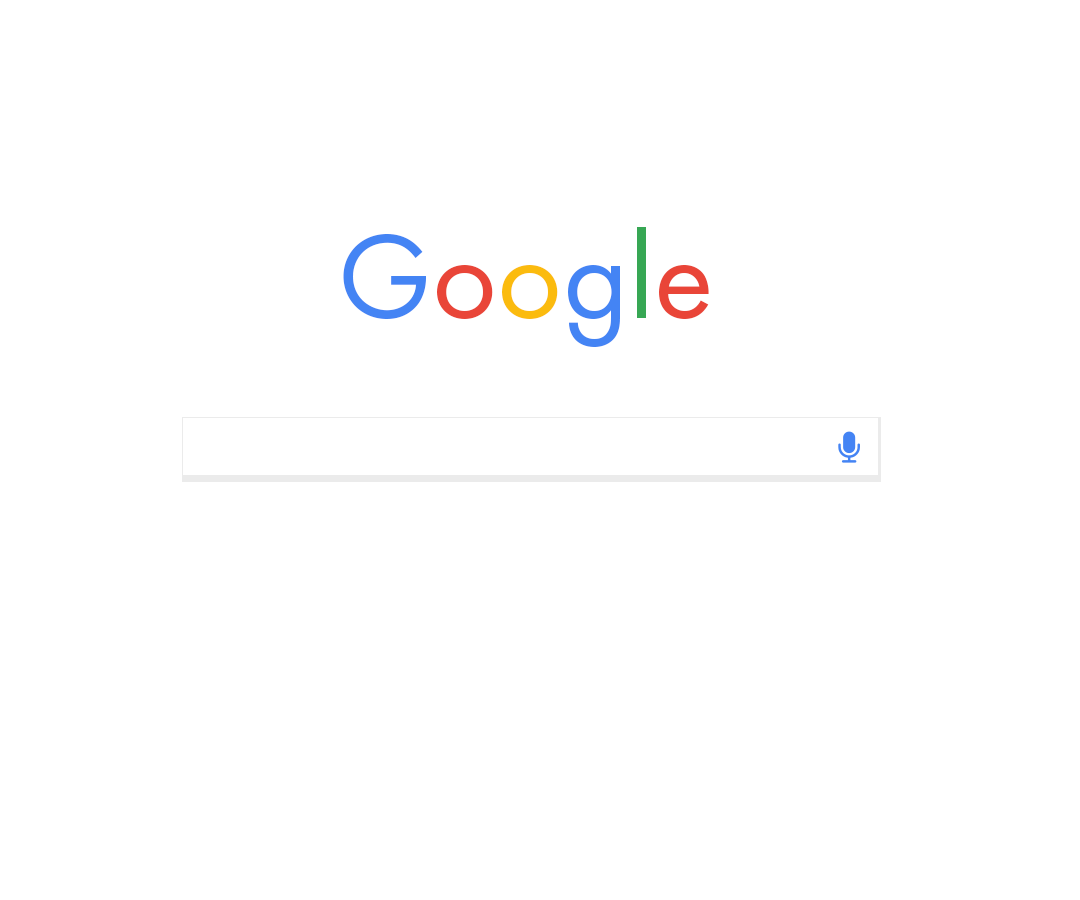 "Do I need" and "should I" searches have also increased significantly — about 65% over the last two years — and "can I" searches increased by over 85%.
Personal care, finance, auto, and real estate sectors have seen the biggest increase in "I" searches. Searches as simple as "do I need to wash my hair every day" to "what do I need to open a bank account" are surging.
All this is to say that people are searching without first knowing exactly what their problem is if they have one, or the severity of the issue.
Someone searching "do I need to cut my grass every day" is an indication to a lawn care business that their clients aren't sure if they even have a need for their services. If you only talk about the types of lawn care services you offer, you are missing out on a big chunk of potential clients who are still discovering that they need your services.
Indecisive Consumers are Searching for Inspiration
With the increases in "do I" and "should I" searches brings about another product research trend, made possible only in today's era. Searching for inspiration.
Whether our consumers feel like their money is burning a hole in their pocket or they know they are interested in remodeling the kitchen but aren't quite sure exactly what they want it to look like— they are scouring the internet for inspiration on what to buy or how to solve their problem.
This type of product research can be done across multiple sites, not just Google (think Pinterest and Instagram). They often start with a search on Pinterest for remodeled farmhouse kitchens, followed by a Google search to learn about the cost and timeline, before eventually landing on the search for local kitchen remodeling companies.
Searches like "X idea" have doubled in the last two years.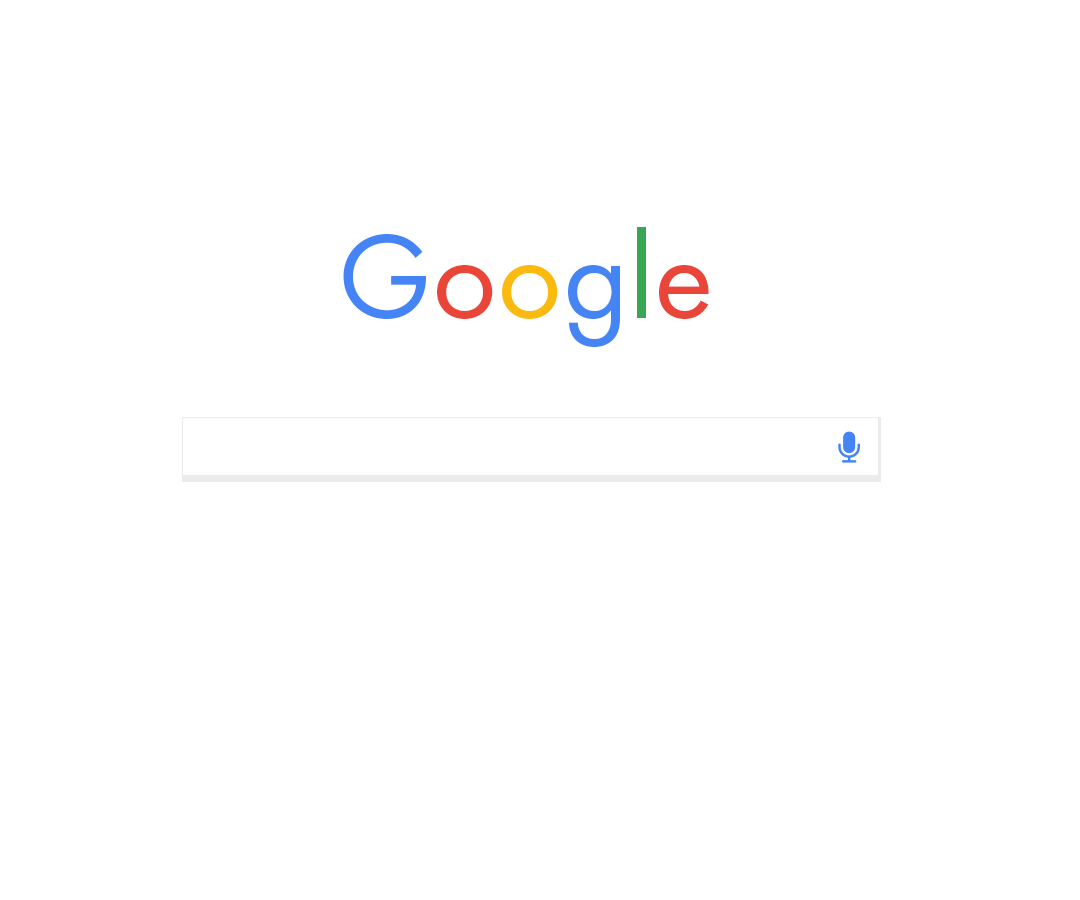 But it isn't just big projects consumers want inspiration for. It can be something as small as what kind of shopping list they need to host a barbecue or a college dorm moving essentials list.
Searches for "X shopping list" have grown over 150% in the last two years.
As a business, this is great news. Putting together a list of questions to ask your kitchen remodeling company or "top ten kitchen luxuries must-haves" are easy entry points for you to introduce your business and start establishing a reputation as a total and complete knowledge hub on all things kitchen.
Customers Aren't Afraid to Search for "The Best"
Once the inspiration and need have all been established, the hunt for the perfect vendor is on.  Consumers and B2B clients alike are looking for the best products and services.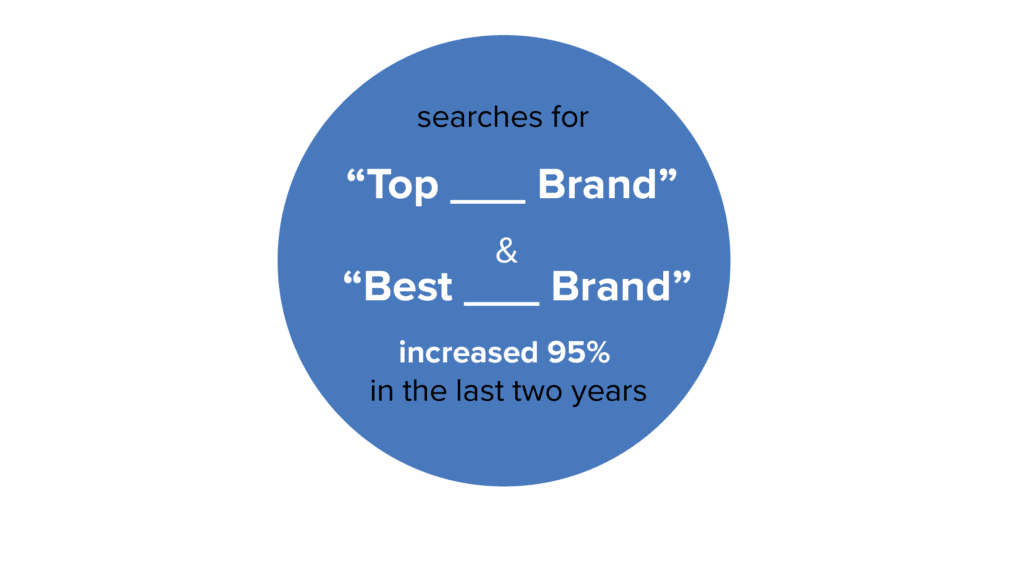 People don't want just any ol' pair of shoes, they want the best pair. They don't just want any ol' vacation, they want the best vacation. They don't just want any ol' lawn care provider, they want the best lawn care provider.
This is where your online reputation and reviews, as well as local SEO kick in. Online has become the new word of mouth style of marketing. There are a whole host of reasons that you need a good reputation management and review system in place, but the increase in searches for "best" is not slowing down or reversing any time soon and 80% of shoppers require reviews to even consider a business.
What Does all this Mean for You, as a Business Owner?
It means that people are looking for advice, help, and validation around your products and services. Whether you are B2B or consumer facing, buyers of all types are going through this same process.
If you want to showcase yourself as a resource and be there throughout the buying process of your customers, you need to create content based on what people are asking. People are not going to click on your product page selling various types of pest control sprays, but they are going to click on a blog post detailing everything they need to know to eliminate termites.
It might seem counterintuitive to give consumers tools that might replace some of your services. But shoppers want to feel empowered and knowledgeable before they reach out to you and before they open their wallets.
Where to Meet your Clients
The changes and elongation of the buyer's journey doesn't mean that it will take longer for someone to spend money with you. What it does mean is that you now have several more touch points with your potential buyers. You have more time to build credibility, establish yourself as a business looking out for their client's best interests, and start to build brand loyalty.
And meeting your clients at points along their buying journey is easier than you might think. The internet is a powerful tool for research but also for marketing your products.
Utilize Online Ads
Online ads are a great way to stay top-of-mind for consumers during any point of research, and to make sure you reconnect with those that have interacted with your business already.
Not sure exactly what online ads are or how they work? Check out our guide.
Retargeting Ads
Retargeting ads are ads shown to internet users who have previously interacted with your business in some capacity. This can be several things —, someone could click on your website, or click on a different online ad, or fill up their shopping cart but never buy. Actions like this are the signals that will trigger an ad to show for these individuals.
This type of ad is a great investment, since the ad is shown to people who have already interacted with and expressed interested in your business.
Customize Your Ads
Google lets you customize your ads with what they call "extensions", which are additional pieces of information that make it easier for the consumer to make a decision — things like a "call now" button, text showcasing your product categories, or store hours.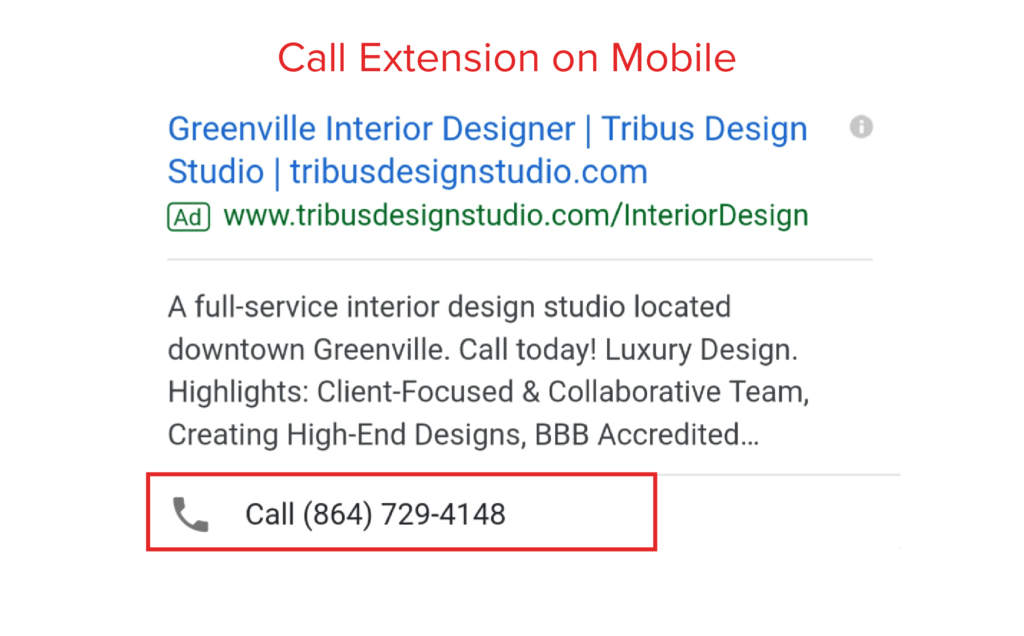 Consider showcasing your inventory and stock levels for specific products. Doing so will make it easy on those customers who are in the "buy immediately" stage and has been shown to increase traffic by 80%.
Online ads also let you set location targeting so you can reach people in close vicinity to your store. This means your ads will only show to people within X number of miles from your store and won't waste your ad budget showing to those 30 miles away.
Setting a location target of just 1 mile can increase clicks on your ad almost 30% and in-store traffic can jump over 55%.
Utilize Blogs
Your website can't just contain the main word, product, or service someone might be looking for. You need to have a hoard of resources surrounding that term.
As a lawn care service provider it isn't enough to simply state you provide "lawn care services for Greenville, SC." Your customers are only searching for that once, at the time of purchase, during a time that you will be competing with every other lawn care service provider in the greater Greenville area.
What you need is that hoard of resources. Arming your website with blogs on "how to maintain your lawn during the summer," and "best watering practices for your lawn," and "how often to mow your grass," and "best lawn mowers of 2018," and on and on.
If you are at a loss for what people are asking around your product, Google has a section on their search result page for most inquiries called People Also Ask that shows a dropdown list of related questions people are also asking. This can be a great place for inspiration on what other questions people have for your services.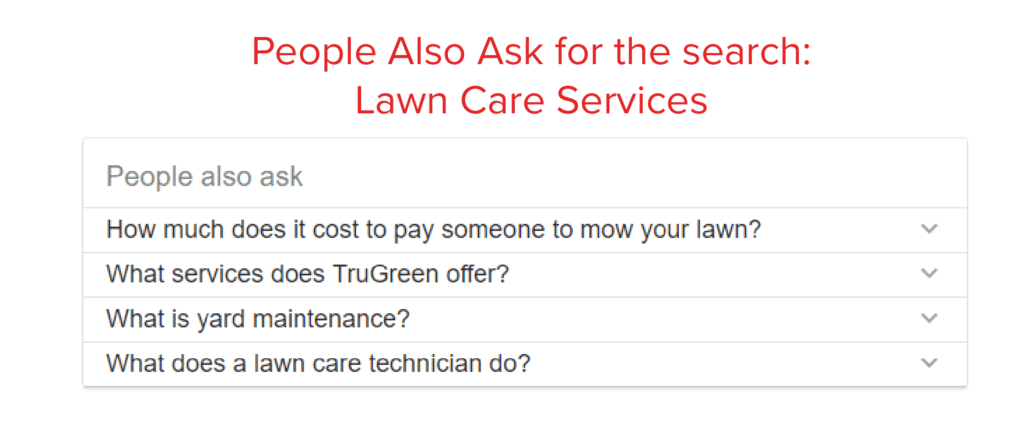 By blogging, you are able to take your customers most asked questions (which, coincidentally, are the same questions they are typing into Google) and turn them into resources for them to find when they need them most. You are also creating opportunities to earn backlinks on your content.
By having potential customers come back to your blog over and over to get their questions answered, they will be more likely to call you when they are ready to hire a pro.
Showcase Your Reputation
Remember all those people who are conducting "best of" searches? One of the easiest ways to associate your company with being the "best" will come from online reviews. 80% of consumers trust online reviews as much as word of mouth recommendations.
Proclaiming on your website that you are "the best kitchen remodeling company in Greenville" will only go so far. We are savvy consumers, looking for real, unfiltered user experiences from people who aren't getting paid to say a business is "the best."
Having reviews across multiple review sites will give people exactly that. And utilizing more than one review site will allow you to reach your potential customers no matter what review platform they use.
A Strategy for the Future
The journey our customers take before they reach a business is a long and winding one that changes over time. Right now, the path consumers are on is one requiring 13 points of research, vetting, and education surrounding their pain point.
While that may seem daunting, it should be encouraging. Those are more opportunities for you to demonstrate your value and prove your worth to potential customers. Extra chances to convince someone that you're the best fit.
As a business, we have an exciting challenge: create helpful content for each of those research steps. Through ads, blogs, reviews, and great customer service you can be on your way to reaching a lot more clients.
Start the Conversation
Interested in learning more about utilizing trends to benefit your business?
Schedule A Discovery Call