Check out our newest trends post on 2020 digital marketing trends.
December is one of my favorite months of the year. It's an opportunity to look back at the passing year and look ahead to a new one. It's an opportunity to talk about the bests from 2017, and of course, predict trends for 2018.
The thing about trends is that they tend to come and go. And sometimes they come back again. And then go again. Often, they aren't based on any rhyme or reason. It's important not to go hopping on every trendy bandwagon that passes by.
By that standard, the events we identify below really aren't "trends" in the traditional sense of the word, but rather educated forecasts based on significant data. Many of the ideas we discuss are already taking place, and we expect them to become even more prominent in the next year.
5 Digital Marketing Trends to Act On in 2018
1. Google As Your Website's "Homepage"
More and more consumers are heading to search engines to begin their buyer's journey. 93% of all online experiences begin with a search engine. And local searches lead 50% of mobile visitors to visit stores within one day.
Of course, in an ideal world you would rank on the first page for all keywords relevant to your business. But in recent years, Google has begun adding more detailed information to its Search Engine Results Pages (SERPs) – outside of typical organic results. In fact, a recent study by MOZ shows that 34% of searches now result in no click at all. Google is serving us everything we need right there on the SERP! So in many ways, Google's SERP acts as your brand's "homepage" when searched. It's most likely where users are getting their first impression of your business.
Google has come a long way over the years in the way that they display information. Here is a search results page from 2008: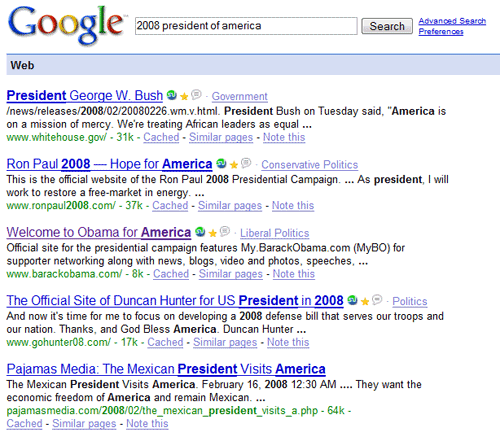 And here's what a search results page for a similar search looks like today: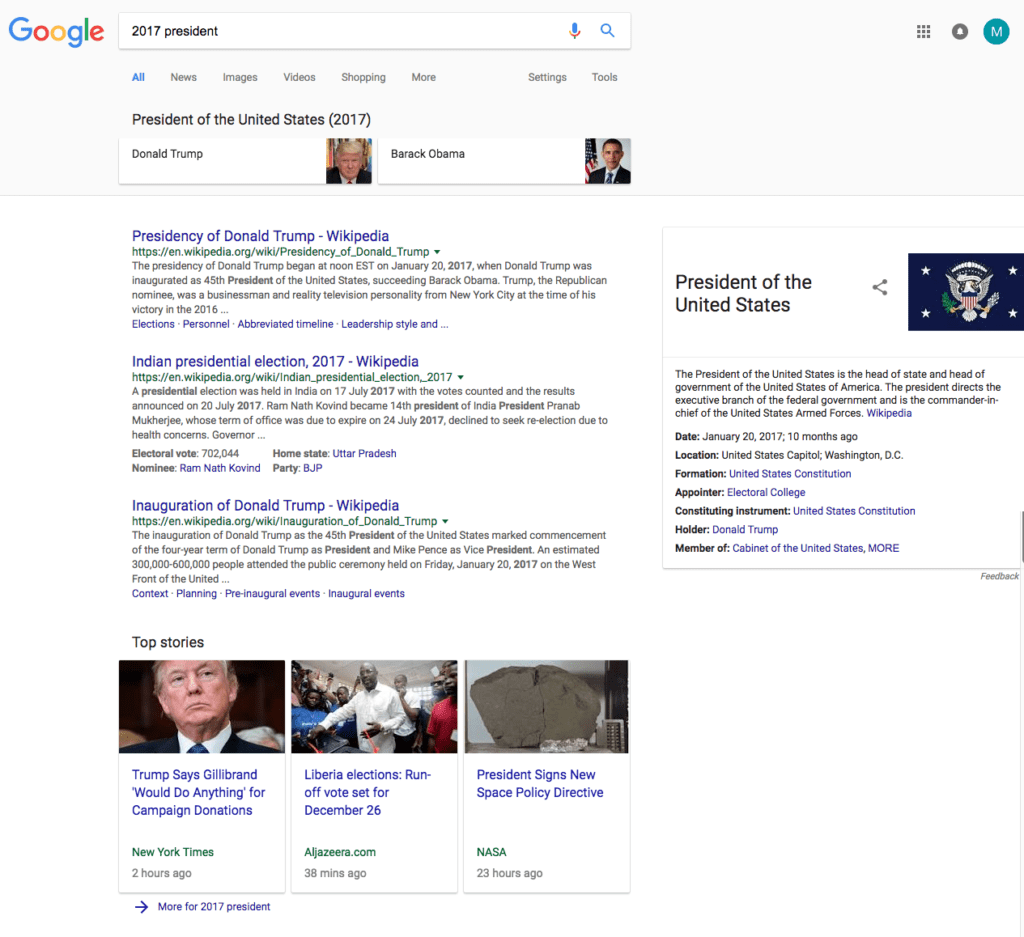 As you can see in the right-hand knowledge panel, just about any general information you'd like to know is detailed for you, giving you what you need without having to make a click. A recent case study by Get Five Stars shows 70% of all phone calls and driving directions are now coming directly from Google, compared to 25% coming from a business' website.
And here is what a local restaurant search result looks like: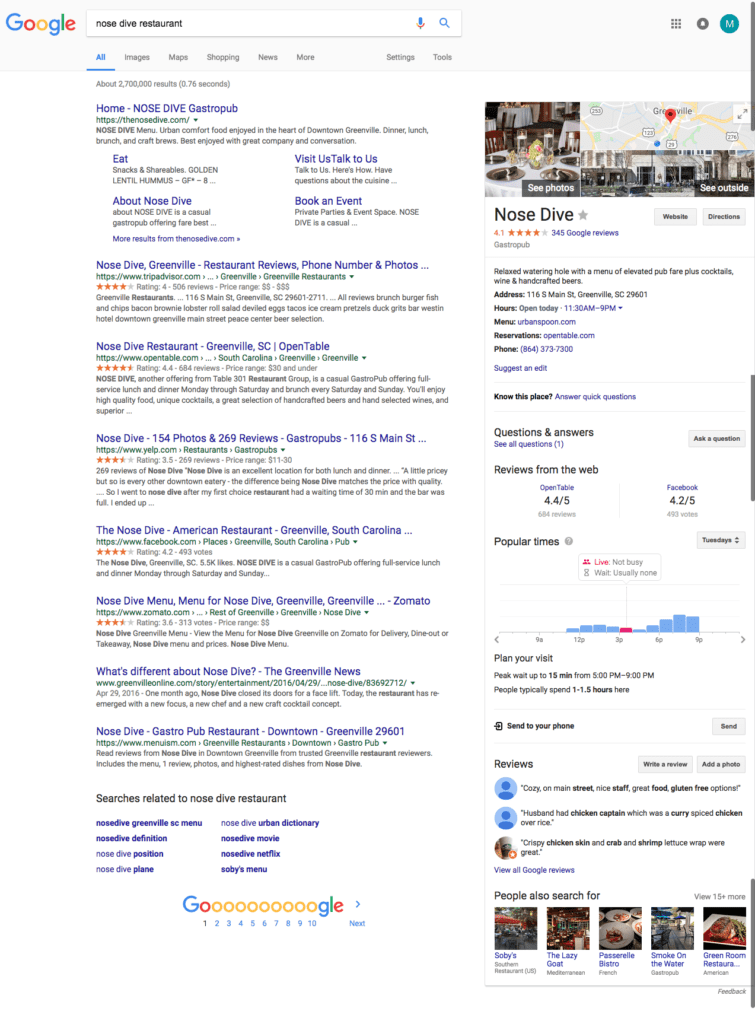 Google's attempt to cater to users on the search results page continues to gain momentum. Just in the last few months, we've seen many new features from Google My Business:
Reservations
Q&A
Timely Updates
Full menus for restaurants
Posts
Without even leaving the search results page, you can get the full story on a business. You will find their location, phone number, hours, a link to get directions, Q&A, reviews, timely updates, and popular products.
It's crucial that you pay attention to what shows up when you type your brand into a Google search. Believe it or not, you do have some control over what the user sees here.
How to take advantage of Google's local SERP features:
Consider Google Ads
Create or claim a Google My Business (GMB) profile
Fill in all relevant information of your GMB profile (photos, hours, address, phone, etc…)
Manage your current reviews, and seek to gain more (we speak to this further in trend #2!)
Check out our SEO offerings and ask how we can be of service
2. The Importance of Authentic Reviews
Reviews are quickly becoming one of the most important signals for your business. Here are a few very tough-to-ignore statistics on reviews from Bright Local:
97% of consumers read online reviews for local businesses in 2017
85% of consumers trust online reviews as much as personal recommendations
49% of consumers need at least a four-star rating before they choose a business
Consumers read an average of 7 reviews before trusting a business (up six from last year)
There's no denying quantity and quality of reviews is critical to the modern business, but the hottest topic on the web today is authenticity. "Fake news" has been the phrase of 2017, raising everyone's truth radar for 2018. The same Bright Local study shows that 79% of consumers claim they have read a fake review in the last year, and 84% worry about being fooled by a fake review online.
Many top marketers believe 2018 is the year Google cracks down on fake reviews. It's a tall task, but if anyone can do it, Google can.
Whether or not Google creates successful spam detection (search expert Joy Hawkins gave them some suggestions back in June), it's more important than ever that you're not only gaining reviews from customers, but that these reviews are authentic and of high quality.
Not only are consumers looking for authentic reviews, but authentic word of mouth referrals and recommendations as well. Influencer marketing has been on the rise for big brands over the past few years. Perhaps you can't afford to pay a big time celebrity to promote your brand, but you can work to identify your most loyal customers and clients, and strategize ways to invest in them. You won't even have to ask these people to recommend you, they already will be.
How to earn authentic reviews:
Conduct business with excellence and integrity
Ask customers and clients for reviews
Don't be afraid to ask some to go a step further and give recognizable details and context, opposed to just a few words
Never ask for a "positive" review, or suggest to your customers exactly what to say. Just let them know you're looking for honesty
Manage your reviews by responding to reviewers
Contact us about how we can help you manage your online reputation
Learn more about managing your reputation online.
3. Content Quality > Content Quantity
Thanks to web giants like Google, internet users are getting used to finding everything they need in one place. There seems to be great value in content – specifically blog posts – that fully answer a user's question.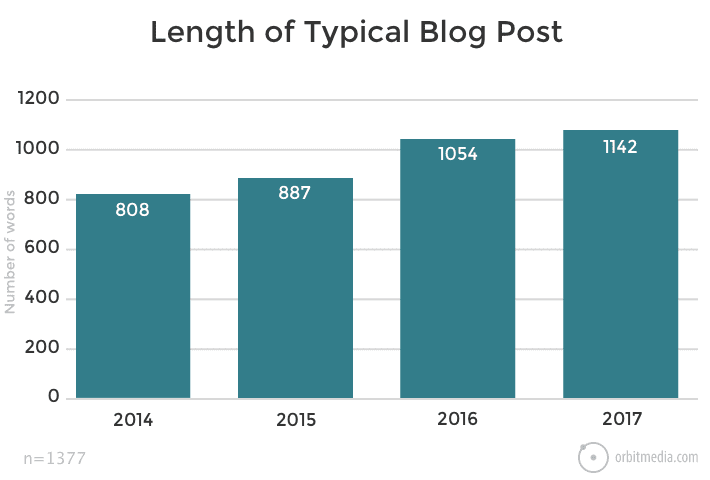 Longer Content Will Help Your Search Engine Rankings
We're beginning to see a strong correlation between time spent on page and search engine ranking, as well as word count and ranking. A study by SerpIQ reveals that top ranking content on search engines is usually over 2,400 words.
We're seeing that users are in fact interacting with longer content, meaning they are spending more time on the page. Google sees this engagement and assumes this page is valuable to the user, therefore, Google ranks it well. And like we've seen before, as goes Google, so goes the internet.
Longer Content Will Gain You Customers
Not only might longer content get you found on Google, but it will also generate more leads. In a 2015 study, Curata noted that long-form blog posts generate 9x more leads than short-form.
Let's say you are interested in chocolate cake. In fact, you want to make a chocolate cake tonight, but have very little experience. After a brief Google search, you have collected five web pages to help you on your endeavor: a recipe, "10 Things to Keep in Mind When Baking," "The Finest Ingredients for Chocolate Cake," and a second recipe because you're not positive the first will suffice.
This is a prime opportunity for a local home cooking store to compile all of this information into a single blog post, wholly answering the question and helping the user take next steps with additional resources. The engagement a user has with your brand – and your brand alone – will trump what would have been engagement across four different brands.
In addition to gaining you customers, great content can also earn you backlinks – which will help you in countless ways.
Aren't Attention Spans Getting Shorter?
Great question. Most in our world today would agree attention spans are getting shorter. In a 2016 study, NewsCred found that the average reader only spends 37 seconds reading a blog post.
The answer however, is not shorter blog posts, but better organized blog posts. It is more important than ever to create "snackable" and easy-to-read content. Utilize headings, bullet points, and lists to help users pull bit-sized information from your posts. Get creative!
How to write longer blog posts:
Repurpose existing ones. Go back through your archive of blog posts, find some that performed well, and update them in 2018.
Type your blog post title into Google. Find the "People Also Asked" feature and use it to help you realize what other information searchers want to know about the subject you're writing on.
Consider hiring an in-house content marketer or partner with a digital marketing agency in 2018.
Start journaling to gather, organize, and capitalize on your ideas.
4. Video
The demand for video has been growing at a high rate. 55% of people in the world watch videos online every single day. Think With Google estimates that 50% of internet users look for videos related to a product or service before visiting a store. Video is just one digital advertising platform and channel you could take advantage of.
As humans, we are prone to have more authentic interactions with visual information as opposed to text on a page.
Because it's becoming easier and easier to create video content, we will see more of it in 2018. And because we will see more of it, it's crucial you jump on the video train now, before your competitors beat you to the punch.
A few tips to start creating video content:
Start small. There's no need to create a full-length documentary. Start with some small, 15-20 second videos focused on education or product review.
Know your audience and where they are. Should you be posting content on YouTube? Spotify? Maybe you should just be embedding video on your site or in email newsletters?
Test. Be sure to monitor the engagement and performance of your first videos. Is this what your audience wants? Are they watching the whole video? Make adjustments as necessary.
5. Personalized Experiences
Over the past few years we've seen a monster rise in mobile usage, and at the top of every trend list was "Create a Mobile Version of Your Website" and "Make Your Website Mobile Responsive." The goal was to meet customers where they were, and create personalized experiences.
This remains the case, but it is exponentially more important as we head into 2018. Consumers don't just want to be catered to based on their device, but based on exactly what they need (and even what they don't yet know they need). 96% of users are reaching for their smartphones to conduct research on the spot. Consumers are expecting the most relevant and the most accurate information for their specific situation and context, as quickly as possible. The most successful companies in 2018 will be the ones who put the right content in front of their customers at the right time.
Google has coined these marketing opportunities "micro moments."
Artificial Intelligence
Micro-moments are fueled by artificial intelligence. Despite the long standing Hollywood depiction of the term, artificial intelligence in this case doesn't refer to the 2001 Spielberg film. Artificial intelligence is simply the development of computer systems to perform tasks that typically require human intelligence. Artificial intelligence and machine learning are used by marketers to cater to their audience's specific needs and wants. Tools are emerging that help marketers and brands predict their wants and needs before they can, creating crucial personalized experiences.
Before you skim over this because you think it might be above your pay grade, hang tight!
You are more than likely already exposed to AI without realizing it. AI is utilized in Siri and Alexa. Big box stores like Target and eCommerce giant Amazon rely heavily on AI to market. And, believe it or not, it can be worked into your marketing as well.
Perhaps it's not in your budget to utilize some of the same solutions that these enterprises are experimenting with, but there are affordable tools to help you and your business make smarter decisions, save time, and personalize content for your audience.
Here are 3 AI tools you can utilize in 2018:
Chatbots
The global chatbot market is expected to reach 1.25 billion by 2025. Customers want to be catered to wherever they are, and chatbots can be a viable and not-so-expensive way to do that on your website. Not only can chatbots be utilized for customer service, but for marketing as well, as they allow you to set up messaging campaigns.
Dynamic Emails
Using dynamic content in your email marketing campaigns is becoming a must. Dynamic content refers to some people on your email list being served one thing, while others on your email list are sent something a little different. For instance, if you were a non-profit whose service spanned the upstate, you could segment your list by town, and update your subscribers on events closest to them.
Most email marketing softwares like Mailchimp and Emma allow you to set up dynamic content. It simply requires a little strategy and segmentation.
Email and Content Optimization
There are many tools out there that simply compile and analyze the data you have to help you make the best decisions, saving you time and effort. Here are 3 AI email and content optimization tools that may be worth checking out in 2018:
Phrasee helps you craft the best subject lines and email copy
Atomic Reach provides guidance to help you determine how long your content should be, where to publish, and when to publish
Seventh Sense predicts the perfect time to send emails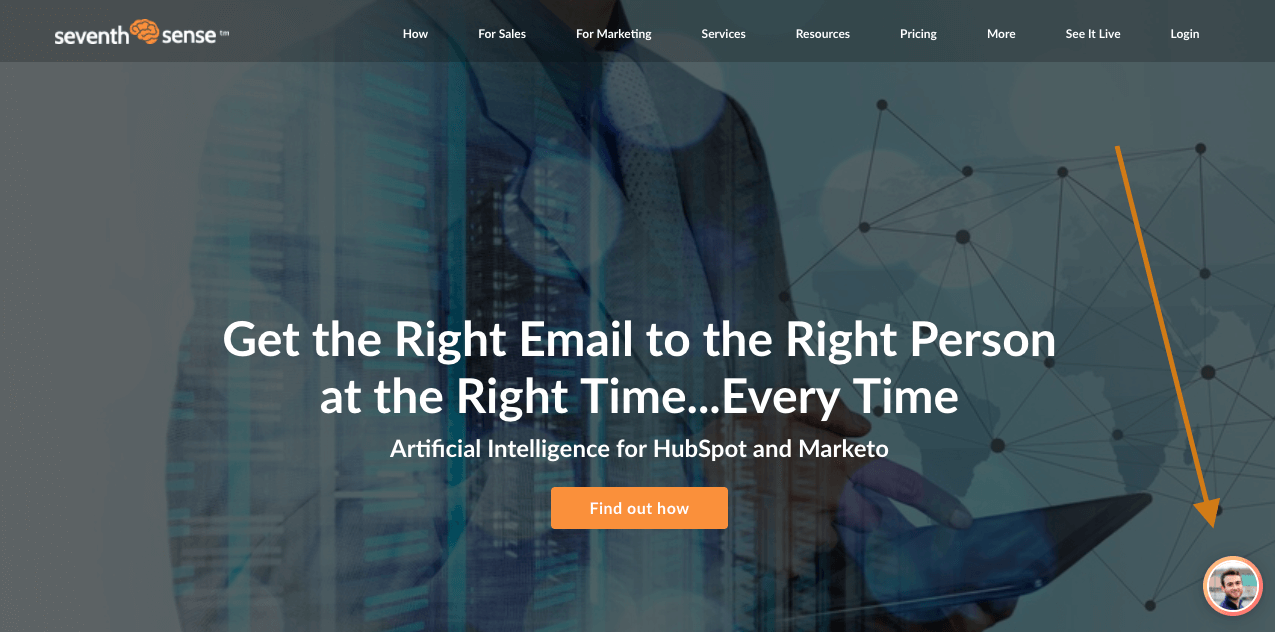 We wish you and your business the best as the year turns. If Engenius can assist you or give you any further information on any of these trends, please don't hesitate to reach out.
One final note – if some of these trends were over your head, consider hiring a marketing team to help. Here are the top skills a marketing team should have.
Happy New Year!
Start the Conversation
Want to be on the cutting edge of the latest industry trends?
Schedule A Discovery Call