12

min read
TL;DR:
Why isn't my business showing up in Google Maps?
You don't have a Google My Business profile

Your Google My Business profile isn't complete

Your Google My Business category is off

You need more reviews

You need better reviews

You need to utilize posts
What is Google's Local Pack?
This is a question we hear a lot, and to be really honest, it's one we sometimes ask ourselves. When we hear that question, we assume business owners are referring to Google's Local Map Pack, or just Local Pack: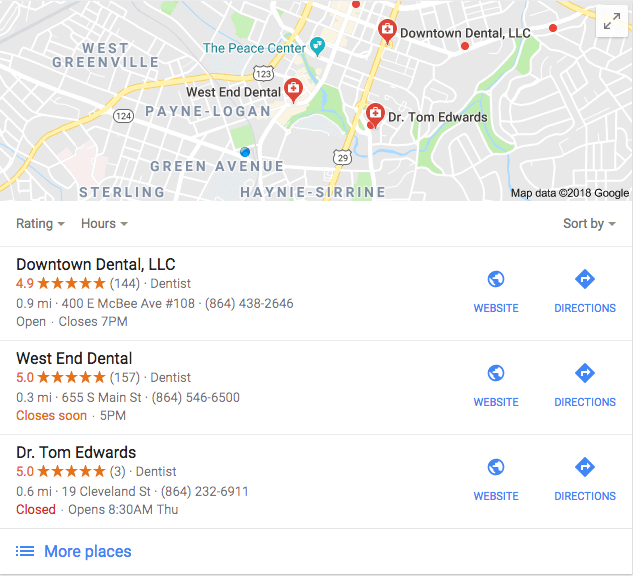 This is a rich snippet Google rolled out years ago to help people find local businesses that match their search queries. The map pack always displays 3 local businesses. You don't need a website to rank in it (though we would recommend it), but you do need a Google My Business profile (which we'll get into).
What Searches Display the Local Pack?
Whether you realize what they were called or not, you've most likely seen and interacted with a local pack on Google.
A local pack will show on a search results page just about every time Google registers local intent. In other words, if Google thinks a searcher wants a local result, they will display the local pack.
Local Specific Searches
Of course, Google will also show a local pack when you specify a city or region in your search. "Apple pies in Greenville, SC" will almost always trigger the map.
Google's local map will also display without the user specifying a city.
Local Intent Searches
Google has become smart enough to know when we're looking for a local result, even when we don't specify.
For an informational search, like "how to bake an apple pie," you don't need recipes from a local business, any recipe will do.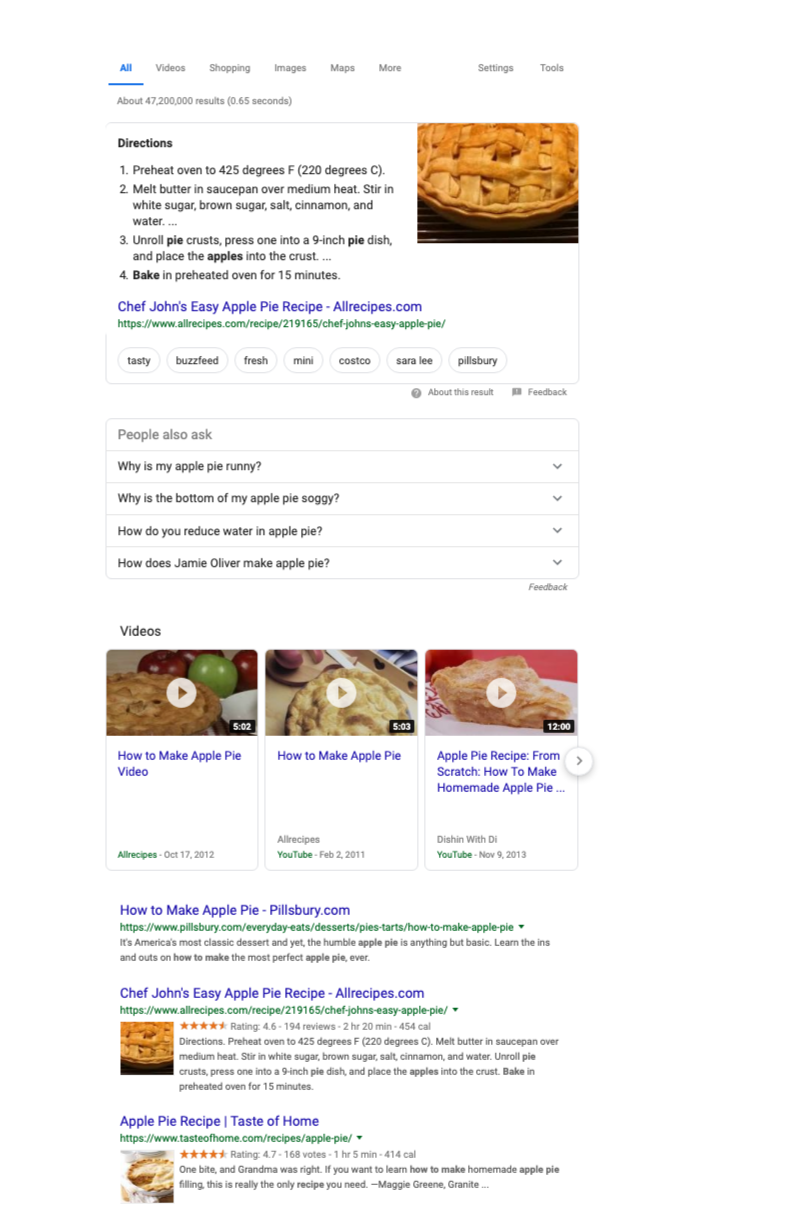 On the other hand, for a transactional search like, "where to buy a fresh apple pie," Google will recognize you're in need of a local business.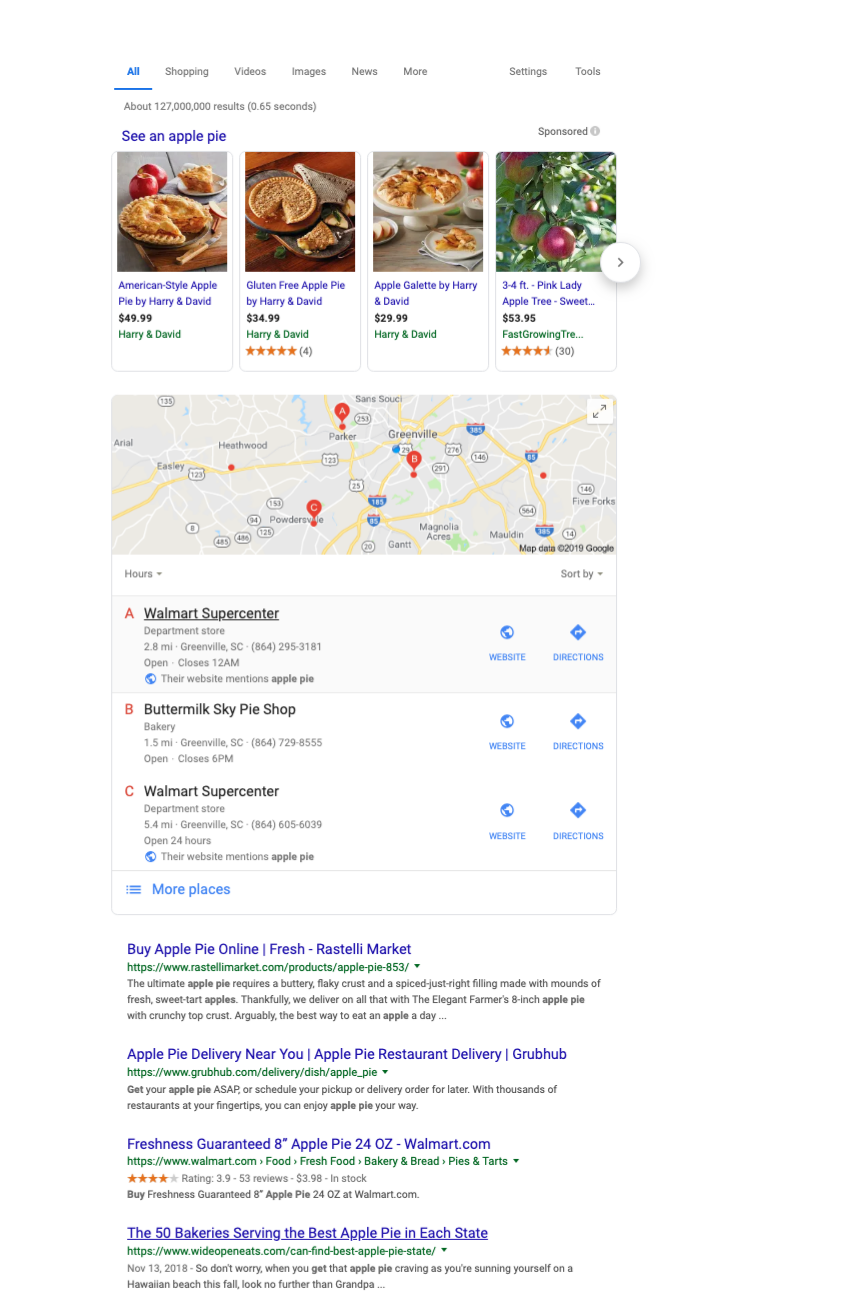 Ranking on the Map
There's no straightforward answers "How do I rank in the Local Pack?" There are many factors, and depending on your industry, some factors are a little more important than others. Put really simply, here's a shortlist based on a study by our friends at Moz:
What factors affect how your business ranks in Google Maps for local searches?
An Optimized Google My Business Profile

Backlinks: Quantity and Quality

Reviews: Quantity and Quality

On-Page Optimization and Relevance to Search

Citations: Accuracy and Quantity
As you can tell, there's more to the story than a great Google My Business profile, and we don't have time to dive into each, so here are some additional resources:
What is Google My Business?
Google My Business allows businesses to appear in Google maps and engage with customers for free.
Whether or not you know it by name you've seen and used a Google My Business listing.  Google My Business profiles are the bread and butter of local search and play a huge role in whether or not you rank well for local searches.
Your Google My Business Profile contains:
Business name

Business category

Phone number and address

Website link

Reviews

Business images

Popular times to visit
If a user clicks on a result in the local pack (not on "Website") they are taken to that company's Google My Business listing.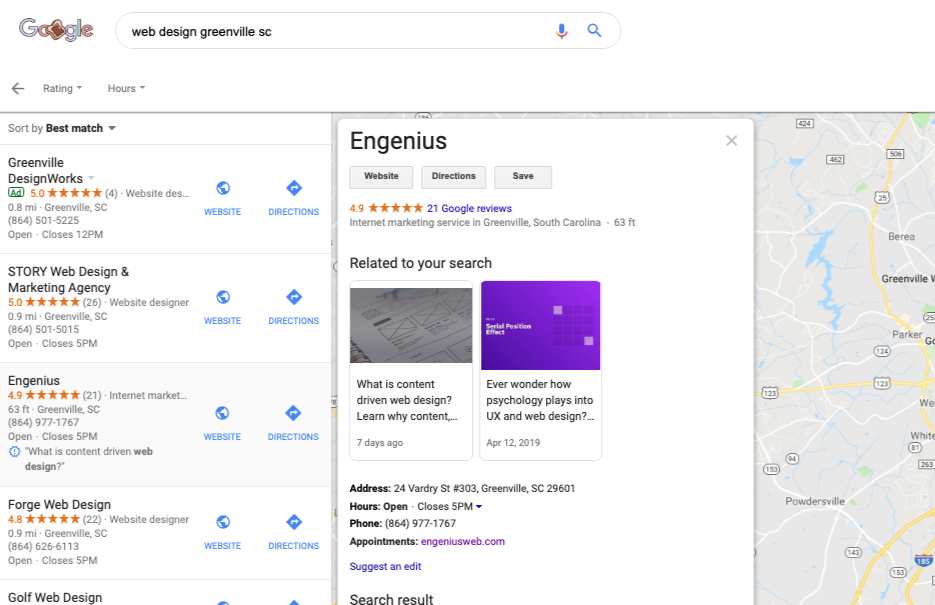 If a user types in a brand name, they are also likely to see that company's Google My Business listing on the right-hand side of the search results page.

Getting Started with Google My Business
Claim (or Create) Your Profile
Google your business name. Do you see your business appear on a right-hand panel? If so, look for an "own this business?" prompt. If you don't see it, this means someone has claimed it —perhaps someone in your office or old web provider. Ask around to see if someone has claimed it.
If you can't locate the owner, you can request ownership through Google to reclaim your business. Once you do this, the current owner will receive an email and have 14 days to respond. Otherwise, you will have the opportunity to claim it as your own.
And if you don't have one at all, you can create one here.
Complete Your Profile
What Google My Business elements should you fill in?
Name

Business Category (primary and secondary)

Phone number

Hours

Address

Photos (front of your building, inside your office, and your team at minimum)

Description (a great place to pitch yourself)

Any relevant attributes (these will depend on your business category)
Keep all your information as consistent as possible with what is displayed on your website. If your address on your website is listed as Smith Street, don't use Smith St. (Google rewards consistency). Google will probably normalize this data and figure it out, but don't make Google bots work if they don't have to!
5 Bonus Tips to Help Your Business Show up in the Google Map Pack
Get Quality Reviews
Reviews are absolutely vital for small businesses in 2019. Not only do they play a big role in local SEO, but consumers consult online reviews more than ever before. 86% of consumers read reviews of local businesses and 57% of consumers say they will only use a business if it has 4 or more stars.
How to get more reviews, you ask? Consider your consumer cycle and insert a review ask. This can come in the form of an email, a written letter, or through a reputation management service like GetFiveStars or Grade Us.
In addition to helping consumers make purchasing decisions, reviews send all kinds of signals to Google. A business with 50 positive reviews is going to look better than a business with 20. Even if you do better work, unfortunately Google isn't in your business watching you do it.
What's a good number? Google your industry + location ( for us this looks like "web design greenville sc") and take a look at your competition. You don't need 2x that of your competition, but we would recommend being in the same ballpark.
What's a quality review? A review that contains specifics of what services you provided. Bonus points if your reviewer uses a relevant keyword–Google really likes this.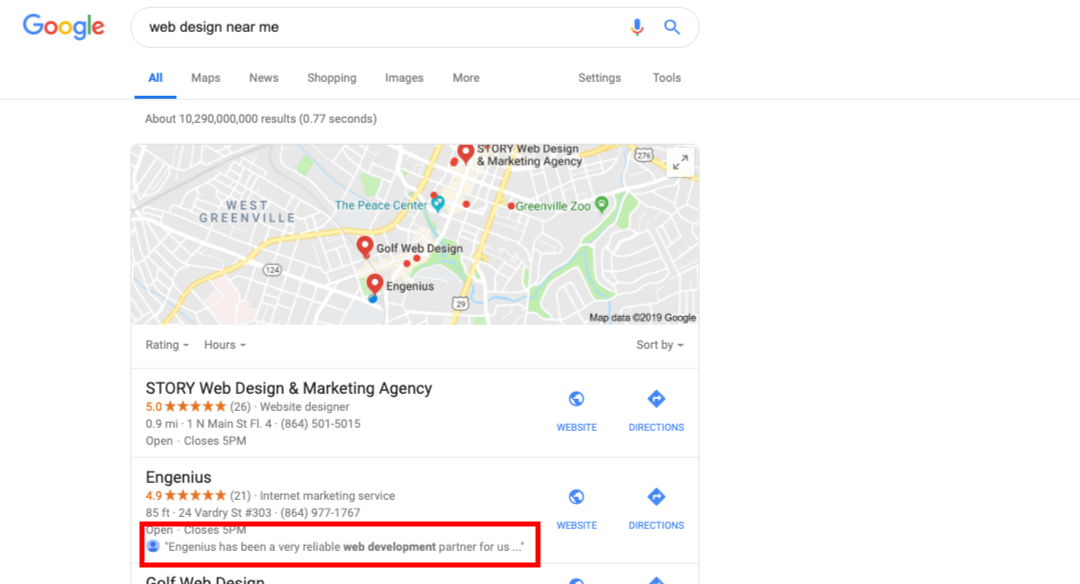 Google often pulls comments and phrases out of Google reviews to give context to the user and help you rank for different queries.
Respond to Reviews
89% of consumers say they read business' responses to reviews.
Google is often the first place shoppers will go to check out a business before making a purchase. Use your Google reviews as a place to interact with your customers and show off your human side.
You don't have to respond to all your positive reviews, however, you should respond to a large majority in a personal way. And you should always respond to all negative reviews. Contrary to popular belief, negative reviews give you a great opportunity to recover in a graceful way for all to see.
Make Posts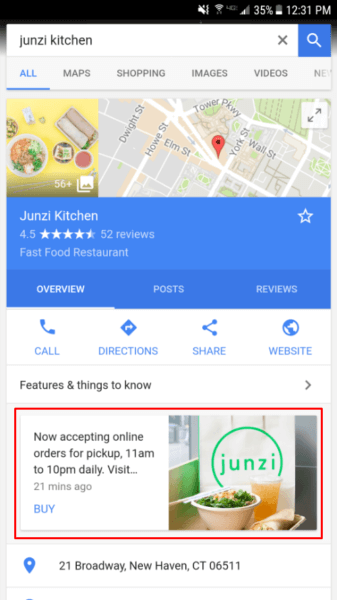 Posts are a relatively new feature in GMB.
They're an easy way to let your audience know of recent news, offers, deals, products, or simply a recent blog you've published. Include a photo and a link to learn more. Any time you put out new content, add a new offer/deal, or roll out a new product, you should add a post about it. Posts are free marketing real estate so make it a point to update Google posts regularly.
Promote Your Events
Similar to posts, GMB allows you to promote your events.
This is a great way to spread the word and increase your event attendance. In addition to posting your events on your website and social accounts, use GMB to boost event visibility.
In addition to gaining visibility, regular events send positive signals to Google that you're active in the community and a real boots-on-the-ground local business.
Answer Questions
GMB allows anyone to ask a question about your business on your listing. Google also lets the community answer these questions.
You should be vigilant about checking for new questions and answering them as they come in. You don't want to risk someone else answering the question with false information.
And yet again, the activity is a positive ranking signal.
To review:
Get a feel for where you show up in Google's local map pack by searching [your industry] + [location]

Create or claim your Google My Business profile

Fill out every field with accurate information

Make posts, add photos, and answer questions regularly