When it comes to marketing and growing your business, it's easy to feel overwhelmed with options and unsure of where to start. Good news! This post might just hold the answer.
Enter: local SEO. 
Local SEO is a gold mine of untapped business potential. In this post, we'll walk you through:
What's more, local SEO can be easy. To really make progress in your local SEO rankings, you don't need:
SEO expertise

Technical knowledge

Time
Note: We mention Greenville, our wonderful city, a few times in this post, but everything in this post is relevant regardless of your location.
What is SEO?
Feel free to skip ahead if you've got a grasp on the basics.
Before we can unpack local SEO, we need to have a solid understanding of SEO itself. 
SEO is an acronym that stands for Search Engine Optimization, which is a way to gain more traffic to your website by ranking highly for searches on websites like Google.
There are signals and factors that Google takes into consideration when ranking pages for a search query. SEO is the practice of tapping into those signals and factors in order to make your web pages rank better for relevant searches and earn quality website traffic.
When we talk about SEO, we're talking about the organic results on search engines—just about everything that isn't an ad on the first page of your search engine.
The world of SEO is vast and constantly changing. If you want more foundational knowledge on what SEO is and how it works, check out these resources:

What is SEO, and How Does it Impact My Business?
What are Backlinks?
A Beginner's Guide to SEO
What is Local SEO
Local SEO is SEO, but within a local vacuum. Local SEO is the attempt to rank highly on sites like Google for a local audience. In order to fully explain local SEO, however, we have to first mention search intent.
What is Search Intent?
When you go to Google to ask a question or search for something, Google is making an attempt to serve you the exact results you're looking for. Search intent refers to the reason why you're performing a specific search. 
For instance, when you search for "dentist," are you looking for general information on dentists? Are you looking for a median salary for dentists? Or are you looking for a new local dentist? In this example, Google's algorithm will most likely assume that your intent is to search for a local dentist to provide you care. 
Case in point: the image below shows the results we found when we searched "dentist" while sitting in our office in downtown Greenville, SC.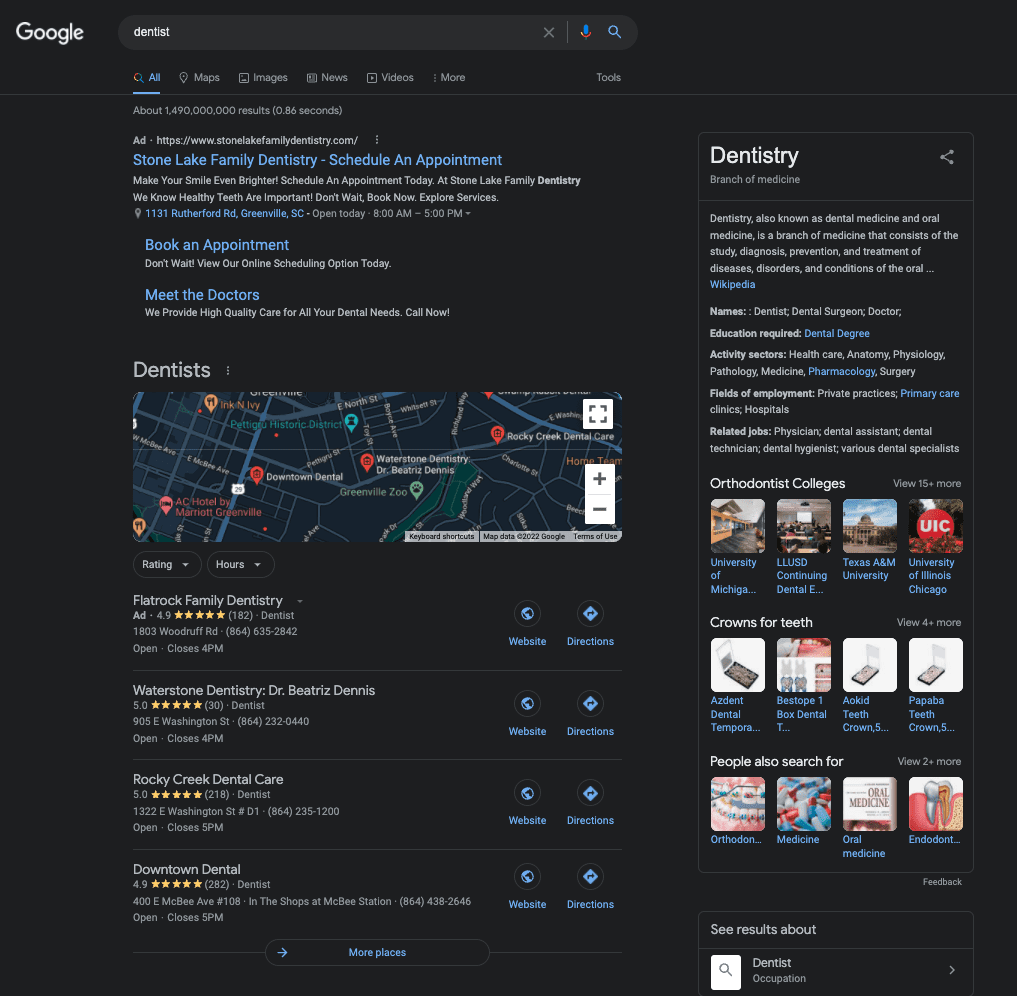 As you can see, other than a knowledge panel (located to the right of the map) and an article from Wikipedia, we're looking at 100% local businesses in the results. 
Investing in local SEO means that even without a "local modifier," the phrase "in Greenville, SC, for instance, your organization will still show up for local traffic. Try it for your industry and see if Google gauges your intent as local.
This then is local SEO: any search that displays primarily local results—or in other words, your client base. Whether you sell men's tuxedos or install gutters, if you do it locally, you want to rank in this local pack.
Note: You can read more about the Search Engine Results Page (SERP) intent in our post from 2020.
The Local Pack
As you can see, four lucky businesses get the honor of landing in what we call the "local pack" or the "map pack." This map will almost always display three or four search results. The factors that go into how these results are ranked are very similar to the factors that determine the 10 organic results below. The local map pack, however, places a bit more weight on location and proximity.
You may even notice that the map looks a little different for a "near me" search vs. an "in my city" search. To Google, "near me" indicates you're interested in the closest business you can find, as opposed to someone in your zip code.
If you're a local business or organization, the "near me" search is something you want to capitalize on. It's extremely valuable internet real estate.
The Power of Local SEO
Now that we know what local SEO is, how can we prove that it's valuable to businesses?
Well, 88% of consumers who search for local businesses on a mobile device either call or visit the business within 24 hours. 
There's no denying that people are turning to Google to find local businesses and service providers to meet their needs. In fact, 97% of people learn more about a local company online than anywhere else. Even as big box stores and online retailers grow, people are still looking for local retailers. In fact, local options even grew in popularity during COVID.
The Nature of Making Purchase Decisions is Changing
One of the most common objections we see to investing in local marketing efforts is the idea that word of mouth is all a local business needs. While there's no denying that word of mouth continues to carry weight in buyers' decisions, there's also no denying that people are heading to Google more and more often to find local goods and services.
The reality, however, is that purchase decisions are changing. People are consulting multiple channels in their search for a service provider/product and the final decision to go to one dentist versus another probably looks like a combination of word-of-mouth suggestions, Google searches, and skimming reviews.
Who is Earning the Search Traffic?
The majority of clicks from locally intended searches go to the results in the local pack, making this the most valuable real estate on a local search results page. 
So how do you get into the local pack?
5 Local SEO Factors to Optimize
There are countless signals that go into the local search algorithm, meaning Google looks at many different factors when they rank the results on a local Search Engine Results Page (SERP). We're going to take you through five of them and show you how you can optimize each.
But What About Keywords?
Keywords are going to be a foundational element of any SEO campaign. You don't just want your site to show up on Google, you want it to show up for specific and relevant searches that are occurring in high volume. There are countless keyword research models and strategies.
But when it comes to local SEO, keyword research isn't rocket science. We would just encourage you to focus on "service in location" keywords. For instance, if you're a dentist: "dentist in Greenville SC" and "teeth cleaning in Greenville SC."
Make sure your site is optimized for your services and your location. We won't delve into keywords and on-page optimization in this post, but here's a handy guide that should help you get started.

1. Google Business Profile (Formerly Google My Business or GMB)
When it comes to local marketing, your Google Business Profile (GBP) listing is absolutely vital. Think of it as a second website homepage. Because it's so close to home for Google, most believe it carries more weight than any other citation or mention of your business on the web. According to Moz, it is the most important ranking factor for local pack results.
Here are a few things you can do to optimize your Google Business Profile Listing:
Create your GBP listing
Type in your company's name and location into Google and see if your Google Business Profile listing appears in the right-hand sidebar. If so, good start. If not, you need to create one! Here's a quick how-to guide from Google.
Claim your listing
If your business does appear, you need to claim your listing. Here's a guide to claiming and verifying your GBP.
Add your business category, hours, and photos
This is the minimum amount of information you should include in your listing. When it comes to photos, we'd recommend your logo, a photo of the exterior of your location, and a photo of the interior. Bonus points for photos of the team at work.
Add a description and some posts
Two recent additions to what Google Business Profile offers are a business description and posts. The description is a great place to pitch yourself and your services while using relevant keywords. Posts are an easy way to let customers know about updates, deals, or upcoming events.
2. NAPs
NAPs is an acronym that stands for name, address, and phone. Instances of these three indicate to search engines who you are, where you're located, and how someone can get in touch with you.
It's important to have your NAP on your site, but you should also ensure that other instances of it across the web match what's on your site and on your Google Business Profile listing. We typically recommend putting your NAP in your footer and also in the body of at least one page on your site.
3. Citations
Put simply, a citation is an instance of your NAP on the web, most often found in local and industry directories. Citations help build credibility and let Google know you're legitimate.
BrightLocal performed a study asking the question, "How many citations do you need to rank on the first page?" Their results were pretty consistent: the more citations you have, the higher you rank in local SERPs.
So what do you do? Where can you find 85 websites willing to list your business?
We like to break down citations into two tiers:
Top-tier citations
These are more foundational citations; if you don't have them, adding them can give you a significant boost in local ranking. Think of the obvious directories like YellowPages, Yelp, and even Facebook. You need to make sure you have a listing on each of these sites first.
Second-tier citations
These are more competitive citations. In other words, adding a listing to the below sites may not move you from an average ranking of 20 to the top 3, but having a few more than your competitors could mean the difference between a 4th and a 3rd ranking. Here's a list of some common local directories:
Mapquest

Whitepages

Superpages

Manta

Chamber of Commerce

local.com

Merchant Circle

Yellowbook

Nextdoor
While it's true that more people rely on Google to find this type of information, having listings on the sites listed above will help build your ranking potential on Google.
In addition to these generic, local directories, it's important to have listings on industry-specific niche directories as well. BrightLocal provides an awesome resource showing you the most important citations for your industry.
4. Reviews
Reviews continue to carry more and more weight in search rankings. It makes sense that Google would want to send you to a reputable business. Moz believes reviews carry a little more weight when it comes to the local pack, but they are also a key factor in local organic results.
A few tips on reviews:
Ask for them
Unless you are a restaurant or someone is really mad at you, it's unlikely you're going to rack up reviews without asking for them. Create some sort of system where you ask following the completion of the sales process, whether that's an email, an in-person ask, or even a text message.
Respond to them
You may have heard that it's important to respond to negative reviews, but you should also respond to positive reviews! Try not to make every response sound the same, and don't be afraid to personalize it if you know the reviewer.
Don't incentivize
Google is pretty clear
that you shouldn't offer incentives or bribes for reviews. They should be organic. Would Google have any way to know if you incentivized a review? Probably not, but if they ever find out a way to do so, rest assured you will feel their wrath.
5. Links
Links remain one of the most critical ranking factors, both in local and non-local searches. We've listed it last because it is something that can take a little time, unlike the above factors, which are lower-hanging fruit.
Having said that, there are some ways you can build backlinks without a ton of effort and in a way that benefits your business regardless of the time it takes:
Ask partners for links
If you have partners or vendors who mention you on their sites, don't hesitate to ask them for a link. If you are in association with other reputable and credible organizations in your area, this is a great way to let Google know you are credible as well.
Submit press releases
Any time you have a new hire, host an event, or just have a company update that's newsworthy, submit it to the local press. If your story gets picked up, don't be afraid to ask for a link to your website if they don't give you one.
Sponsor events
This is another easy (though potentially expensive) way to pick up links. It's also a great way to build brand awareness.
Perform a local survey
A local survey that others in your industry would find valuable is a fantastic way to build links and buzz. For instance, as a dentist, a study asking 100 people how often they floss could be the kind of content that others in your industry would find valuable and consider linking to or sharing.
Create other local content
Similar to the above, anything that you can provide that would be valuable to others in your town or industry is going to be the kind of thing that picks up links. As a realtor, a great piece of content might be "The New Resident's Complete Guide to Living in Greenville." As a home builder, maybe something like "The Best Places to Build in Greenville Right Now."
Bonus: What if My SERP is Cluttered with Listing Sites?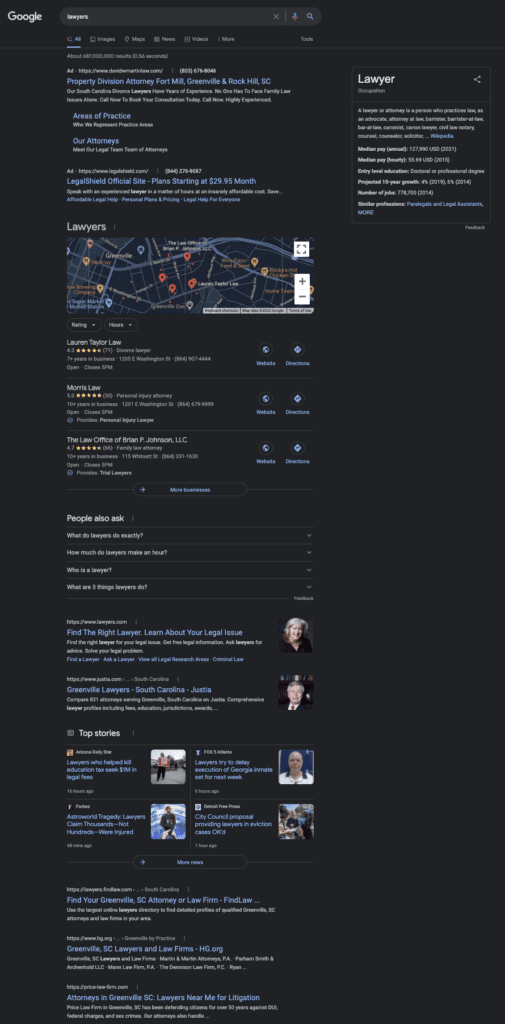 You may have Googled your own industry and location and found that some of the top organic results aren't local businesses but local directories like the Yellow Pages. This is a situation we come across from time to time (see the left graphic).
As you can see, the first four results are not actual lawyers but directories containing lawyers. This can be pretty disheartening for someone wanting to rank on the first page without paying for ads. Two pieces of advice:
Make sure you're in the local pack. That is real estate that will remain for actual local businesses. Granted, you can now pay for ads within the local pack, but there should always be three local businesses there.
Make sure you have listings on those directories. It's an "if you can't beat them, join them" approach. Do what you can to rank well on those, unless it's a directory you feel isn't legitimate.
So there you have it—almost everything you need to know about local SEO. We really believe these tactics can move the needle for you without taking up all of your time. And if you have more questions or want to dive a little deeper, check out the below resources.
More Local SEO Resources
Still have SEO questions? Give us a call. We're always happy to talk through what strategy makes the most sense for your organization.
Start the Conversation
Interested in learning more about how to maximize your SEO?
Schedule A Discovery Call