We are a little more than 24 hours away from what might be the biggest event of the year: The 2018 Winter Olympics, held in PyeongChang, South Korea. Countries will travel from all over the world to compete in events like bobsleigh, figure skating, ice hockey, skeleton, and our favorite here at Engenius: curling.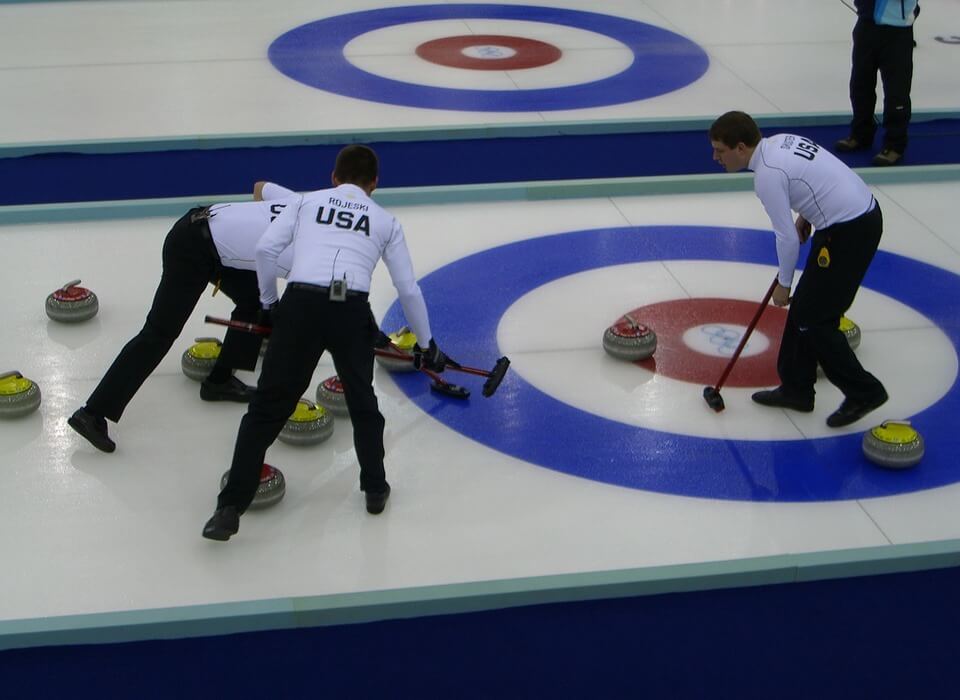 For the next three weeks we will be glued to our TVs and utilizing our DVRs for all they're worth, celebrating the successes of the best athletes in the world. We'll be hosting parties and debating how many American flag decorations are too many (there can never be too many). And those of us at the Engenius office will be standing on our couches with our hands over our chests as US athletes receive their gold medals belting out the national anthem.
However, what most of us won't be considering is all of the blood, sweat, and tears that came before the victories – all the hard work that led up to a podium appearance.
Believe it or not, a lot of the same hard work that goes into winning a gold medal in the Olympics goes into winning top rankings on search engines.
It's not just luck, or a great coach, or one talented star, it is a combination of a talented and exciting athlete (website), a seasoned coach (SEO expert), engaged fans (people searching for what you're talking about) and a lot of practice.
When you navigate to a search engine (like Google), to learn about "Shaun White's Olympic medal history," and are given a list of results – you may not consider the behind-the-scenes work that went into the top result. That brand (more than likely) logged a lot of blood, sweat, and tears into an SEO (search engine optimization) strategy in order to earn your click.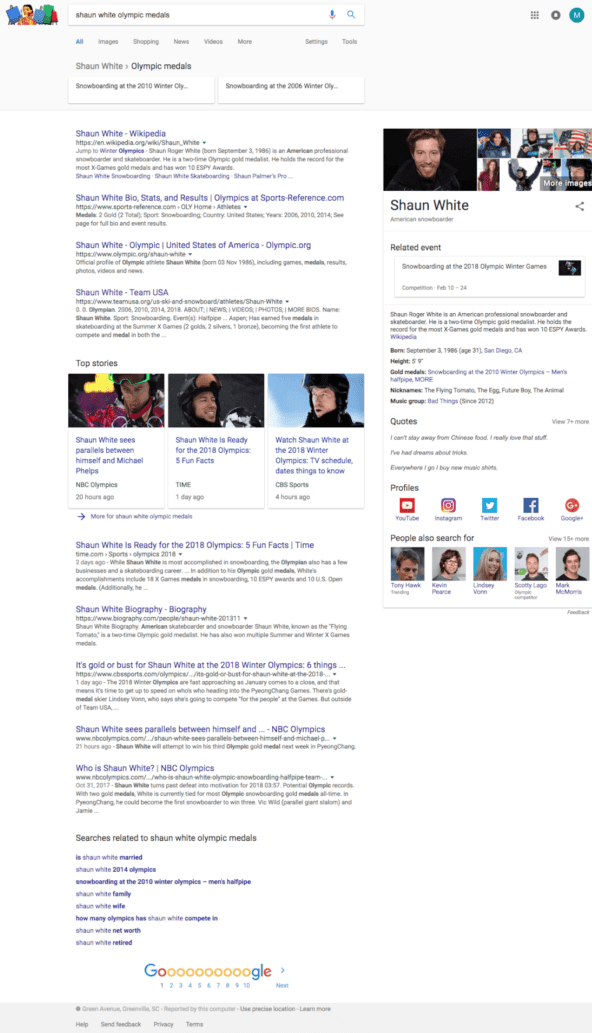 Many of the factors that go into a top ranking on Google are the same factors that give rise to Olympic stardom. Don't believe us? Let us prove it to you by looking at 7 factors:
1. General Health
In order to become an Olympic gold medalist, you've got to generally be a healthy person, and most would agree that you need to be moderately athletic (even the curlers seem to be in pretty peak shape).
In order to rank well on search engines, your website must also be generally healthy.
A healthy website allows search engines to x-ray your website and catalog all the healthy parts. If you have a broken bone in your leg (or malware on your website), search engines, like a good doctor, will see that as a red flag.
The site must be seen (crawled and indexed) by search engines, it can't contain any malware, and it has to be relatively fast. It doesn't have to be Lindsey Vonn fast, but you won't find yourself in position one if your homepage takes 8 seconds to load.
2. An Edge on the Competition
Put simply, to be an Olympian, one has to be better than the majority. A gold medal Olympian is the best in the world at what they do, bringing something to the table that others aren't. Maybe they're finishing the course :00.08 seconds faster than everyone else. Or maybe they are throwing tricks that no one has ever seen before (cough Chloe Kim cough).
When it comes to SEO, you need to be bringing something to the table that others aren't. Your website's content needs to be valuable and unique. Even if you're selling a standard service, it needs to be presented in an engaging way that stands out from the competition – whether that's through the use of case studies, stunning design, or compelling copy. No web page makes it to the top looking and sounding like all the others. Check out this post on small business SEO.
3. Constant Monitoring and Progress
All great athletes are constantly working on their craft. A mindset of "getting better every day" is ingrained in Olympians. Even Shaun White, who has dominated the snowboarding world for 15 years, is planning on bringing some new tricks to PyeongChang. In addition to bettering oneself, great Olympians monitor the sport and the field. As the sport changes, they adjust.
While it's possible to go from an average high schooler to Olympic-ready athlete in 4 years, its very rare. Same with your website appearing at the top of a search result page. Luckily, it won't take a lifetime of training, like some athletes endure, but top rankings typically take months of adjustments, testing, and more adjustments. All this is done while keeping an eye on those who outrank you, as well as the changes in requirements Google makes. Google seems to be releasing new updates to their algorithm daily. While SEO is an art, it's also a science of testing hypotheses, regular monitoring, and making steady progress.
4. An Optimized Body
In order to compete at their absolute best, Olympians maintain critical routines, diets, and workouts to optimize their bodies for the thing they're trying to accomplish: winning a gold medal. Team USA has a team of dietitians, strength coaches, and psychologists to make sure they are able to perform at their best when the time comes.
A web page must also be optimized for the thing it is trying to accomplish: ranking highly when relevant words, phrases, and topics are searched for. When it comes to SEO, optimization typically refers to making sure your web page is set up in the best way possible to let search engines know what the page is about.
If your website sells Brooms, Sliders and Stones, you would want to make sure "curling brooms" and related terms were used throughout the page. These words signal to Google the subject matter of your page – so that when someone searches for curling equipment, you have the best chance at ranking well.
5. Past Performance
In order to compete in the Olympics, you must meet some qualifying criteria. Top performance in the years leading up to the Olympics is required in order to even compete at the highest level. An athlete who hasn't placed in the top 3 in any preliminary events will not be qualified. So past performance is a big factor in determining whether or not an athlete will have a shot at gold.
Your website's past performance also plays a big role in search engine rankings. The way that users engage with your site is playing a big role in how your page ranks. If searchers are landing on your site, not finding it useful, and then leaving quickly without clicking around, Google will notice and assume your site wasn't qualified – hurting your shot for gold in future searches.
6. Credibility
Making it to the Olympics is primarily dependent on qualifying. However, being well-known is certainly helpful. Sure, some years we see athletes come out of nowhere, but the top athletes have teams, supporters, and sponsors endorsing them. They have a degree of credibility and are well-known throughout the sport, thanks to marketing efforts and past success.
Credibility is a critical factor for search engines when evaluating web pages. Search engines ask questions like, "How long has this site been around? Do other credible sites acknowledge this site as credible? Is this brand an authority on the topic?"
But how do search engines know if your site is credible? The biggest signal is links to your site. Naturally, if someone finds what you have to say valuable and important, they will share it, or link to it from their site. This grows credibility.
7. Chance and Random Factors
An athlete can train as hard as possible for years, but none of it matters if they don't perform in the moment. And often in the moment, there are random factors at play. For instance, maybe a skier got great news about a situation back home on the morning of their event. They find themselves in a positive mood, fueling their performance and giving them the extra push they needed.
Or perhaps a competitor catches the flu, paving the way to an easy win. There are always some random factors at play, helping or hurting an athlete's chances in the moment.
Believe it or not, chance and random happenings can have a big impact in the search engine world as well. A couple examples:
Site A has 15 links from Site B. Site B has historically been a small, personal blog. The owner becomes an entrepreneur and Site B becomes a top site in its industry, gaining lots of credibility. Site A gains credibility as well, based on no real effort of their own.
Site A is a small business in Florence, SC trying hard to rank for "insurance policies." They have been beaten out by bigger brands like State Farm and Progressive for years. Google rolls out an update that places more emphasis on locality, and Site A all of a sudden jumps to the first page for insurance-related searches in Florence.
Ultimately, just like the Olympics, it comes down to performing in the moment, and there are a lot of factors at play.
As you watch Olympians do incredible things this month, keep in mind, the work that got them there isn't far off from the work it would take to get your website ranking better on search engines. Learn more about what Engenius has to offer and don't hesitate to reach out with any questions or inquiries!
Go Team USA!
Start the Conversation
Interested in learning more about how we can improve your SEO?
Schedule A Discovery Call