Your event has come and gone. Now what? 
Of course you're lining up details, talking to sponsors, and getting ready for next year, but are you doing anything to engage your audience? Perhaps posting occasionally on social media and sending an email, but is it really doing much for your event?
What if we told you there's a massive opportunity to grow your event year round – not just in the couple months leading up to it?
Creating meaningful touch points with your attendees year round turns regular attendees into loyal fans. 
Your off-season is where fans are made. And raving fans don't just attend the next year, they promote your event for you.
If your marketing strategy post-event involves the occasional social media post and an announcement for next year's event, these 8 off-season marketing tactics are for you.
FIRST MONTH AFTER EVENT
1. Update Your Website Quickly
No one wants to stumble onto a site with outdated and irrelevant content. Maybe a really big music festival can get away with leaving their site untouched until the next year, but most events don't have that luxury.
Your site should always cater to your user's needs – don't risk leaving someone unsatisfied.
So ask yourself, "If someone lands on my website a few weeks after my event, what might they be looking for and what can I do to delight them?"
Some ideas:
New Dates

: Update these ASAP. If you don't release dates until late in the year, at least mention that dates are coming soon. Don't leave these untouched.

Exhibitors / Lineup / Talent

: Don't take down last year's info, but at least call it out as last year's. Reframe it as "an idea of what to expect next year."

Your Impact:

if you generate any kind of economic or social impact, highlight it as soon as you can. This can build validity for attendees as well as potential sponsors.

A Recap:

If you have video of your event, your homepage is a great place for it. If you have no video, some statistics could be a nice touch. Think: "10,000 Attendees. 49 Participants. 2 Locations. 1 Great Event. Get ready for next year!"

Engagement Call to Actions (CTAs):

This is a great time in the year to start building your email lists and pushing social media accounts. 
2. A Thank You Email
This is a super simple and easy way to delight your attendees post-event. Let them know how important they are to the event as a whole and that it wouldn't be possible without them. 
These are the kinds of subtle touch points that build loyal fans. 
Not currently using an email marketing tool?
We'd recommend Mailchimp for the smaller event with a lean team and ActiveCampaign for the event looking for some robust email automation and features to take engagement to the next level.
3. Follow-Up Surveys
Similar to the thank you email, follow-up surveys are a great way to make your guests feel heard – while at the same time gathering important and helpful data to improve your event.
Some questions you might consider:
Overall, how would you rate your experience?

What aspect of the event did you enjoy most?

What aspect did you enjoy least?

Name one [talent / performer / exhibition / etc…] you'd want to see next year?
No experience with surveys like this?
We'd recommend SurveyMonkey or Google Forms.
4. Recap and Build Buzz on Social Media
The best time to start building social buzz is when your guests are still on their event high. Don't let the wave die. 
Most of your attendees (hopefully) loved their time at your event. If you can connect with them immediately, social media is going to be the way to bridge the gap between touch points. 
Here are some social post ideas for the first few weeks and months post-event:
Short recap videos of the best moments and highlights

Photos showing off statistics on attendance, reach, and impact

Attendee stories (

e.g.

Kate came from across the world and made a bunch of friends)

Quality photos of attendees – who doesn't love seeing pictures of themselves?

Repost pictures attendees took and tagged the event in, and keep tabs on your hashtags for conversations you can jump into regarding your event.
2-6 MONTHS POST-EVENT
5. Create Relevant Website Content
We discussed updating your website, but go all-in on continuing to create content that engages your audience. You can push it on email and social, but have it live on your site.
This is another touchpoint that turns attendees into your biggest fans. 
What kind of content can you produce?
Interviews with performers, chefs, talent, or whoever your audience wants to hear from

Round-ups of top news in your particular space from around the internet

Educational content around your topic / industry

Guest posts and special offers from your sponsors (have them share and promote the post to extend your reach)
SXSW (South By Southwest) does a fantastic job of this on their website.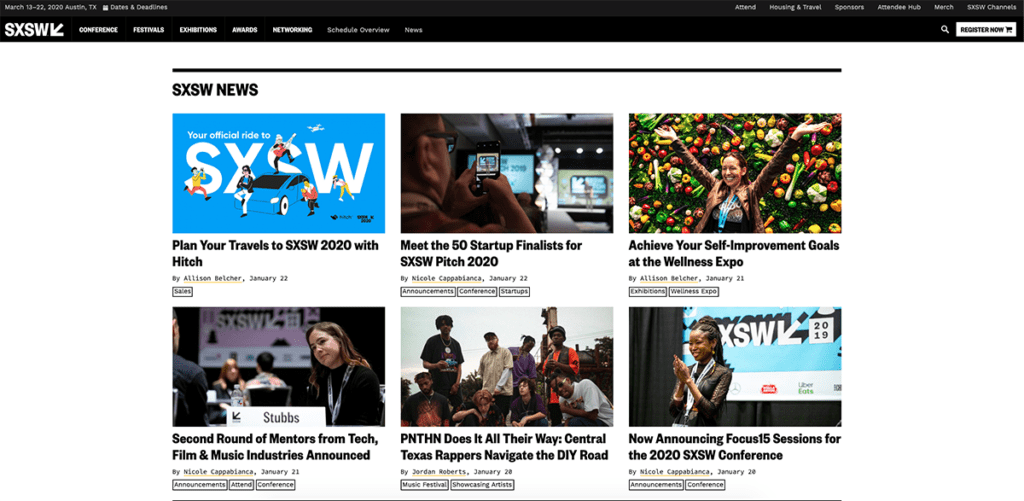 2-3 MONTHS PRIOR TO EVENT
6. Targeted Ads at Past Attendees
This may be a tactic you've never considered, but one of the best ways to keep your event top of mind. 
Sure you can run display ads and social ads targeting certain demographics and locations, but how about running ads directly to past attendees? If you have their emails, this isn't a difficult task. 
In addition to running ads directly at past attendees, you can also retarget visitors to your website with display advertising. This is a great way to stay in front of those who are familiar with your event, but on the fence about attending.
Most native ad platforms (Google, Facebook, Instagram) allow for some degree of targeting and retargeting. But there are also other platforms like DemandBase and RollWorks that allow 1:1 ad targeting.
7. Teaser Announcements
There's no better way to keep people refreshing your site / social media accounts every 2 seconds than teasers. 
Give hints of who might be performing, guest appearing, speaking, participating, etc…  Push these out on social media and in email to build the anticipation.
Something along the lines of: "We just booked our talent for this upcoming year! You'll never believe who's participating. Here's a hint: They just won an award for x. Find out who it is on September 21!"
The music festival Bonaroo does a great job of this every year. They put out riddles a few months before they release the lineup so their fans can have something to stew and debate over until the full lineup is released. There are whole subreddits devoted to solving these riddles!
We would give a caution though not to overhype aspects of your event that don't deserve it. Being let down is never fun.
8. Hold a Contest / Giveaway
Contests and giveaways are a brilliant way to build excitement in the off-season. Contests and giveaways are sweeping social media because they're effective.
For example, you could give away a pair of tickets, but to enter, one must follow your social account, share the post, and tag a friend. 
Or you could simply have people enter with their email address in order to grow your list.
We're big fans of contests and giveaways for a few reasons:
They're engaging and shareable – this helps your social media content climb the feed

They're great for collecting emails and building lists

Larger giveaways often get press attention

They're low effort

Winning something for free is a powerful brand touchpoint
Keeping your event attendees engaged year round might be the difference maker for your event. Promotion and marketing is for more than the months leading up. 
Have great success with any of the above – or have an awesome tactic we left out? Let us know! 
Here's to this year being your best event yet.
Start the Conversation
Interested in learning more about how digital marketing can help your event?
Schedule A Discovery Call