2

min read
In January 2014, for the first time, people spent more time on the internet on mobile devices than they did on personal computers, marking a new trend in internet use. We found this great post over at searchenginewatch.com.
Time Spent on Internet Desktop vs Mobile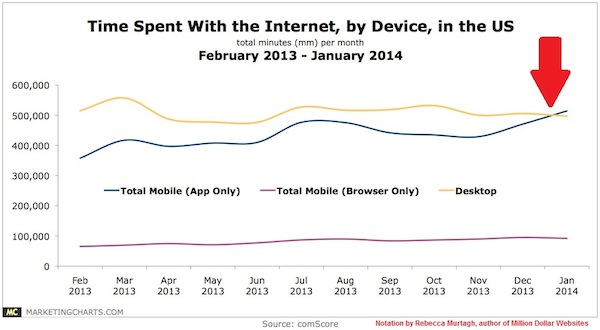 By now, most businesses recognize the need to utilize the internet for marketing, sales, customer service, and operations. However, while individuals have recently shifted to the mobile web, many business are still behind the curve in adopting their strategies accordingly. Now, businesses need to expand their ideas of using the internet and think about investing in mobile apps and responsive websites that will allow them to connect with more users for sales, research, and customer service. Rest assured, the shift will have major implications on web design and SEO.
How do consumers use mobile devices to access the Web? According to Online Publishers Association/Frank N. Magid Associates:
99.5% access content/information
63.1% access the internet
62.1% check email
49.2% listen to music
46% play games
41.7% download and use apps
15% make purchases
15% read a book
Interestingly, mobile internet isn't just for consumers. Business executives lead the way in mobile adoption, so it's important for B2B enterprises to also plan to interact with their clients on the mobile web. Interestingly, executives rely upon mobile devices (tablets and smartphones) to conduct business research more frequently in the evenings than any other time of day.
Mobile is preferred over the PC for executives conducting research during and after office hours, according to the IDG Global Mobile Survey 2014.
92 % of executives own a smartphone used for business.
77 % of executives use their smartphone to research a product or service for their business.
93 % of executives will purchase that product via the internet using a laptop or desktop.
86 % use their tablet and 72 % of executives use their smartphone to conduct research for products or services for their business.
Business Product Research on Mobile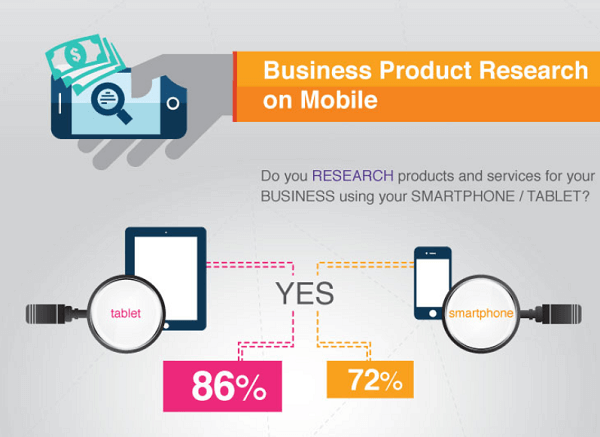 Whether your day-to-day focus is business management, marketing, sales, SEO, social media, advertising, software development, or customer relationship management, the mobile device has increasingly become the preferred tool for work and communication. How quickly and effectively an organization plans, develops, and adapts to deliver quality mobile experiences will likely become a competitive advantage.
Some organizations may continue to view mobile as an "add-on" or supplementary effort when planning for digital interaction with customers. However, those who embrace the shift in behavior and deliver what their customers want and need to make a purchase decision will likely be the ultimate winners.
See original post at searchenginewatch.com
Learn how we can help you maintain online visibility with our Google Ad services or explore other digital advertising options.