Believe it or not, your website is like a car. It's shiny. It's fast. And it's cutting edge when you buy it. Like a car, however, it will quickly show its age if you don't take care of critical routine maintenance.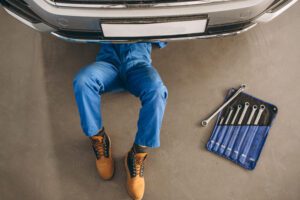 But while many of us can explain what car maintenance looks like (oil changes, tire rotations, various part replacements, etc.) very few of us can explain what needs to be updated on a website and why those updates are critical. 
Website updates — what are they and why should I do them?
Every website runs on a type of content management system, or CMS. Each content management system, from WordPress to Joomla, is slightly different than the others and has various pros and cons. Regardless of which system you choose, however, every single CMS (yes, even custom ones) will eventually need to be updated. 
Why? Because an outdated website core, a broken plugin, or any other out-of-date function is like having a broken window in your car. Will someone take advantage? Maybe not…but are you exponentially more at risk? Yes. 
Cybint Solutions | Cybersecurity Education reports some sobering statistics:
Users don't want their data stolen and you certainly don't want your business to be at risk simply because your website is an open door to cybercrime. Routine maintenance on your site means making sure that your internal team or your agency partner are updating your CMS and its plugins on a routine basis.
Check out the WordPress forum for helping making in-house updates OR start the conversation with our team about how we can support your WordPress site. 
WordPress is secure.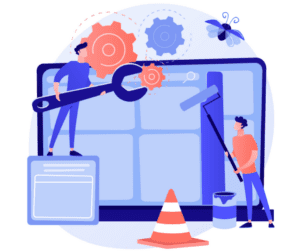 Several years ago, there was a concern that WordPress wasn't secure. Why? Because WordPress reported more hacked sites than other CMS systems. Why? Because globally, more sites use WordPress as their preferred CMS. The larger number didn't correspond to a lack of security but instead to the fact that significantly more sites operate on WordPress. Site security is more strongly correlated with keeping your site up to date than it is with what CMS your site was built on. 
If I do my updates, will that make sure my site never breaks? 
We wish this was true! While keeping your site up-to-date goes a long way in keeping it healthy, the internet is a living thing. Let's go back to our car analogy. You can do everything you're supposed to — making your check-ins, changing your oil, doing your tire rotations, etc. — and still blow a tire. Why? Because the outside environment impacts your car in a way you can't control. The "outside" web environment impacts your site in the same way. 
Internet giants like Facebook and Google can push through updates that impact your site without notice. Code can change and age as other groups develop better systems and software. Security thresholds improve and what you once installed as cutting edge can age. In short, there are still a million things that can impact your site and it isn't realistic to say that nothing will ever impact your site's health. 
What's important is how you respond when things go wrong. Making sure your internal team or your agency partner is responsive and willing to help when you notice issues is key. 
Does maintaining my site mean that I'll never have to re-do it? 
That depends — a maintained site can last for years, but inevitably, you'll need to invest in visual updates or newer functionalities. Your organization grows and changes and it's important that your site continues to reflect your brand voice.
It's also important that your site helps you achieve your organizational goals. The goal with site maintenance is to have your site last as long as possible in a healthy, functional capacity. The goal of site development is to create a site that will help your organization, be on the cutting edge of functionality, and be easy for you to maintain. Your old car may work fine, but sometimes it's worth the upgrade to a newer car that fits your needs…while also having the latest stereo system.
How do you respond to all of this? 
First and foremost, maintain your website so that you can have it for years to come. Second, have either a stellar team that manages your site internally or find a responsive agency partner that can keep your site up-to-date. It's worth the investment and the peace of mind in the long run. 
Start the Conversation
Interested in a free consultation to see if we can update your website?
Schedule A Discovery Call