Website architecture is critical to site performance from both a UX (user-friendliness) and SEO perspective. When your site is well designed, it has the functional flow of a great kitchen, where every important device is within arms reach. Your two main goals with your website are to ensure that users can easily navigate and find what they're looking for on your site and so can search engines.
When browsers can't find what they're looking for, or your site seems too complicated to navigate easily, people leave. In fact, around half of all website visitors leave after looking at only one page. If you want them to hang around, you must create sites that work well for the user.
Think of website architecture as the blueprint or map that you follow when designing individual pages. It also captures the flow that users follow as they explore your site.
It All Starts with a Good Map
A sitemap serves as the foundational blueprint for any new website design, illustrating the structure and hierarchy of the site's content. Just as architectural blueprints provide a visual representation of how a building will be laid out, sitemaps give website designers, developers, and stakeholders an overarching view of how the website's pages and content will interrelate.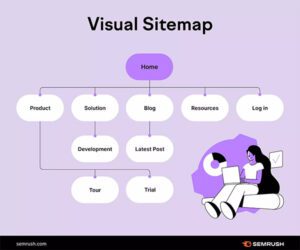 The goal of great site architecture and site structure is to have your pages properly sorted and categorized so they're easy for both humans and search engines to navigate.
Our team redesigned software development company Kopis' site. We met with key stakeholders on their team to ensure we understood their target audience, their most important services, and the tasks they want their key audience groups to complete on the site.
Using this information, we structured their site around these priorities, classifying their services into categories and sub-categories.
Minimize User's Clicks
It's important to remember the main purpose of your website — sales. It's a sales tool. If users have to spend a lot of time navigating through your site to find what they want to buy or how to take a step toward working with you, they'll go elsewhere. The fewer pages they navigate through, the more likely they are to stay engaged with your site. The more steps there are, the more chances people will change their mind or get frustrated.
Your  goal is to minimize the clicks they have to take to get to key information, products, or actions you'd like them to take.
For example, if your primary goal is to collect leads, your lead form shouldn't be buried deep within your site. It's probably wise to give them an opportunity to convert right away on the homepage, and all throughout the site.
In fact, many in the web design world recommend not having any page more than three clicks away from the homepage. It might not be a must in every scenario, but it's a great rule of thumb.
Best Practices for Great Site Architecture
When designing with users in mind, the goal is to get the user from the home page to the specific page they need with the fewest clicks possible. That means using logical categories and straightforward linking strategies. You want maximum traffic to the maximum number of pages.
Here's a few tips to help make that happen.
Avoid Orphaning Pages
The last thing you want to do is create "orphaned" pages with no links. (Orphan — meaning pages that have no traceable connection to your actual website). If none of your well-traveled pages link to a sub-page, it can't get any traffic unless someone uses the specific web address for that page. With the right internal linking and a clear map of how pages interact, you can see the number of clicks it takes to reach each page (click depth) and make sure everyone stays in the family.
Design for Mobile
With mobile browsing being the number one way users interact with websites, it's important to make sure your site design works on both desktop and mobile displays. Menus are critical for mobile. They allow users to see small snippets of your site at a time and navigate easily from one level of content to the next without impeding the user experience.
Use Site Auditing Tools
There are lots of free site auditing tools that you can use to check on click depth and to find any orphaned pages. With a quick audit, you can locate issues that might impact how search engines crawl your site and how users interact. Plus, many of these tools include SEO assistance to help maximize your site exposure.
Keep Your URLs Short and Sweet
A URL that is easy to remember is always better when creating your site. You'll also want to use the same naming conventions for every page, so users can easily identify your site address. Amazon.com, for example, is much easier to search for than if the website URL was amazononlinestoreforavarietyofgoods.com
*Note: the URL above is completely hypothetical and not a real website.
Use Navigation Menus
Whether you use hamburger, vertical sidebar or drop-down menu options, you want something that allows users to find sub-categories quickly and easily.
Build an XML Sitemap
Your HTML sitemap shows users where everything is, but the XML sitemap is specifically for search engines. Make sure it's up-to-date and error free. (Not sure what an XML sitemap is? Check out SEMrush's blog here.)
With good site architecture, you can better connect with potential customers and help minimize your bounce rate.
Prioritize Structure for an Effective Website
Website architecture plays a huge role in determining the success and functionality of your site, impacting both user experience and search engine optimization. A well-structured website ensures users and search engines can easily locate the content they want and take the steps you want.
By focusing on clear navigation, minimizing user clicks, and adhering to site design best practices, your site can offer an intuitive journey for visitors, leading to increased engagement and more sales.
Working with a Partner
If determining your site navigation feels overwhelming or if your audiences have changed since you built your site — it may be time to work with a partner dedicated to making your website work for you.
Our team has a variety of specialists, from website designers to content strategists, who bring their professional expertise to the forefront to help you build the best site possible. We're here to help, just give us a call!