*This post was originally published on November 15, 2016 and updated on November 19, 2018
As a digital marketing and web design agency, we get the privilege of having lots of conversations with clients around the idea of website goals. We harp on goals because simply having a website is not enough – almost two-thirds of small businesses now have websites. Just owning some real estate on the web won't move the needle very far. Your website has to be working for you.
Setting out to create or redesign your website without clear goals will set yourself up for mediocrity.
What's the Purpose of a Website?
A website should exist primarily as a means for growth. It should leverage the business by serving as a tool to meet big picture business goals.
For years, the purpose of a website has been to tell people about your business. Many organizations feel they need a website "just because I heard you should," or "because our young sales rep says we need to have an online presence."
If you want to compete in 2018, your business can't merely be a brochure of information. It needs to actively help you grow and achieve business objectives. Whether that's as a tool for lead generation, brand awareness, client retention, or all of the above.
Your website should leverage your business. And so should the digital marketing around it.
What Is a Website Goal?
As mentioned, good website goals are aligned with business goals. They must trickle down from the top.
Let's walk through one example of setting good website goals, and then we'll look at some other possibilities.
Let's say a local HVAC business has a goal to reach 1 million in revenue next year. In order to do so, management figures they need to install 80 new units (they probably have other streams of revenue, but for simplicity's sake, let's say they only do new installations).
Website Goal
With this in mind, a good goal for this HVAC business would be to increase the leads generated from their site. This is the big picture goal. But, this isn't near SMART enough. It's not Specific, Measurable, Actionable, or Time-bound.
So, we're not quite done. Let's look at a few more aspects of this goal.
Website Objectives
Time to make our goal a little more actionable. We're looking to increase leads. The next logical question you might ask is, "How do we do that?" This is often referred to as an objective. There might be a couple objectives as a result of this goal, say looking to increase the number of general form submissions on their site, as well as email signups. Two great objectives.
Key Performance Indicators (KPI's)
We've got a bit more actionable direction. Now let's make this goal results-focused, measurable, and time-bound.
The next thing a good goal setting person might ask, "How many submissions and signups do we need?"
Let's say 1 out of every 4 people who submit a "Request a Quote" form become clients. And 1 out of every 10 users who sign-up for their email list become a client. In that case, you would need roughly 250 form submissions and 180 phone calls over the course of the year.
An appropriate KPI might be: increase request a quote form submissions by 50% over the next 6 months and increase our email signups by 25% over the next 6 months.
(Don't check my math on that.)
We've got our website goal, some website objectives, and key performance indicators we can use to track our progress.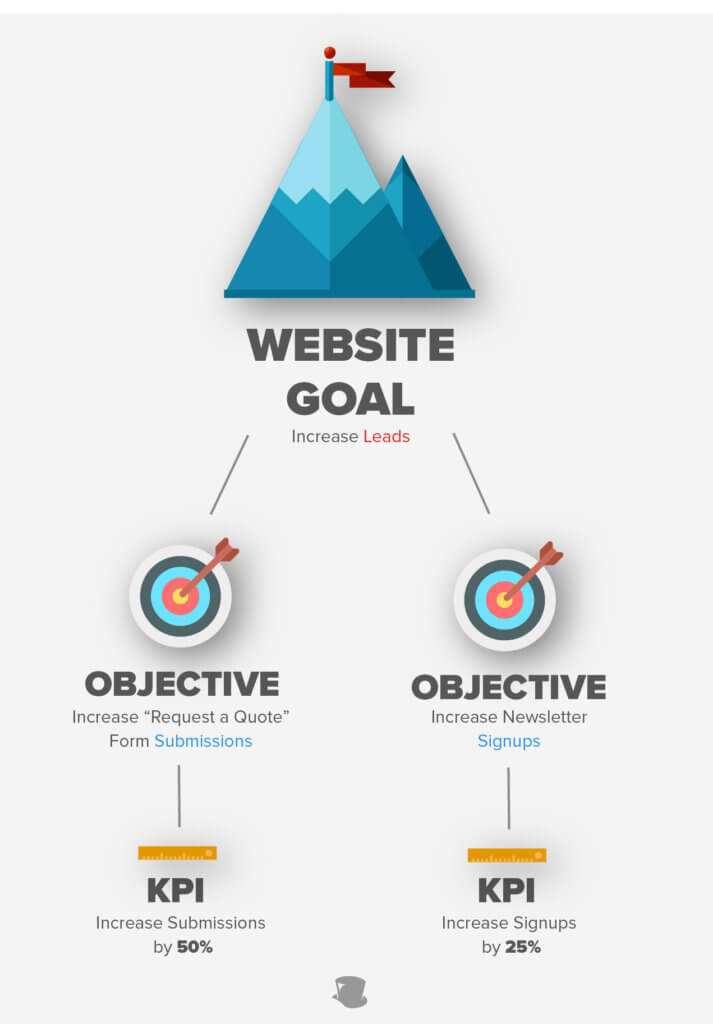 Good Website Goals, Objectives, and KPI's
We listed a few in our example, but what are some other good goals, objectives, and KPI's for effective web design?
Increase Leads
We discussed increasing leads as a good and legitimate website goal. If you're looking to grow a business, gaining new leads is probably permanently at the top of your mind. But, as mentioned, your website objectives may change over time.
For instance, if you have lots of traffic coming to your site, but few are contacting you or signing up for your email list, a more appropriate objective might be to increase your conversion rate. Your KPI might be to increase your sitewide conversion rate by at least 50%.
Here are some other common website objectives around the goal of gaining leads:
Increase traffic

Increase

organic traffic

by x%

Increase

paid traffic

by y%

Increase traffic from newsletter by z%

*How to find these: these metrics live in Analytics under Acquisition > Overview
Increase engagement:

Increase

time on site

by x%

Decrease

bounce rate

by y%

Increase

pages per session

by z%

How to find these: these metrics live in Analytics under Behavior > Overview

Increase email captures:

Increase email signups by x%

Increase conversion rate on email signups by y%

*How to find these: these metrics would need to be set up as Goals in Google Analytics, one of the best free digital marketing tools on the web. Skip below to find out more.
Sell Products
For any eCommerce website, the obvious goal would be to sell products directly on your website. However, just like increasing leads, there must be objectives and KPI's behind this goal. For the majority of these, you will likely need to set up goals in Analytics. Here is a brief post from Google on setting up eCommerce tracking.
Increase sitewide conversions

Increase conversions on sales by x%

Increase conversion rate from category pages by y%

Increase conversion rate from organic search traffic by z%




Decrease abandoned cart rate

Decrease sitewide abandoned cart rate by x%

Increase cart recoveries by y%


Increase size of orders

Increase size of orders by x%

Increase product adds at checkout by y%
Retain Clients
Another goal might be to retain clients. If your business is largely dependent on keeping clients and creating returning customers, client retention is a great website goal.
There are many ways to go about this. You could create instructional content on how to get the most out of your products or services. Maybe it's through pushing offers and deals through your site to returning visitors. Here are some good objectives for retaining clients:
Increase Blog Engagement

Increase time on blog posts by x%

Decrease bounce rate on blog posts y%

*How to find this: these metrics live in Analytics under Behavior > Overview. You can filter your pages by blog posts.

Increase Returning Visitors

Increase returning visitors by x%

Increase traffic from marketing emails by y%

*How to find these: these metrics live in Analytics under Audience > Behavior > New vs Returning.
How to Set Up and Track Goals in Google Analytics
We've discussed lots of goals, objectives, and KPI's. Obviously just setting the goal isn't going to cause the money to start rolling in. These goals must be tracked – which is why we set KPI's for each, right?
Many of the associated objectives and KPI's are native within Google Analytics and easy to keep up with on a regular basis. However, some objectives like form submissions or email signups require you to set up a "Goal" to track. So, assuming you have a Google Analytics account with your website property set up, here is a short step-by-step guide to setting up goals:
Login

Navigate to Admin > Goals

Click "New Goal"

Add a Name and Type of Goal

Destination:

This goal works if you want a certain pageview as a conversion (for instance, a thank-you page)

Duration:

You can trigger a certain time on page as a conversion

Pages / Screens per Session:

 You can trigger a number of pages viewed as a conversion

Event:

You can trigger a user interaction as a conversion

Enter Details




Let's say you choose a duration to trigger a conversion – here is where you will enter that duration.
And that's it! You now have a goal set up on your website.
Here's a little more in-depth guide to setting up goals in Analytics.
Pretty Isn't A Website Goal
Don't forget, your website is a tool to help your organization move forward. Don't settle for merely having a "pretty" or "clean" one; let your website work for you by knowing your audience, setting goals that line up with your vision, and using objectives. It's our hope that the next time you begin a website project, your first thought isn't "what photo will go on my homepage," but setting good website goals that will help move your organization forward.
Start the Conversation
Interested in learning more about how our web design process can help you meet your goals?
Schedule A Discovery Call