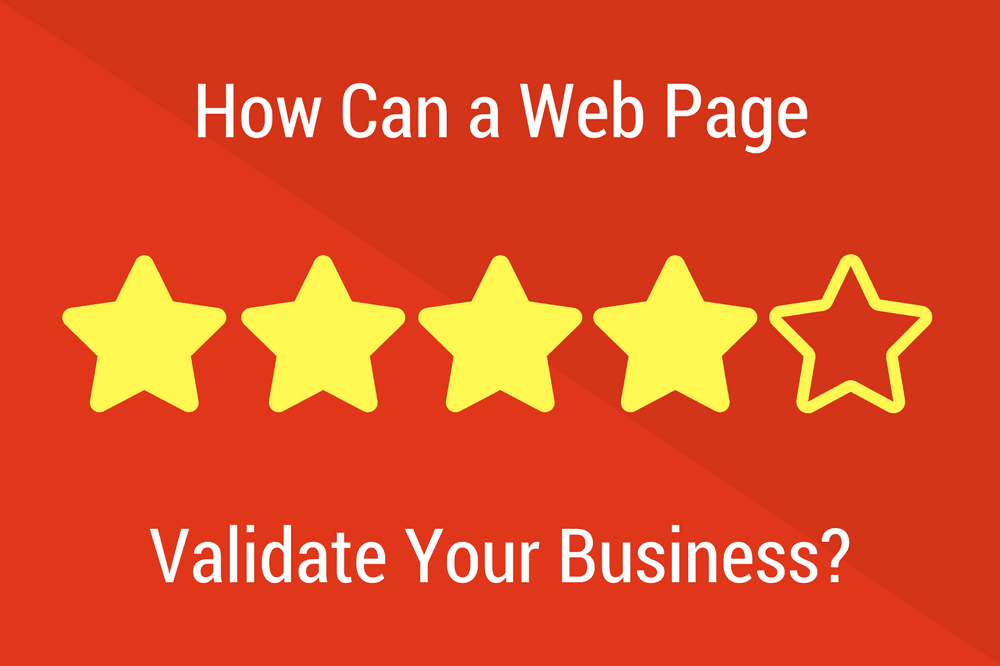 Recently we've been going through the hiring process for a few open positions at our company, and it's reminded me of how important first impressions and relevant experience are. If you get a cover letter with the wrong business's name addressed, or the prospective employee misspells your company name, or their resume has no relevant experience, it can be pretty difficult to give that person a chance. In most cases, it eliminates the candidate before they even get to interact with you face-to-face and prove why they're the best fit.
Unfortunately, we find many business's first touch point with prospective clients end in a very similar manner. So what can you do to make sure that the interaction your guests have online validates you as a business and secures that person-to-person contact you need to secure that lead? Let's prepare for the interview:
1. Wear Your Best
This age-old interview principle is in effect when it comes to your web presence. If you want guests to take your business seriously, it needs to look the part.
Every web page on your site should exude the culture and nature of your business with a streamlined and professional look that accurately represents your company. This means that listing every detail about everything you do isn't the most effective way to garner interaction, as it tends to overwhelm the user.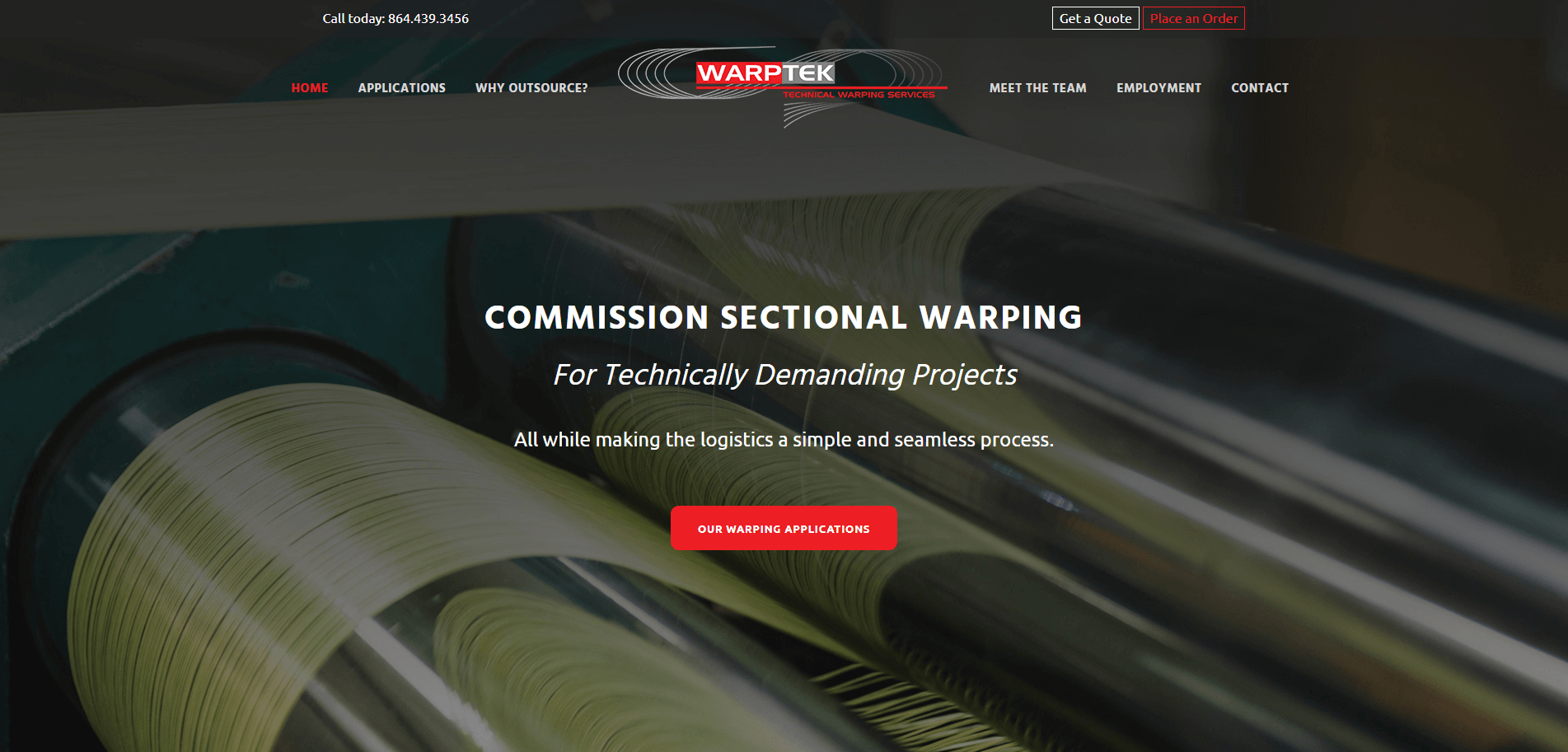 The WarpTek homepage hosts beautiful photography and focuses on the most important aspects of the business
Keep it simple, creating a hierarchy of the information you want guests to experience so that the most important aspects of your business are front and center.
Do you provide two services that drive a majority of your revenue? Hone in on those on your homepage and direct users to more detailed pages on each. Simply want the user to call you? That's perfectly ok, especially if your goal is to begin a more personal interaction as soon as possible.
Whatever you do, make sure the most desirable and unique features of your company are immediately apparent, and drive users to take the actions that bring you closer to achieving your business goals.
2. List Your Experience
What you've done in the past is a great reflection on how you will perform in the future. The key is making it relevant to your guests.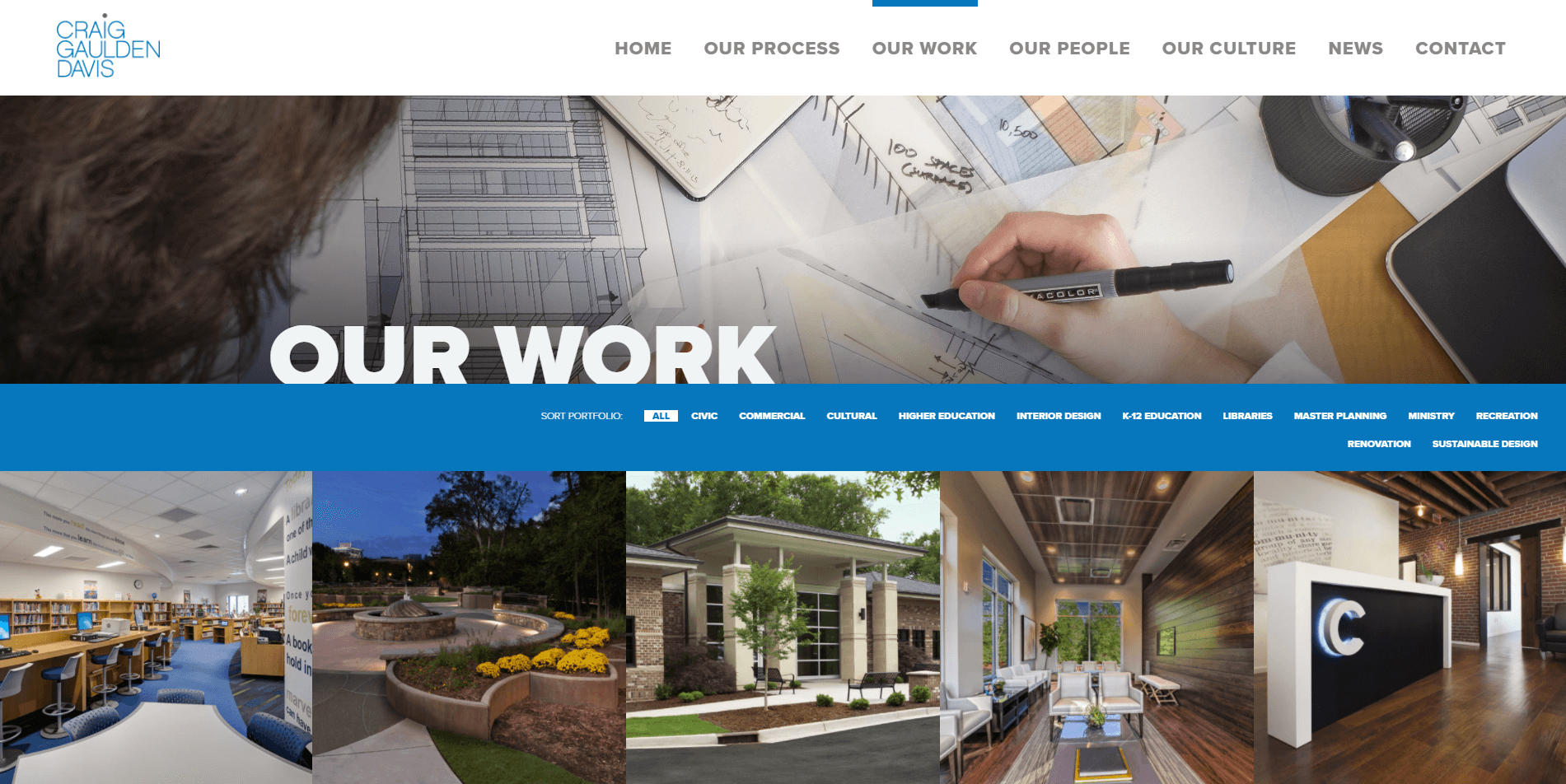 The Craig Gaulden Davis portfolio web page does a great job of presenting a wide range of past work in a streamlined style
If you have portfolios or case studies of past work, let people know about it! On top of contributing to the overall awareness of your experience, you can also make sure that the solutions your company provides reaches the right audience. You can do this by narrowing your focus and targeting potential leads that are most likely to need your product/service to solve their problem. By segmenting out your business to reach specific target markets, you're able to get the right info in front of the right people.
For example, a custom builder that does both residential and commercial work has two very different audiences. However, they can use their website to demonstrate their experience in both areas. By having portfolios or case studies that validate their residential work, they can target homeowners with digital ads and send them to a collection of projects on their residential portfolio. Additionally, they could create an ad that targets commercial business owners and send them to a case study on their latest commercial project. Two different messages which validate the business on two fronts.
3. List your References
In both the interview process and the business world, our word only goes so far. As such, it's critical to have validation from previous customers that rave about your product/service. This can easily be done by hosting testimonials on a web page that reflect the working relationship a future lead could expect when interacting with your company.


Palmetto Heating & Air hosts some rave reviews on their website
In addition to hosting testimonials on your website, consider bolstering up your reviews on Google, Facebook, Angie's List and other industry-specific sites. Interviewees provide references to provide a word-of-mouth referral for their work. Online reviews work the same way for your business.
4. Be Human
Often in the interview process, due to what we are taught in school and in career centers, we tend to over accentuate professionalism and lack the ability to connect — human-to-human. This is crucial in really learning who a person is and if they fit your team's culture.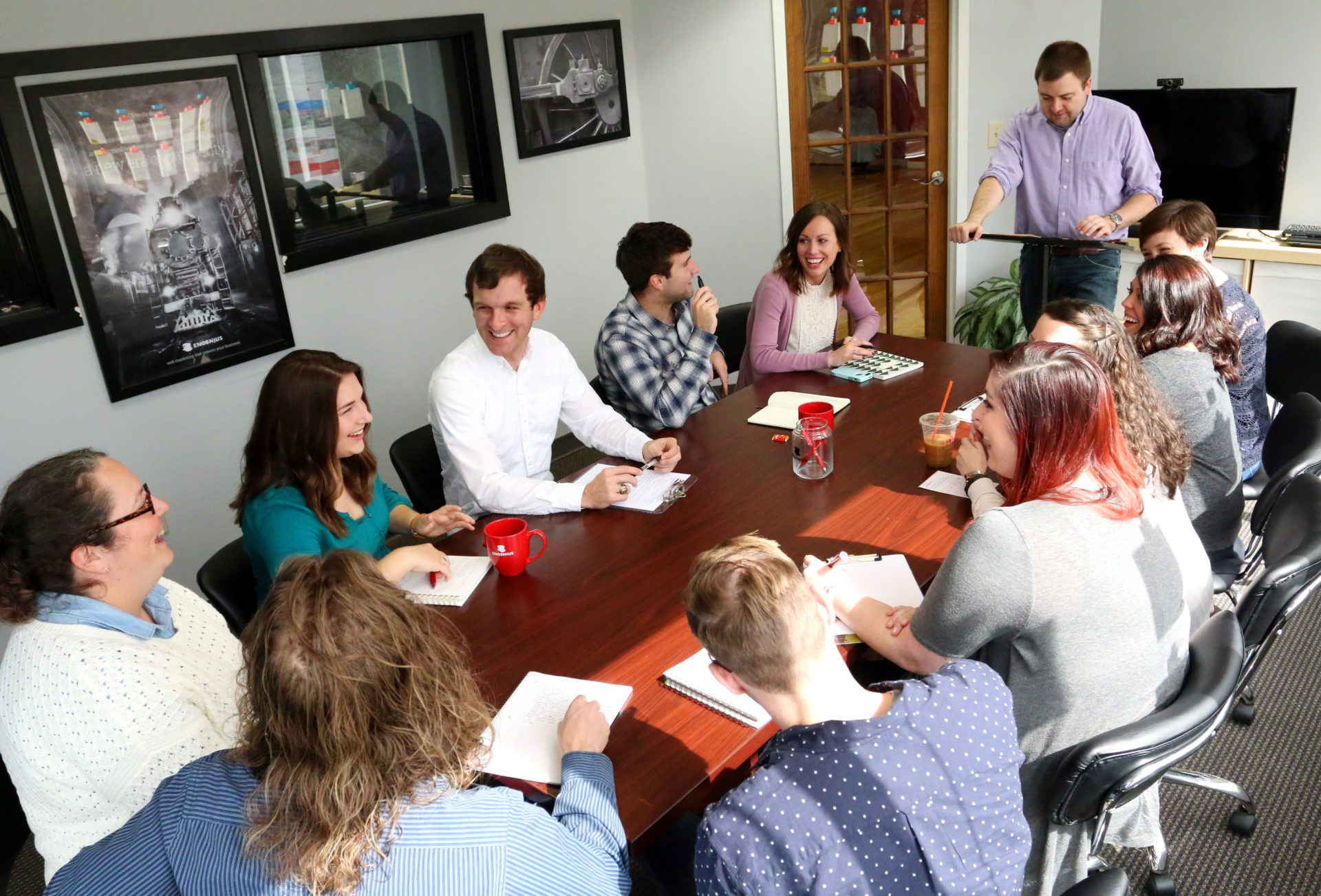 Similarly, your website should be a reflection of the people that make all your work possible. This doesn't mean it needs to be silly or over the top, but you should tell guests about the qualifications of your team, reflect the values of your business, and be as transparent as possible to give them a sense of what it's like to work with you.
AVOID BLENDING IN WITH THE CROWD
With over a billion websites in existence today, it's imperative that you do what you can to validate your company and stand out. Plenty of businesses say they're innovative, responsive, and provide excellent customer service — you need to go that extra mile and actually prove such claims. Otherwise they're just empty words.
Interested in learning what other tactics can legitimize your business on the web? Sign up for our newsletter to receive regular updates on the latest web design and digital marketing practices. And if you want to start a more in-depth conversation, reach out to us today!
Start the Conversation
Interested in learning more about what a new website can do for your business?
Schedule A Discovery Call