WordPress is one of the most popular website builder and content management systems (CMS). More than 30% of websites rely on it, including big hitters like the BBC, Walt Disney, Sony, and MTV. 
WordPress takes pride in updating their system regularly to utilize the latest cybersecurity protections and features making it a CMS worthy of consideration. 
But, whether you are a current user, or you plan to use WordPress in the future, there are several updates that you need to understand to ensure performance and security for your website. 

Understanding the Importance of WordPress Updates
Unfortunately, the widespread use of WordPress makes websites using it popular targets for hackers. It is not that the content management system itself is not secure – instead, cybercriminals can exploit the vulnerabilities of outdated versions. 
95% of sites take unnecessary security risks because they use outdated software. If you update on time, you avoid this risk, and hackers will often move on from your site to find a more vulnerable target. 
Users also expect sites with the latest features and without bugs and 60% will leave a site if they encounter problems with loading or navigation. WordPress updates fix issues, ensuring a positive user experience – and a positive experience can help you in the SERPs too. 
The Four Essential Types of WordPress Updates
WordPress updates have four distinct components which regularly update to remain secure:
The WordPress core files provide the backbone for your site. It allows you to manage content and users from a central dashboard, upload content, manage pages, and oversee interactions with users. WordPress uses different languages for all its features, but the core relies on Hypertext Preprocessor (PHP), an open-source coding system. Updates to the language system focus on making it more efficient and secure. 

The WordPress database holds files, media, and content for your site. This component is on servers operated by your website hosting service. 

WordPress theme files maintain the appearance and user-facing aspects of your site. They control the layout, colors, and placement of user-interface features. 

WordPress plugins are add-on features that add specific functions not included in the other three components. There are thousands of plugins for everything from collecting user data for targeted advertising to providing a weather forecast. 
Though these components work together to create a fully functioning site, they each have their own updates.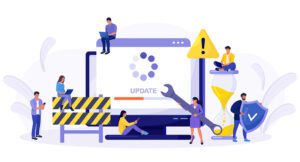 How to Perform WordPress Updates
WordPress has an Updates section on its Dashboard where new versions get listed. WordPress.org has a page explaining the changes and improvements offered by core updates. Don't assume your site automatically updates – instead, you must act or ensure that your partner agency is acting for you At Engenius, for instance, all websites are updated as a part of our website support plans. 
How to Perform Core Updates
WordPress announces updates on Admin screens. With those announcements, there should be a link that launches the update process. You can also navigate to the Dashboard, click the Updates section, and trigger the process from there. 
Manual updates are possible by using a file transfer protocol (FTP) to upload the new files to your web host. However, this process requires care and some technical knowledge to place the files in the WordPress root directory and deactivate plugins. 
Regardless of your method, there is one important issue to avoid: WordPress updates will remove any changes you made to the previous version and an update could directly impact the functionality of a WordPress plug-in. WordPress allows you to back up your existing site beforehand – ensuring  you still have an active version should the update fail. After you have updated, go back and make sure you have no errors with plug-ins that have not updated to the latest changes released by WordPress. Some you may need to disable until an update is available. 
How to Update the PHP Version
You want to use the latest version of PHP to ensure your site operates as efficiently and securely as possible. You may notice faster load times after updating your PHP version too.
You can visit the Site Health page on your Tools menu to check the version of PHP against the latest available version. You should update plugins, themes, and core before any changes to the PHP.
The update itself takes place on your hosting company's side. They may handle the process for you or offer directions, which usually involve navigating to a Tools or Options section of the hosting dashboard and selecting your desired PHP version. 
How to Update WordPress Themes
WordPress lets you set up automatic updates for themes. You simply navigate to the Appearance section of the Dashboard and select your current version. You then click the field for Enable Auto-Updates. The system will check for available updates and make changes without any additional input. 
You can also update manually by going to the Updates page, scrolling down to find Themes, and clicking Update if available. If no updates are available, your themes are already up to date.
Like core updates, you can perform theme upgrades manually using an FTP client. 
How to Update WordPress Plugins
New WordPress plugin versions are listed on the Updates page. If multiple plugins are due for upgrades, you need to select each one or click Select All. Update notices are also available on the Plugins Page. 
Plugins have third-party developers, so sometimes new versions may have bugs. If this happens, you can deactivate it on the Plugins page and then select "rollback" to revert to the previous version until the latest version is ready for roll-out. 
Get Help with WordPress Updates
WordPress is a user-friendly website-building tool. However, problems can arise during the update process. Luckily, you don't have to try and navigate, backtrack and try to figure out where things went wrong. 
Engenius offers website optimization and support services to help fix issues quickly and ensure you get the most out of your WordPress site. Contact us today before you do your next update.
Start the Conversation
Interested in learning more about how to increase sales by properly leveraging your website?
Schedule A Discovery Call