Key B2B decision-makers often browse the same websites and scroll through the same social media feeds as anyone else. Getting the attention of such B2B decision-makers, however, can be difficult.
What can a driven executive do to initiate a conversation with a B2B leader and influence them toward signing a contract?
The key is a two-step approach: create a dazzling web property and then bring your target audience to it with sound digital marketing. So, let's get you started on the road to B2B success with web design and digital marketing tips.
B2B Web Design Tips
The first phase of your B2B journey is to create a website.
1. Master Your Hero Section
First impressions matter, and your website's hero section is the best place to make it count. With website visitors forming an opinion of your brand within a tenth of a second upon arriving on your webpage, it's worth putting all your eggs in one basket. Take the time to incorporate unique features of your brand, from color choice to image selection. Thrill your visitors here making it much easier for them to learn more about your company.

2. Highlight Your Brand With Videos
Video brings out the personality in your brand and allows you to show the viewer everything that words can only describe. Impress them with a stunning array of visuals, from aerial views to glorious product details. Make it short and snappy to pique interest or lengthy and informative to elaborate on distinguishing points.
3. Tailor Your Web Copy
Visitors want to know they can trust you before making a purchase, which is why your web copy is the best place to instill such admiration. Make good use of your in-depth terminology, data, and facts to embolden each sentence on your website. Bring in some quotes or industry details to put the icing on the cake.
Check out this Example
Here's one instance where a B2B website met all the spectacular web design criteria: Check out installmt for a closer look at how the pros at Engenius delivered to client satisfaction.
B2B Digital Marketing Tips
Phase Two of your B2B business lead generation strategy should include marketing through at least one digital channel. This is where you get to showcase what your brand is all about in hopes of enticing potential clients. Get started with the following B2B digital marketing tips: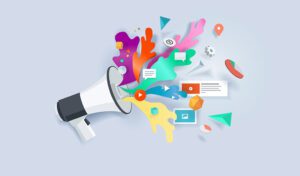 1. Jump on Social Media
Your first stop on the digital marketing train should be in the domain of social media. Social media is all about creating content, sharing, and interacting with other users within virtual networks. Since most social media apps are free, anyone can create an account, which opens your brand up to reaching the entire user base of that app!
Popular B2B social media platforms include:
LinkedIn
Twitter
YouTube
Instagram
Facebook
TikTok
Depending on your preferred method of posting, you could create any number of social media accounts for your business. All you need to get started on a platform is an email address, and you're ready to start posting. For best results, continue to contribute to your chosen platforms and model consistency over simply chasing fads.
2. Power Up Your SEO
Search engine optimization (SEO) is arguably the best way to get more visitors to your website…but only after you put in the work to get there. The premise is simple: you create a blog, make informative posts, and the search engines will send users to your website. It's really easy to start up a blog and begin making posts, with the potential to attract an infinite number of visitors.
It will take months for the search engines to discover your content and then decide how many (if any) visitors to send to your blog. This is a long-term lead generation strategy and it takes a lot of time, energy, and resources to get into the good graces of the search algorithms. For this reason, it's best to hire a professional to manage your SEO endeavors so that every minute is put to good use.
Engenius has been helping B2B companies dominate search engines since 2008 and is ready to help you experience SEO success! Click here to schedule a free 30-minute call to find out how we can help.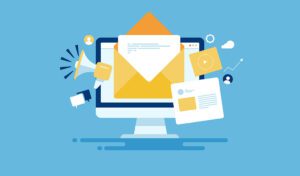 3. Design an Exciting Newsletter
If you're really keen on getting your clients excited about your product or service, then you absolutely need your own email newsletter! A unique, informative, and attractive newsletter series will keep your email subscribers hungry for more of what you have to offer. Take the time to write excellent content, spice it up with matching images, and send it away to gain their trust and demonstrate your authority.
Web Design and Digital Marketing: Symbiotic B2B Success
In the digital era, it's important to follow the latest trends and meet clients where they are. In today's B2B landscape, the big decision-makers are placing increasing value on beautifully-designed websites and clear advertisements.
Designing an attractive website and then drawing B2B clients in with tailored digital marketing is the one-two punch that can take your business to the next level.
If you want a more turnkey approach instead of the DIY method above, it's a smart idea to hire a team of professionals to take all the hard work off your hands.
Here at Engenius, we specialize in crafting brilliant B2B websites that appeal to your desired audience and work to pair them with the perfect digital marketing strategies. Click here to schedule a free consultation today so your B2B operations can hit the ground running.