By now, your event has probably garnered attention from at least a few well-known sponsors. Congratulations! All the hard work you've put into perfecting your sponsorship deck and pitching it to potential partners has finally paid off. You've earned credibility as well as some additional funds or in-kind donations to work with. 
Now you have to deliver on your side of the deal: adding value for your sponsors.
Although their motivations certainly vary, most partners have probably chosen to partner with you for at least one of a few reasons:
Philanthropy


Your event might be closely connected to a cause that's in line with their mission, so a sponsorship just makes sense. For example, if you put on a successful art festival, it would make sense for some larger art and cultural organizations to sponsor your event. It makes them feel good to invest in something that's so closely aligned with what they do.

Brand Awareness


Some sponsors may choose to invest in your event for increased or unique brand exposure. If their name and logo are associated with a particular part of your event that's highly visible to your attendees, then that sponsorship acts as another advertising touch point. It helps them stay top-of-mind with potential consumers, especially over their competitors.

ROI


If your event's attendee demographic information lines up enough with your sponsor's target audience, then there's a pretty high chance that your event could be a good way for them to acquire new customers. These kinds of sponsorships are a no-brainer, because the return on investment is obvious.
Even though the motivation behind sponsorship decisions runs the gamut, one thing must always be true: for an organization to sponsor your event, it has to make good business sense for them. And for a sponsorship to make good business sense, it has to make the sponsor look good.
How to Deliver
Your website is a phenomenal tool to help you keep your side of the bargain and get your sponsors the exposure they were promised. It's essentially an online billboard where thousands of people each month can be exposed to your sponsor's brand. 
The best part about a website is that you can incorporate your sponsors' logos at multiple touchpoints—adding credibility to your event and increasing their exposure. Win-win!
1. Prioritize your presenting sponsor
If you've secured a presenting sponsor for your event, then you'll want to have them front and center on your website to recognize their large contribution. One way to do this is by creating a combined logo that appears in the header of your website. This will be the first thing users see when they land on your site, so they always know to associate your brand with your presenting sponsor's brand.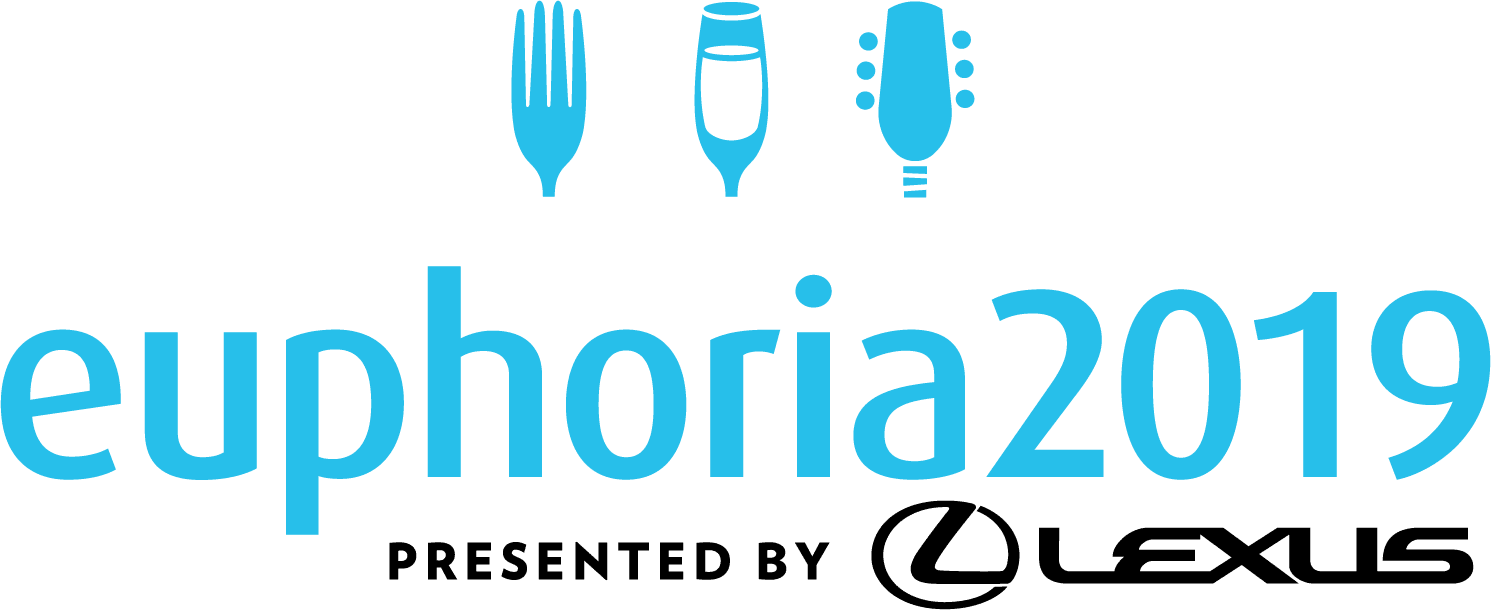 Plus, if your website features a "sticky" navigation, or one that follows users down the page as they scroll, then their logo will always be visible.
2. Have a well-designed sponsor page
One of the most obvious and common means of promoting sponsors is on a sponsor page. Sponsor pages are necessary and generally part of the package when selling sponsorships to an event. They are also typically some of the most lackluster pages on a website.

How many times have you seen a sponsor page where everyone's logo is a different size and shape? Maybe some logos are in color and others aren't? It's very easy for sponsor pages to become really overwhelming, really quickly.

And maybe a better question: when have you ever joyously perused a sponsor page? Never because they're typically so bland, right?

Long story short: a successful sponsor page must be well-designed in order to protect your sponsors' reputations. (Interested in what this might look like on your site? Let's chat.) Above all else, your sponsor page should prioritize a clear hierarchy of sponsorship levels and uniform image sizes. 
Let's dive into an example: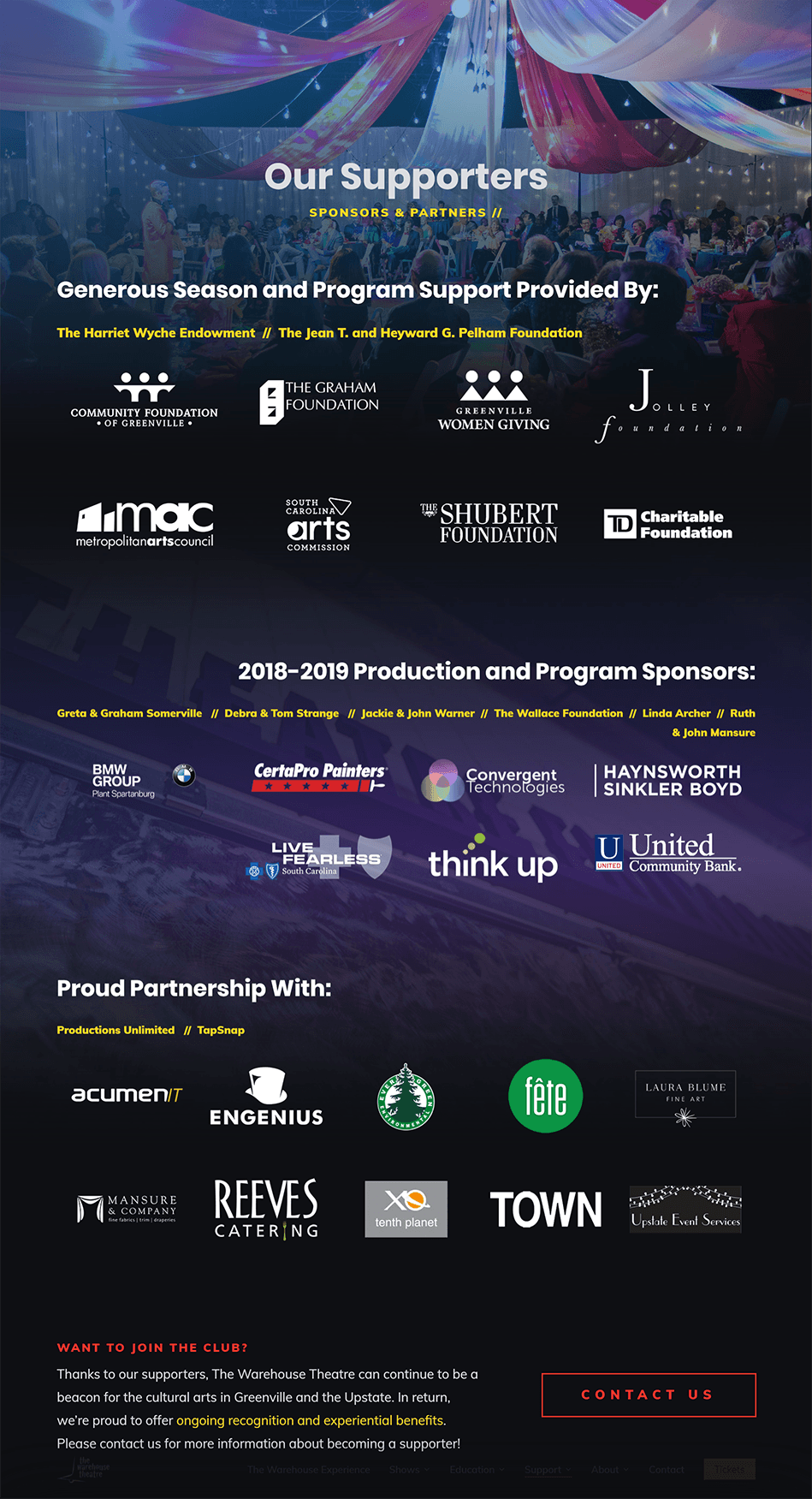 Warehouse Theatre's sponsor page relies on effective design in a few major ways:

To clearly differentiate each sponsorship tier through large, eye-catching headlines 

To draw attention to sponsors who don't have logos, like individuals or family foundations, by listing them in bold yellow text in each category.

To establish balance by displaying logos as a uniform size
Without effective design, this sponsor page could've quickly become a large, unorganized list of sponsors.
In addition, consider displaying your biggest sponsors at the top of your sponsor page and with larger, more prominent logos. Giving bigger sponsors more real estate on your website is a great value-add.
3. Think outside the box: create more opportunities to showcase your sponosors
We've already pointed out how common "sponsor" pages are on event websites. By now, sponsors have probably grown to expect that level of recognition. However, you can take it a step further by blending sponsor recognition into your site, rather than keeping it secluded on its own page.

Sponsored Exhibits
If your event features different exhibits, break-outs, or anything else that's customizable, consider customizing the pages on your site to include a sponsor's logo. This way, every time a user goes to that page on your website, they associate the event with its sponsor.
4. City Guides & Out of Town Guest Guides
You've probably got people coming in from out of town to attend your event. So give them every opportunity to fall in love with your city and extend their trip (and tourism dollars).

Creating a place on your website that out-of-towners can go to to find local hot spots, must-see attractions, and everything else they need to live like a local is a great and sneaky way of adding in some extra value to sponsors.

Local businesses, restaurants, hotels, breweries, etc. all make for great suggestions to an out-of-towner. Showcase those who you have a sponsorship or partnership with.

The euphoria website does this masterfully. They showcase hotel partnerships under their accommodations: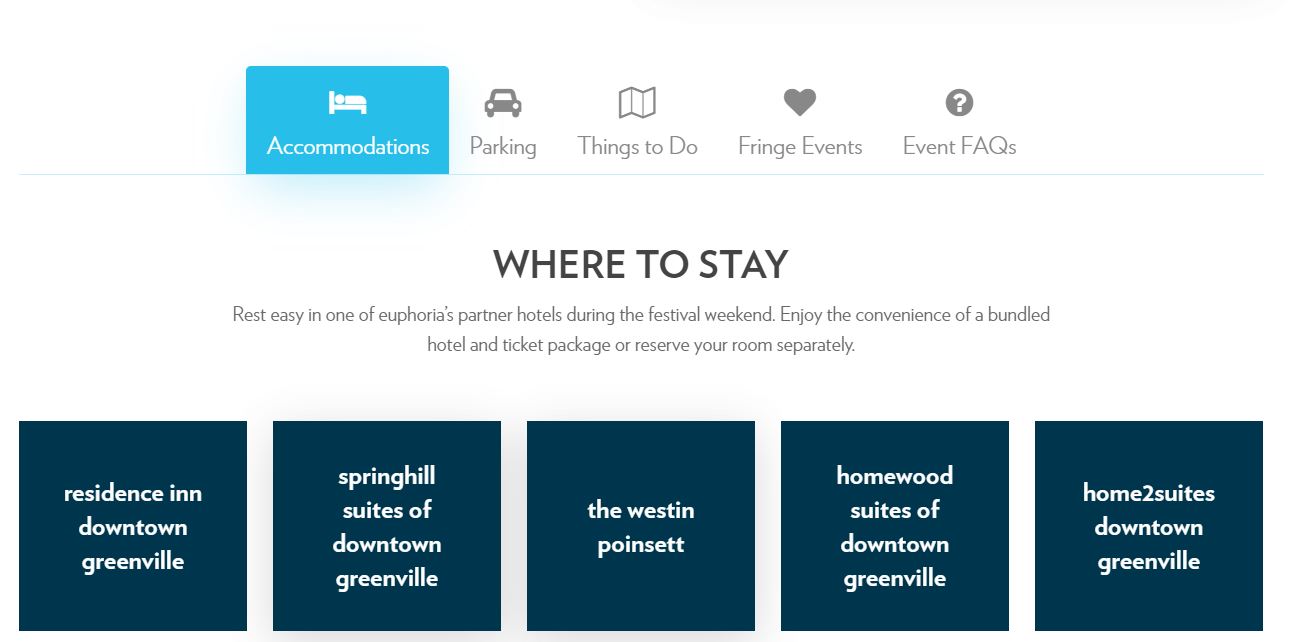 Under the 'Things to Do' section, guests can get insights from local media influencers about their favorite things to do around town. If you partner with influencers, this is a great way to give them more exposure and help out your users.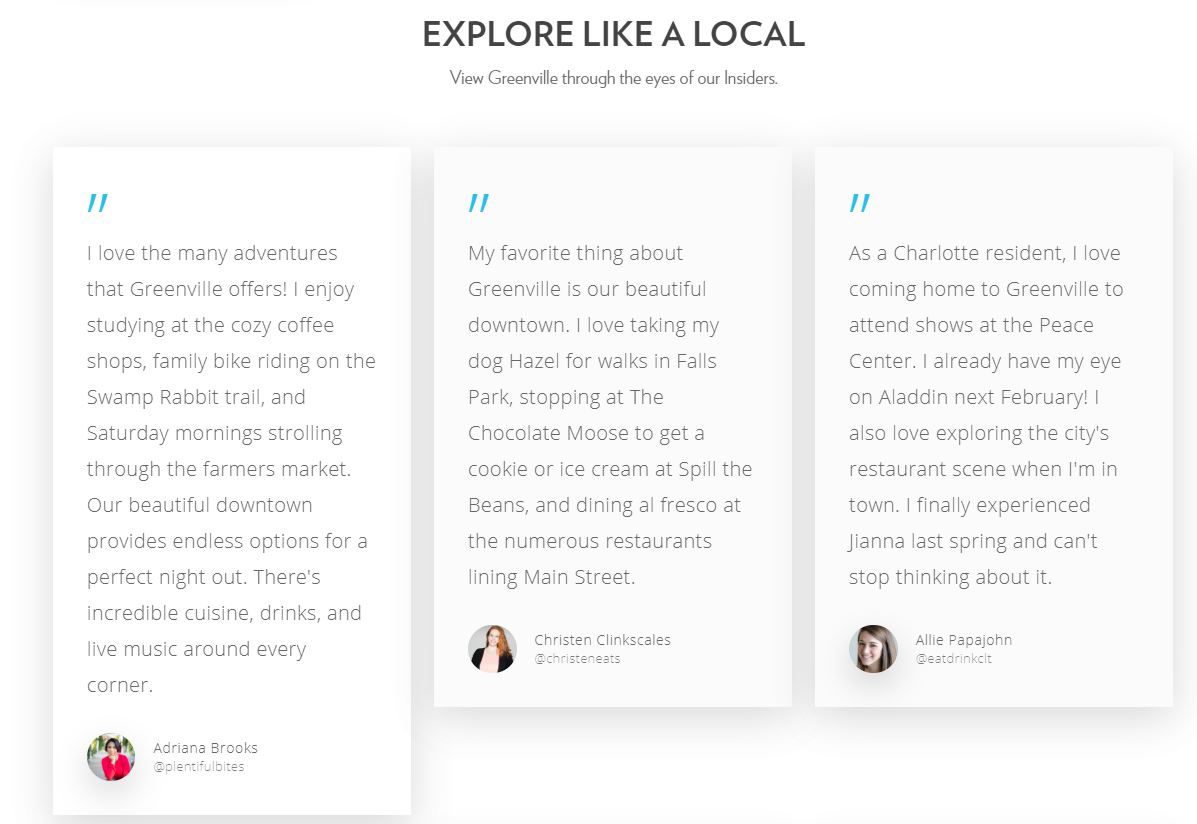 At the end of the day, thoughtful details will help set you apart from other events and organizations that might be seeking the same sponsors. What can you do for your sponsors that other events aren't doing? If a sponsor has to choose between investing in your event or another event, make sure their choice is clear. 
Always hold up your end of the deal—maximize the amount of website real estate you offer your sponsors and always make sure their brand is well-represented.
Start the Conversation
Interested in learning more about how your website can add value to your donors and sponsors?
Schedule A Discovery Call