Sure, you can obtain construction contracts by going out there and bidding on them, but if that's the only thing you're doing, then you're leaving money on the table.
The internet makes connecting to leads easier and more efficient than ever before. Plus, it can allow you to connect with  audiences you couldn't reach via word of mouth marketing.  But how do you utilize the power of the internet to grow your construction business? Fortunately, we've compiled everything you need to generate construction leads through digital means here.
Read on to learn more about construction web design and digital marketing.
Web Design Tips for Construction Companies
Your construction company needs a place to call home, and a dedicated website can serve that purpose. When you identify yourself and your services, internet users know they're in the right place. Below are web design tips for construction companies that will bring your website up to par.
1. Keep Things Simple
Large e-commerce stores may have seemingly unlimited stacks of links, categories, and anything else they deem necessary in their online stores, but that won't be necessary for your construction website. Your clients have no need for shoe size, fabric type, or refund information. Instead, they would prefer to know exactly what you do, how much you charge, and how soon it can be done. Give the visitor what they need quickly and efficiently so they can leave happy.
2. Include Navigation Essentials
Your navigation bar should have the essentials that a construction client would need to pursue a contract with your company. This means you need to include the following links:
About us
Contact
Pricing
Services offered
Blog
Portfolio
Your visitors will be happy to see these important links available upfront without having to dig through heaps of data.
3. Lead With Images
No doubt about it: construction jobs are better described with pictures than with words. Just one photo can provide your potential customers with the information they need to choose you as their contractor of choice. Select crisp, quality photographs that not only show the viewer your beautiful projects, but also what they can expect when working with you. Place these images in spots that are easily visible to everyone, sprinkling them throughout your website for maximum exposure.
4. Describe Your Services
You already know that you are the best on the block when it comes to construction expertise, but does your visitor know that? Now isn't the time to be humble about your work. Instead, let your potential customers know exactly what you're all about and what they can expect when working with you! Use descriptive language as much as possible, then throw in a relevant photo for good measure.

Digital Marketing Tips for Construction Companies
Once you have your website up and running, the next step is to go out there and get some construction customers! You can find potential clients through a variety of methods, but the digital marketing tips for construction companies below are a good place to start.
1. Discover Your Target Audience
The most important part of your digital marketing efforts is discovering your target audience. Once you know exactly who will be purchasing your product or service, you'll be able to tailor your entire marketing campaign toward this group of people. Every single word, image, and video can further increase the chances of your valued buyer reaching out to you to gather more information. It can also move them forward in the purchasing process.
2. Create and Optimize Your Google Business Profile
Does your business even exist if Google doesn't know about it? Google has made it exponentially easier for businesses to get in front of the right audience with its Google Business platform. With just an afternoon of focused work, you can create a Google Business Profile (GBP) that not only represents your company, but also entices users to trust you even more. Create a GBP today for free to take advantage of Google's full suite of services for new and growing construction establishments.
3. Create Localized SEO Content
You can take advantage of the most powerful search engines on the planet by serving quality content that's focused on helping local users. As a construction industry pro, you already have plenty of useful information, tips, and advice that people on the internet will find useful. All you need to do now is create industry-specific content that everyone can consume, then introduce regional elements that will assist them on a local level.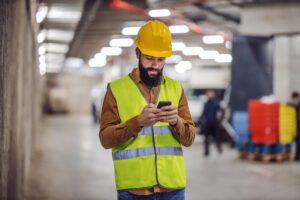 4. Get on Social Media Platforms
You may already dabble in social media apps yourself, but engaging them from a business perspective is an entirely different experience.
Social media apps are the most popular apps in the world, making them ideal channels for your organization to increase exposure. Simply create an account, input your company information, and share relevant  content daily to start accumulating followers!
5. Generate Exclusive Guest Posts for Construction Websites
The construction industry is huge, and there is no shortage of publications out there catering to this crowd. The online variety of construction materials often has large readerships, making them incredibly valuable to professionals in the niche. You can take advantage of these internet magazines by offering worthwhile content they can serve to their subscribers. Make sure to end the content with a short bio describing your service and a link back to your website.
Web Design and Digital Marketing is Essential for Construction Companies
To get more clients as a construction professional, you must engage in two vital activities: digital marketing and web design. You'll need to obtain leads through digital marketing, then send them to your website to sell them on your services.
It certainly takes time and energy to put these tips into action — time that you, as a busy construction professional, may not have.
We're here to help! Engenius has been serving construction clients since 2008, so we have what it takes to take your business to the top and can do all the heavy lifting for you. Schedule a call with one of our helpful representatives today to get the ball rolling. We look forward to hearing from you soon.