As the Marketing Director of a web agency, some of my friends and family are under the impression that I spend my days schmoozing over fancy lunches or attending black tie affairs complete with gourmet crab cakes and expensive champagne.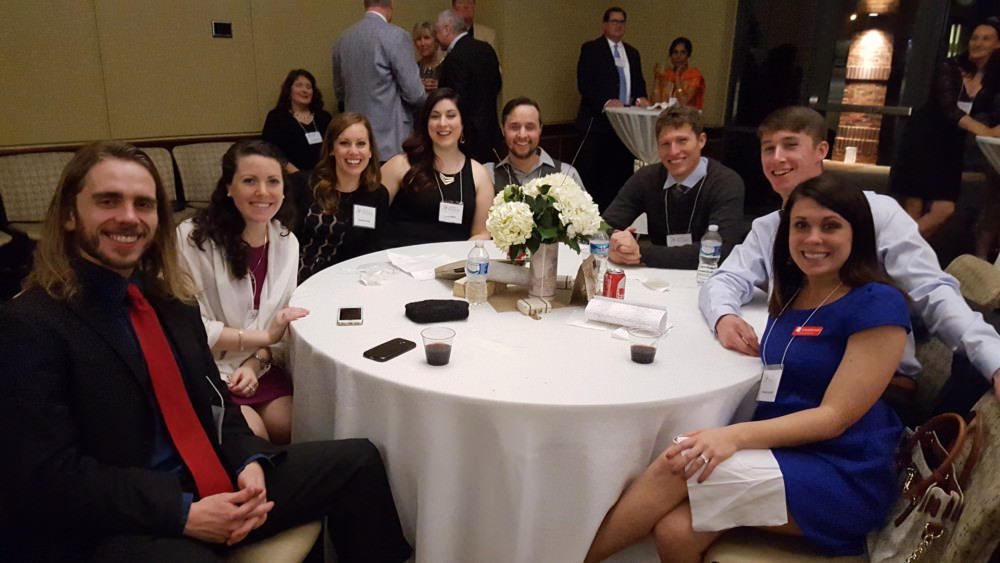 Well… sometimes. But more often than not my work takes place around a large table located in a dull, windowless conference room – and I wouldn't have it any other way! This is where I meet with local business owners and get to ask all my burning questions: What is your organization all about? What makes you different from the competition? What does success look like to you? What aspects of your business keep you up at night?
I truly never tire of learning about the challenges and rewards of running a small business or nonprofit. I love hearing what everyday life is like for people in other roles and industries, and each encounter is always unique. Every now and then I will take a break from my brain-picking long enough for a few questions to be asked of me. And when that happens, this is usually one of the first things I hear:
"Do I really need a new website?"
Of course an enthusiastic "YES" is what you would expect to hear from me… I work at a web agency, after all! However, this answer is far more objective than it may appear. It's been said that you should get a new website every 2-3 years. Well, considering the average cost of a new website is $7,500, that might not be an option for you. So rather than relying on a vague expiration date, I recommend using the questions below to audit your website for a few key issues:
Am I spending too much time making simple content updates?
This issue is two-fold, so let's break it down. If you have a change within your organization (ie: staff changes, offering new products or services, updated hours of operation) and it's taking you more than 15 minutes to add those updates to your website, you have a serious problem on your hands. Time is a limited resource and at some point you have to ask yourself, "what is my time worth?"
This takes us to the next issue. If updating your website is frustrating and time consuming, then there is a good chance you're putting it off. And having outdated or stale content on your website can be more harmful than you might think. We intentionally develop our websites using a Content Management System (CMS) that will allow our clients to quickly log in and make content updates. You don't have to be a coding wizard to take control of the back end of your site!
Is my website actually mobile-friendly?
Just because you can access your website from your phone does not mean it is mobile-friendly. If visitors are forced to zoom in and/or scroll left-to-right to view the contents of your site, then it's not mobile-friendly. This is something humans and search engines alike are not willing to deal with. And, in case you missed it, as of May 2015 more Google searches take place on mobile devices than on desktops. So, if your website is not optimized for mobile visits, you're missing a HUGE opportunity. Not sure if your site gets along well with mobile? Google has a free, simple test you can use to be sure.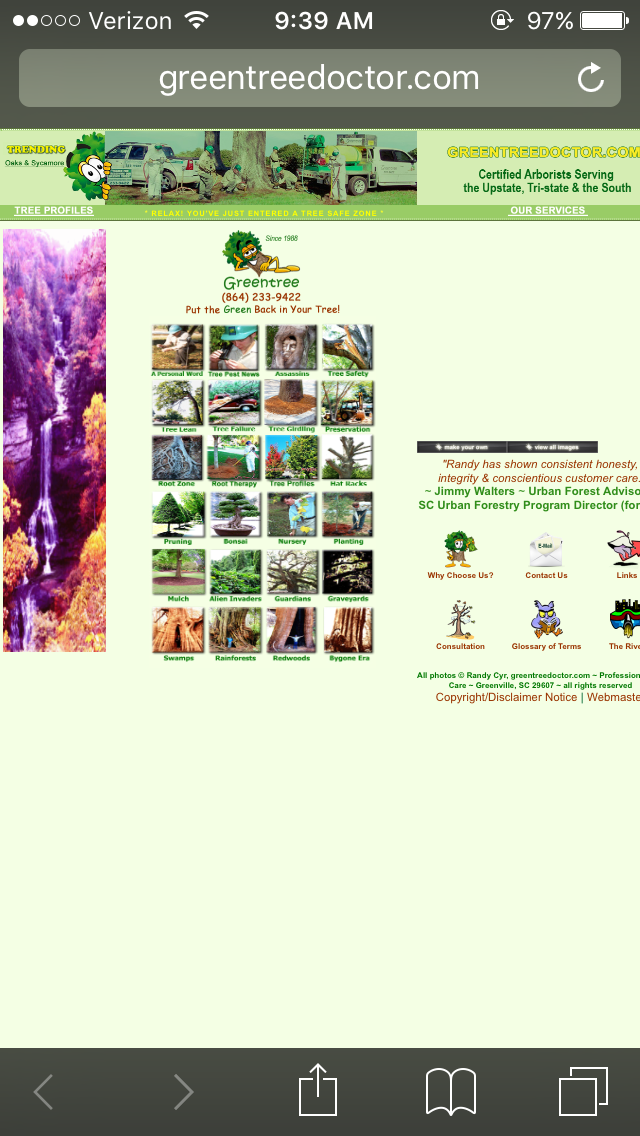 If your site looks like this on mobile, it might be time for an update
Am I receiving a lot of quick phone calls or emails?
There are certainly some situations where you may want to leave details off your website (such as pricing) so that visitors reach out for more information. If your services are wide-ranging and highly customized, it is more beneficial to engage in a conversation with a prospective customer rather than giving them everything upfront. On the other hand, if your phone is ringing off the hook with simple questions that should be easy to find on your website, then you're doing yourself a disservice. Don't make your visitors search high and low for the information they need. Just think, for each inquiry you receive, there are probably a handful of people that never took the time to reach out.
What is my conversion rate?
About once a week I get a phone call asking if we can perform Search Engine Optimization, or SEO. The simple answer is yes, but my answer is often "we do… why do you ask"? Many business owners are concerned that their website is not bringing in as many new customers as it should, and their immediate assumption is that low search engine rankings are to blame. I encourage you to spend some time with your web analytics and get to know them better (perhaps a long walk on the beach?).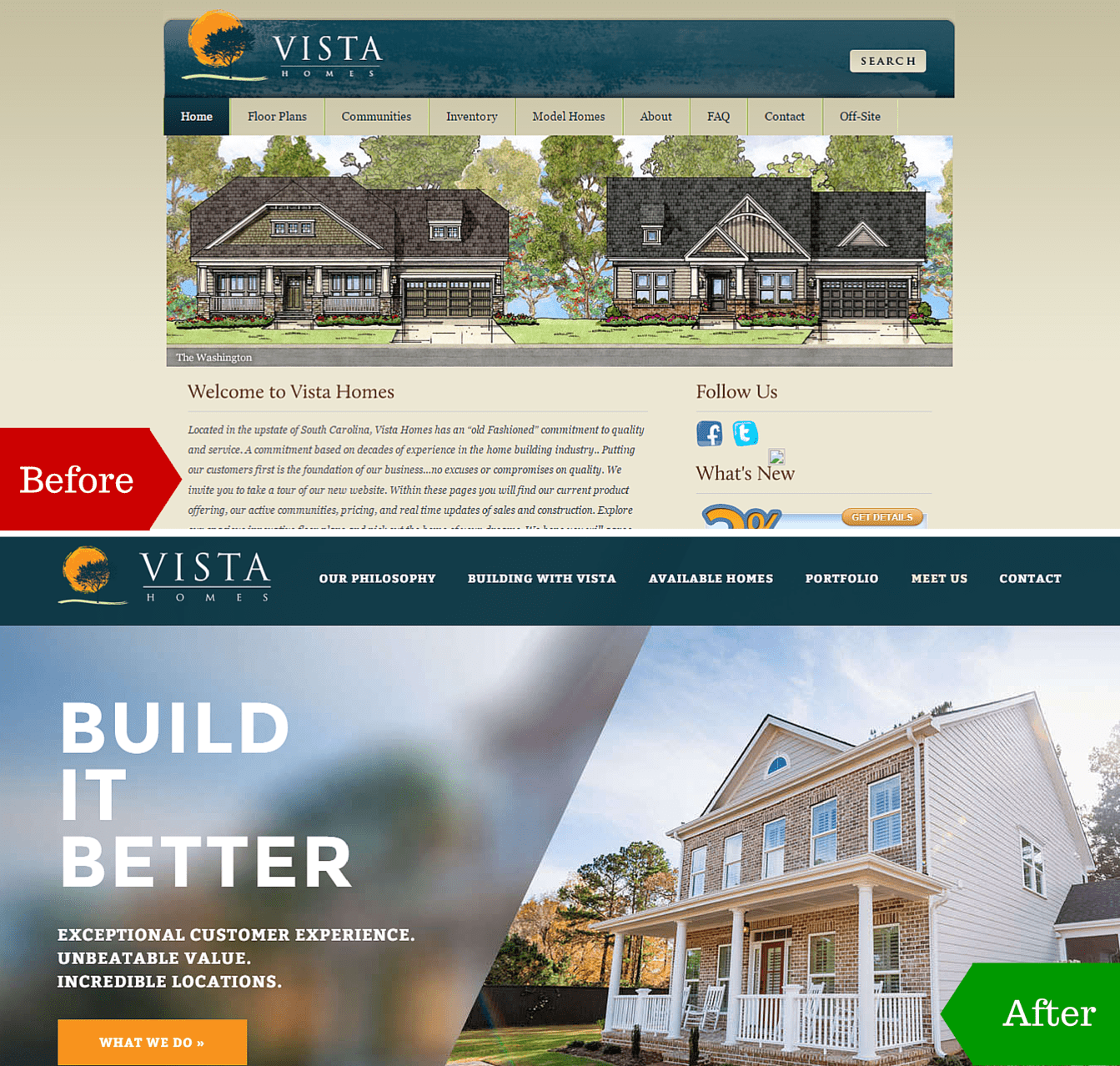 The difference an updated design can make
If you find that you have plenty of site traffic, but a high bounce rate or low conversion rate, that's a good indication that plenty of people are finding your website, but they're not satisfied with what they see. Throwing money at a professional SEO campaign is not going to solve this problem.
It might be time.
If you find your answers to these questions concerning, it may be time to consider a website redesign. To summarize, you should know…
Are you spending too much time on simple content updates?

Are you having to answer simple questions that should be easy to find on your site?

Is your website difficult to find, or are your visitors simply bouncing off the pages?
Asking these questions will allow you to honestly evaluate your website, and having the answers will better equip you when making a purchasing decision. You won't need to ask ME if you really need a new website. However, if you're still unsure, we'd be happy to talk! 

Start the Conversation
Still wondering if you need a website, or decided you do?
Schedule A Discovery Call